Weekend Wrap-Up
James Bond and Snoopy Equal Spectre-acular Box Office
By John Hamann
November 8, 2015
BoxOfficeProphets.com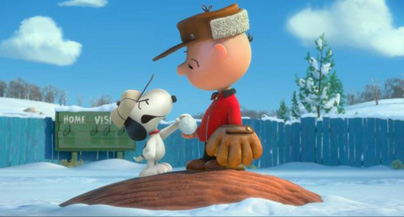 ---
Thank goodness for James Bond. Two shots to the head of October, and the box office nightmare we were living in becomes a distant memory.

After last weekend's grosses were the lowest since the millennium turned, and the prior weekend presented two of the worst openers of all time, the box office is back today in a big way thanks to two big openers delivering a breath of fresh air to an extremely stale top 12.

Openers this weekend include Spectre, the follow up to Skyfall, the $1.1 billion worldwide behemoth that reinvigorated the Bond franchise. Spectre brings a lot more risk for its makers as it enters the domestic marketplace, as this one cost a ridiculous $260 million to bring to the screen, which will mean it needs to dominate globally in order for the raft of partners to see financial success. The Peanuts Movie is our other new entry this weekend, with Charlie Brown and Snoopy returning to the screen for the first time in decades. This one seemed like more of a gamble due to its extreme family-friendly nature and its normal home on TV, but it looks like Fox is on to something, and they did it without annoying us like Alvin and the Chipmunks (and its painful sequels).

Our number one film of the weekend is Spectre, the return of the new and improved James Bond, which is coming off its biggest outing yet – by a country mile. Living in the shadow of Skyfall can't be easy – with its $88.4 million opening, $304.4 million domestic gross and $1.1 billion worldwide take. Having Spectre improve on those amounts was going to be difficult, but heading into the weekend, the Sony marketing machine had done its thing, creating large amounts of awareness after tub-thumping Spectre globally.

Bond and friends got started on Thursday night, earning a large $5.25 million. Skyfall was released differently, so that comparison is difficult – Skyfall went IMAX-only on its first day, earning $2.2 million, which wasn't included in the overall Friday number or the weekend gross. It did have a traditional Thursday preview as well, earning $2.4 million, which was included in the Friday figure of $30.5 million. So, after Thursday preview amounts were counted, Spectre looked good, but these comparisons aren't worth much.

The Friday number was telling, though, as Spectre put up a combined Thursday/Friday figure of $28 million, off a couple of million from Skyfall's first Friday, but still stellar nonetheless. Things looked a little worse when looking at the difference between the "true Friday" for both pictures – the Friday amount without the Thursday preview amounts. Spectre had a 'true Friday' of $22.75 million ($28 million less $5.25 million from previews), compared to Skyfall's $28.1 million ($30.5 million minus $2.4 million from previews). What does all of this mean? It means that Spectre's first Friday (with Thursday's previews added in) could not keep up with Skyfall's "true Friday" figure, and while Spectre was going to have a solid weekend, it wasn't going to even approach the $88.4 million earned by Skyfall.

Over the weekend, Spectre earned $73 million from 3,929 venues, an extremely solid, second-best showing for the long-standing franchise. Sony, MGM and all of their partners have another reason to celebrate, as Spectre should earn between 3.5 and 4 times the amount weekend amount, which should push the domestic gross beyond $250 million.

While the weekend result for Spectre is fantastic, my mind can't leave the fact that they spent $260 million on a James Bond flick. Jurassic World was made for $100 million less than Spectre, and the Bond budget was $10 million more than it was for Avengers: Age of Ultron. A story in Variety this weekend claimed that Spectre would need $650 million worldwide to earn a profit, but I think even that number is low. I believe that Spectre will need $750 million worldwide to get to theatrical profit, given that two-thirds of the worldwide gross is going to come from markets outside of America, where dollar valuations and theatrical splits are different. The marketing was incredible, with the traditional Bond marketing tie-ins working nicely. Overseas last weekend, Spectre got off to a strong $80 million start – most of that from the United Kingdom – but this one is a lock to dominate globally. It opens in China next weekend.

Landing in second is The Peanuts Movie, as Charlie Brown, Snoopy and friends return to theaters for the first time in several decades. Gone is the simple, 2-D animated format, which was perfect for television, and replaced with a gorgeous 3D design. Even with the updated look, it still kept up the safe brand of family entertainment that hasn't changed in half a century.

Still loved after all these years, 20th Century Fox and The Peanuts gang decided to not start with a preview on Thursday and go with the traditional Friday opening. On its first day of release, The Peanuts Movie got the start it wanted, earning a fabulous $12.1 million from Friday alone. That's just short of the debut of the first Alvin and the Annoying Chipmunks, which had a first Friday of $13.1 million. A better comparison might be Happy Feet, which also opened in November. It had a first Friday of $12.3 million, and turned that into a $41.5 million weekend.

With The Peanuts gang, audiences are going to be very young, which means the multiplier should be higher than family movies that are aimed at older kids (read: adults). Fox would be looking for a significant increase on Saturday, as there were no Thursday preview amounts padding the Friday, and this movie was made for big Saturdays. The second day number came in at $19.6 million, which means Fox got what it needed and now has a significant hit on its hands, as well as a franchise. The weekend take came in at $45 million from 3,897 venues, giving it a venue average of $22,547. The internal weekend multiplier came in at 3.7, which indicates the youth movement showed up for the film. The higher the multiplier, the younger the majority of the audience is.

America's youth showed up for a good movie this time, as The Peanuts Movie was reviewed very well. At RottenTomatoes, The Peanuts Movie is certified fresh at 86%, with only 12 negative reviews out of a possible 86. The A Cinemascore provided even better news, as kids like the product. With this kind of response and opening, the Blue Sky Studios product is setting the stage for a big franchise, because The Peanuts Movie is going to sell a lot of merchandise as it dances toward Christmas. The animated flick has the place to itself until November 25th, which means it has two full weekends of likely strong holds to come. The Peanuts Movie cost Fox and partners $100 million to make, so even with an opening-to-total multiplier approaching a 5.0, it is still going to need some help overseas to turn it into a mega-hit.

Dropping to third, but already in its sixth weekend, is The Martian. Despite over $100 million in new business at the box office, the Ridley Scott/Matt Damon film still held well. After earning $11.7 million over the Halloween frame, The Martian took in $9.3 million this weekend, giving it a drop of only 21%. Unfortunately, The Martian will have to wait another weekend to get to $200 million, as the stateside total currently stands at $197.1 million. Add to that another $260 million in overseas business, and this $108 million film has done remarkably well since opening on October 2nd.

Fourth is Goosebumps, which loses some steam due to Halloween being in the rear-view mirror and the launch of The Peanuts Movie. It still managed $7 million this weekend, giving it a decline of 29%. That score brings its total up to $66.4 million and it also has an overseas gross of $25 million, but it still has some large markets to open in. Goosebumps cost $58 million to make, so it will need some help to make it to profitability.

Bridge of Spies is fifth as it has to deal with the opening of Spectre. The Tom Hanks starrer earned another $6.1 million and fell 28%. Now out for four weekends, the Steven Spielberg film has taken in $55 million. The cold war thriller has also picked up $17 million overseas, but has only debuted in a limited amount of markets.

The rest of the top ten don't amount to more than Spectre's first day. Sixth is Hotel Transylvania 2, which earned $3.6 million and dropped 39%. It has earned $161.3 million domestically, and has now outgrossed the original both at home and abroad. Seventh is Burnt, which earned only $3 million in its second weekend. The Bradley Cooper flick fell 40%, and has a gross-to-date of $10.2 million.

Eighth is The Last Witch Hunter with Vin Diesel. The actioner earned $2.7 million and fell 49%, giving it a total of $23.6 million. Moving up a couple of spots to ninth is The Intern, which earned $1.8 million and declined only 25%. This one has turned a $17 million opening weekend into a gross-to-date of $71.4 million. It has also earned another $109 million overseas.

Tenth spot goes to Paranormal Activity: The Ghost Dimension, which took in $1.7 million and dropped 52%. It has a running total of $16.8 million against a $10 million budget. Our Brand Is Crisis is 11th, and earns only $1.5 million. It fell 54% from its $3.2 million opening, and has a total that stands at only $6 million.

On the limited release side, Spotlight, from Open Road, opened in five theaters and earned $302,276, giving it a venue average of $60,455. Brooklyn, with Saorise Ronan, also opened on five screens, and earned $181,000. It had a venue average of $36,200.

Overall this weekend, the box office got its groove back, thanks to two big debuting films. The top 12 earned $156.3 million this weekend, leaving last weekend's top 12 take of $62.7 million in the dust. A year ago, things were also massive, as both Big Hero 6 and Interstellar debuted to a combined $104 million, leading the top 12 to $146.7 million.

Next weekend, three new releases hit screens, but none will be as big as either opener this weekend. Debuting films include Love the Coopers with Ed Helms, The 33, about trapped miners in South America, and My All American, a faith-based film with Aaron Eckhart.