The Amazing Race Season 27 - Episode 7 Recap
Full Speed Ahead, Captain!
By Kim Hollis and David Mumpower
November 9, 2015
BoxOfficeProphets.com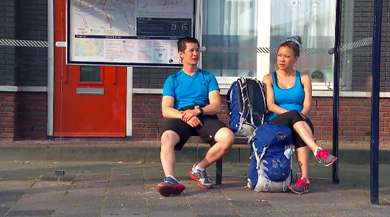 ---
Previously on The Amazing Race, no one was eliminated again. Stop us if you've heard this one before. Also, Denise set back race relations in her area by a lot when she failed mightily in the Parisian hip-hop challenge – and that's hard to do, because she's from Alabama.

Now we can continue talking about all the inconsequential stuff that happens on the Race before the inevitable coronation of #TheGreenTeam as champions. We guess it's theoretically possible that someone else might win, but if you're not from Texas or not a news anchor by trade, we don't like your chances in the game.

Tonight's episode begins with James Earl losing confidence in his mother's ability to complete the rap challenge. You know that song "Pretty Fly for a White Guy?" Yeah, that's not her. James Earl begs her to go ahead and agree to switching to the other challenges, but she wants to try rapping two more times before giving up.

Meanwhile, having been checked in as the "winners" of the previous leg (they don't actually get a prize when they keep having to race), Justin & Diana are off to Rotterdam, but they must go to Gare du Nord Station to board a train for the journey. They strategize in a way we know no one else will. All the teams are currently booked for a 7:22 p.m. departure time, but they're attempting to move up to an earlier train. And in fact, they are able to leave at 4:19, giving them a significant lead.

It's Denise & James Earl's 18th attempt at the rap challenge, and at long last they get it right. Passi (we learned his correct name during the week) gives Denise a hug, and she offers James Earl an apology.

Speaking of apologies, we owe one to Kelsey & Joey, who are also smart enough to get on an earlier train than the assigned 7:22 p.m. departure. They leave at 4:53 p.m., only about a half hour behind #TheGreenTeam

But we do NOT owe an apology to Tanner & Josh, who figure their train doesn't leave until 7:30, so they might as well take in some of these sights they've heard so much about. They note that the Eiffel Tower looks a lot bigger in real life than it does on the postcards. No, really.

#ChacAttack and #TheCheerleaders is on the 5:16 p.m. train. We tease the cheerleaders about being… well, not as smart as their Master's degrees would indicate, but it's Cindy & Rick who think that Rotterdam and Amsterdam are the same city. Apparently, Rotterdam is the French word for Amsterdam. Who knew?

It's at this moment that we remember that #TeamAlabama still hasn't hit the Pit Stop, and they're thrilled to realize they're still in the game. Denise says, "I'm not a quitter." But she is a loser. There's a lot of ground for the Agnes and Seymour Skinner mother/son team to make up, so they're going to have to hope for someone to screw up hopelessly. The good news for them is that there are still three other teams who are highly likely to do just that.

Now in Rotterdam (not Amsterdam), Justin & Diana are getting on a tram to go look for a big red lighthouse boat. Upon arrival, they realize there will be bunching because the location doesn't open until 5 a.m., but teams will be assigned times. The last group is at 6:30, so #TheGreenTeam is confident knowing there will be an hour between them and the last team to arrive at the boat.

Tanner & Josh have now realized that playing tourist in Paris was pretty dumb. They're on the 7:22 p.m. train with #ThePaparazzi and #TeamAlabama, meaning that they're going to have to overcome a pretty significant deficit upon arrival.

Remember how we mentioned that Cindy & Rick think that Rotterdam and Amsterdam are the same city? It looks like this might actually become a problem, because they think they're supposed to be in the latter city. #TheCheerleaders, on the other hand, get off the train like the advanced degree earners they are, and are seemingly ahead of Kelsey & Joey on the way to the lighthouse boat.

And indeed, when Cindy & Rick show the lighthouse boat picture to a nice gentleman on the train, he informs them that the location is not in Amsterdam, but Rotterdam. "Amsterdam and Rotterdam aren't the same?" Rick asks incredulously. Remember how we said that there are still three other teams who are likely to screw up hopelessly? We might have our winners (er, losers), folks.

Perhaps nothing sums up the situation more than the look of utter shock on the cheerleaders' face when they realize that they've arrived at the lighthouse boat second. Even they know that something has gone horribly awry.

But wait! Cindy & Rick manage to get off the wrong train and back on the right one, allowing them to pick up the third time at the boat. Sorry, #TeamAlabama!

Kelsey & Joey arrive at the boat and the teams hang around and chat a little bit. Tiffany & Krista say that they thought they were in Germany, which makes #TheReporters goggle. "Where do you think you are right now?" Kelsey asks. The girls have no idea. This is not a strong episode for American geography teachers.

As you might expect Denise & James Earl get the last time for their start. But fiddle-dee-dee. "Tomorrow is another day," Denise says.

A lot has happened and we really haven't even gotten to the first clue yet. Teams will proceed to the water taxi at Kop Van Zuid, where they will go by water to the Kinderdijk Windmill Village. Their clue tells them that every step counts – the more steps they take, the higher the stakes. So, their Fitbits will come into play.

#TheGreenTeam bickers all the way to the taxis, mainly because #TheCheerleaders start to catch up to them and they're presumably annoyed to be followed that closely by such a terrible team. Then again, they do arrive at the water taxis in third because of their argument, but the arguing isn't helping them any.

At the windmills, the clue card asks, "Who wants to pick the sunflowers?" The Roadblock requires contestants to search amongst the windmills to find the perfect replica of a Van Gogh's "Sunflowers" painting. Diana and Krista get it wrong on their first try, and Rick isn't even able to remember the painting enough to pick one out. (Note that Cindy took an opportunity moments before to brag about how detail-oriented she and Rick both are.)

When Rick does come back with a painting, it's wrong. Krista and Diana's second try is wrong as well. Joey, on the other hand, gets it on his first try. Next up, they have to subtract the difference in the heart rate they recorded on their Fitbit after the bridge jump and their heart rate right now and pick up that number of tulips to deliver to their next destination.

Rick gets it right, and when Krista gets it on her third attempt, she screeches, "Seven years of college paid off, mom!" Uh. Yeah. Unsurprisingly, Justin is annoyed. Diana has been struggling some on the last couple of legs, but the two of them have mentioned that they discuss their high and low points of each day when they have downtime, so perhaps she'll be able to learn from it.

After delivering the tulips, like Kelsey & Joey are right at this moment in the leg, teams will next take a water taxi to the Nolet Distillery. They're followed by #ChacAttack and #TheCheerleaders, while Diana has finally chosen the right painting on the third try.

Remember when we mentioned the shame of American geography teachers? Well, lump the math teachers in there, too. Watching Tanner & Josh try to figure out the difference between 152 and 128 is absolutely painful.

The Detour is a choice between "Ship" or "Skip." For "Ship," teams will pilot a ship through Rotterdam's busy harbor using a simulator. They have to locate two ships in five minutes. If they beat the clock, they will receive their next clue. Note – if anyone has issues with motion sickness, this challenge is going to be a problem for them. There's a game at Downtown Disney that has a similar video approach and let's just say that it made one of the writers of this recap very queasy in the past.

The other challenge involves a double Dutch jump rope routine, which looks pretty darned fun. The teams just have to get the routine right in order to move on.

Kelsey & Joey and Cindy & Rick choose "Ship," and #ChacAttack notes that their clue says to get to their next destination by tram. At this point, they immediately talk about getting a bus. Uh, what?

Not wanting to simply follow the other teams, Krista & Tiffany choose to do "Skip." Given their dancing and coordination abilities, this seems like a good call, actually.

More teams choose "Ship," including #TheGreenTeam and #TeamTexas. Cindy & Rick are waiting for a bus. Or calling a taxi. Or something. Basically, they're doing anything except getting on a tram.

Justin & Diana have boarded the tram in time to watch #TheCheerleaders miss it. Tiffany & Krista will have to wait and board with Tanner & Josh instead. This will put #TheGreenTeam back up in second place.

Cindy & Rick continue to sit and wait for something or other. "The other teams are probably looking for the tram," Rick says. Ya think?

Arriving at the location of "Ship," Justin & Diana figure if another team is still at the site, they have a great shot at regaining the top spot. Right on cue, Kelsey & Joey fail the simulation on their first try. And their second try, too.

Although Kelsey & Joey complain that Justin & Diana are better at everything than they are, #TheGreenTeam fails the ship task on the first try because Diana can't find the distressed ship during the second part of the simulation.

#ChacAttack should come with goofy music at this point. She notes that their waiting for the bus is definitely going to affect their position. In fact, Cindy is downright annoyed with Rick, who seems to have been the Decider for the team. Still, they keep sitting there. We'd say this hasn't been their best leg except that they've had about four legs in a row like this one. It's an average leg for them.

On their third try, Kelsey & Joey fail yet again. Krista & Tiffany are pretty solid at the double Dutch challenge, but Krista is so tired from the running at the painting task that she loses energy before finishing. They'll have to go again.

Somehow, Cindy & Rick have finally arrived for the ship challenge, but they're certainly way behind Tiffany & Krista, who have completed the rope skipping Detour. They'll now travel by train from Rotterdam to The Hague. The Pit Stop will be at a location known as the Peace Palace. If the cheerleaders win, we won't know what to believe anymore.

They have competition, because Justin & Diana have finished the "Ship" challenge. All remaining teams are now taking turns on the challenge. Kelsey & Joey finally complete the boat simulation, and will apparently be heading to The Ha-Goo. Really? The Ha-Goo? Have any of you people ever read a book?

Tanner is the worst navigator ever for the boat detour, but Cindy & Rick are right behind them in failing.
Apparently, the ship challenge was closer to the train station than the skip challenge, because Justin & Diana arrive at the train station first. Tiffany & Krista just miss, so #TheGreenTeam is alone as they make their way to the Ha-Goo. They are checked in as the first place team. And the prize is a good one – between the two of them, they have run 31,873 steps, and Fitbit is turning those steps into $31,873. As Justin says, that money will pay for their wedding. It's one of the biggest prizes we've seen the show give away. They also will get 89-minute massages.

It's a mad sprint between Kelsey & Joey and Tiffany & Krista, but #TheReporters manage to take second. #TeamAlabama and #ThePaparazzi both finish the Detour and are on their way to the Pit Stop.

We are now down to #TeamAlabama and #ChacAttack for the loser position, and Cindy & Rick figure all they can do is hope right now. Hope may not be enough, because Denise & James Earl complete the Detour first.

Tanner & Josh and Logan & Chris get checked in at the Pit Stop, while Cindy & Rick decide to board a train leaving right now with two stops. Denise & James Earl will wait for the direct train…BUT their train is delayed by 10 minutes.

With the delay, #TeamAlabama is pretty sure they're done with the Race. But wait! Cindy & Rick are here to be really, really terrible at the Race! They've boarded a tram that will take them to the beach rather than the Peace Palace. They really have run the perfect bad leg.

The horrendous errors of #ChacAttack mean that they will be the last team to arrive, and mercifully have also been eliminated from the Race. They say that now that they have completed their Amazing Race journey, they'll begin their next one – starting a family. Imagine their trip to the hospital. Isn't the YMCA the same thing as the hospital? Good luck, Baby Chac. You're gonna need it.