Friday Box Office Analysis
By Kim Hollis
November 7, 2015
BoxOfficeProphets.com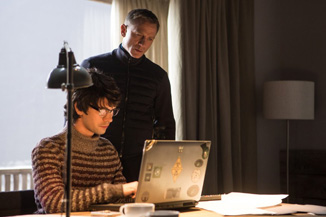 ---
As we thankfully put October in our rearview mirror, November arrives with a pair of new releases that breathe fresh life into a box office that has been largely depleted.

Spectre

The 24th film in the James Bond franchise, and the final hurrah for Daniel Craig as the titular character, debuted on Friday with a healthy $28 million. That number does include $5.25 million from previews on Thursday night, which puts the actual Friday number at $22.75 million. Although the studio was likely harboring some small hope that the film could come out ahead of Skyfall's debut weekend of $88.4 million, it's pretty clear that middling reviews and the lack of a hook like the 50th anniversary celebration that Skyfall enjoyed will mean a more subdued total.

If we look at the opening weekend patterns for the other Daniel Craig films, we can see that the previous films had Friday-to-Sunday multipliers of 2,77, 2.5 and 2.9. Quantum of Solace is kind of the outlier here, as it is easily the worst of the recent Bond films, and yet it also seems to be a decent comparison as the Friday total is pretty comparable. Of course, box office behavior has changed since then as the advent of Thursday night previews came into play.

If we give Spectre the benefit of having remaining goodwill from the awesomeness that was Skyfall (plus the IMAX premium), we're probably looking at a Friday-to-Sunday multiplier of 2.75. If we apply that number to the "true" Friday total, we're looking at a three-day total of $62.6 million. Add back the $5.25 million from Thursday and you get an estimated debut weekend of $67.8 million. This expectation is realistic, but you can probably count on the Sony to go ahead and estimate it up at $70 million to get the better headline. They'll just borrow the overestimated portion from weekdays.

The Peanuts Movie

Charlie Brown, Snoopy and friends returned to the big screen for the first time in 30 years, and it certainly seems fair to say that they were missed. From Blue Sky Studios and 20th Century Fox, the beloved characters were animated in CGI for the first time ever, and the response has been almost universally positive. Both critics and audiences are loving The Peanuts Movie, which helped push it to a terrific Friday total of $12.1 million It had no Thursday night previews, so every dollar reported for Friday is serious business.

In recent years, animated movies to debut in early October have averaged a 3.5 weekend multiplier, and given the positive word-of-mouth for Peanuts, there's no reason to think it won't be exactly in that ballpark. That would give the animated flick an opening weekend of $42 million, and a very solid start at profitability (the film's budget was $100 million).

"Notable" Holdovers

The returning films from last week are barely worth reporting on. Of last weekend's new releases, Burnt fell 51%, Our Brand is Crisis declined 60%, and Scouts Guide to the Apocalypse dropped a whopping 73%. With a stacked November for box office releases, look for the majority of the October leftovers to fall off the face of the Earth quickly.