Weekend Wrap-Up
Box Office Implodes Despite Four New Titles (and Steve Jobs)
By John Hamann
October 25, 2015
BoxOfficeProphets.com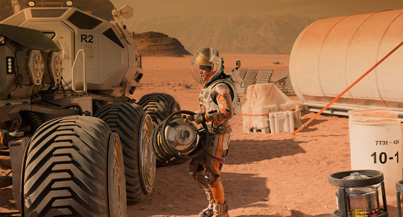 ---
I am having nightmares of being trapped at a Jem and The Holograms screening and not being able to escape. From the box office result, it would appear everyone is having the same dream.

To keep box office momentum going throughout October, this weekend needed to be big, as next weekend is already doomed with Halloween landing on Saturday. Four new openers and Steve Jobs arrived and ended up scaring audiences away. This is really epic fail territory, as two of the four new releases join the worst openers of all-time list.

New product in wide release this weekend hit a massive 11,598 screens this weekend, as four new films hit theaters and were joined by an expanding Steve Jobs, which moved form 60 screens to 2,493. New films were not considered weaklings – they included Vin Diesel's The Last Witch Hunter, horror stalwart Paranormal Activity: The Ghost Dimension, Rock the Kasbah with Bill Murray and Bruce Willis, and Jem and the Holograms, based on… well, something from the past. Horror, comedy, action, and teen pop were available, and in this election, "none of the above" was chosen. That left the door wide open for The Martian (now in its fourth weekend) and the second weekend of Goosebumps.

Yes, due to the collapse of every new opener this weekend, the number one movie is The Martian. It's hard to believe, but after being number one in its first and second weekends, it is back on top in its fourth session. The Matt Damon product earned another $15.9 million this weekend, off a spectacular 25% compared to last weekend. The hold is terrific, as The Martian has been in release for 24 days and should be packing it in, not spending time on top. On the other hand, Gravity, a box office comparison for The Martian, spent three weekends at number one and its fourth in second. It was earning more than The Martian is in weekend four ($20.1 million) as well. This result for the Ridley Scott film might mean better news for it Oscar-wise than financially, as a return to number one will garner more headlines.

The domestic total for the outer space blockbuster has reached $166.4 million and is on target to reach $200 million stateside. Overseas, The Martian's total has surpassed $180 million, and it has been granted a release date in China on November 25th. Where the overseas gross finishes it still anyone's guess, but Gravity earned $71 million in China, so $300 million plus shouldn't be out of the question for an overseas take for The Martian. That would put the worldwide total at $500 million, making Fox's $108 million investment a wise one.

Second is last weekend's number one film, Goosebumps, which was looking to hold as Halloween approaches. It did only okay in the depreciation department this weekend, as it fell 34% to $15.5 million this weekend. That hold could have been better, as Goosebumps didn't debut to $50 million plus last weekend but instead opened with $23.6 million. However, given that just about everything is down at the box office, and the fact that Goosebumps has Halloween week to itself until Scouts Guide to the Apocalypse opens Friday (but that will likely do Jem and the Holograms-type business), this $58 million product should do okay, but will likely top out at around $70 million, depending on post-Halloween behavior. The potential problem is that it will then need another $85 million plus overseas for Sony to see a theatrical profit. For now, Goosebumps has earned $43.7 million.

Third spot goes Bridge of Spies, which not only holds its rank from its debut weekend but also has a strong financial hold, as this type of release doesn't depend as much on a big opening frame. In its second weekend, Bridge of Spies earned $11.4 million, off a slim 26% compared to last weekend. This is the norm for a Steven Spielberg film dealing with the past – Lincoln held amazingly, as did War Horse and of course Schindler's List. Bridge has a reported budget of only $40 million, but with the talent involved (Spielberg, Tom Hanks, the Coen Brothers) everyone must have worked for scale with a very large backend. The total for Bridge of Spies has now reached $32.6 million, and given the holds likely to come, where this finishes is really anyone's guess.

We have our first of many openers landing in fourth, as Vin Diesel's The Last Witch Hunter is the best of the ugly. Looking and feeling like a B-movie, The Last Witch Hunter - even with Vin Diesel – was never going to work. This supernatural action film got started on Friday with a sad $3.8 million – which was pretty much the death knell for this one, as it cost $90 million to make. We are told that Lionsgate solid off foreign territories to limit their exposure, but that is a LOT of exposure. The weekend take ended up at $10.8 million from 3,082 venues, while expectations were higher at $16 million.

Diesel's last two films, Furious 7 and Guardians of the Galaxy, both earned over $330 million, so this is a drop back into reality for the action star. This is more of a Babylon A.D. type opening, which debuted to $9.4 million before crashing out with $22.5 million. Reviews and word-of-mouth killed this one, as it had a 15% fresh rating at RottenTomatoes and a B- Cinemascore.

Hotel Transylvania 2 holds on for a sixth place finish this weekend, keeping its same position as last weekend despite four new releases and a heavy expander. The only good thing in Adam Sandler's current career earned another $9 million in weekend five and fell 29%. This weekend's gross ties it with the original's $148.3 million, but there's still a bit of steam left before it leaves theaters. The sequel remains about $80 million behind the original internationally but still has several markets to open in, including Australia and China.

Sixth goes to Paranormal Activity: The Ghost Dimension. The last entry in this cheap-to-make, high grossing franchise is a sad final film that can't keep up with its compatriots. The Ghost Dimension, which sounds more like a Scooby Doo episode than a horror movie, earned only $8.2 million from a smaller-than-usual 1,656 venues. It was expected to earn $12 million. The reason for the lower venue count is that Ghost Dimension is heading to VOD in two weeks, as Paramount was "investing in information" regarding theatrical windows. In reality, though, the last Paranormal Activity, The Marked Ones, opened to $18.3 million and $28.5 million after 10 days, and finished its domestic run with $32.5 million. So what they are really trying to do is extend the legs of these notoriously short earning films and make more money. Theatrical or VOD, don't bother, as this one is 13% fresh at RottenTomatoes and earned a C Cinemascore. Ew.

Steve Jobs, the odds on favorite to win the weekend, crashed and burned – at least compared to its massive limited releases over the last two weekends. Expected to earn $19 million, the Michael Fassbender pic failed to pick up half of that, coming in at $7.3 million instead (we aren't ALL in love with Apple). Believe it or not, Steve Jobs is from Universal, and this film unexpectedly breaks an impressive streak of hits for the studio. The good news is that it was cheap to make, costing only $30 million to bring to the screen. So far it has earned $10 million.

Universal picked the wrong weekend to take Steve Jobs wide, as there was too much competition, not to mention the fact that the box office faces a black hole next weekend, when Halloween lands on Saturday. November 13th would have been a better choice, as the challengers would have been The 33, Love the Coopers, and My All American. Yes, the second weekend of Spectre would be looming, but a reasonable platform release would have made more sense. The pressure is on now for a hold next weekend, and it will have to do it with one arm tied behind its back.

Crimson Peak, last weekend's disappointment, was another film that got hammered this weekend. The goth-horror flick earned only $5.6 million, dropping 58% compared to the previous frame. The $55 million Universal release (the shine has definitely come off the studio) has now earned $22.5 million and is in trouble financially. It opened in a ton of foreign markets last weekend, and had the same result it did domestically.

The Intern holds on to ninth due to two of the openers bottoming out completely. The Nancy Myers film earned another $3.9 million and fell 29%. The $40 million film has now earned $64.7 million domestically and another $77 million overseas.

//

We round out the top 10 with Sicario, as it's able to sneak ahead of the new openers and last weekend's faith-based release Woodlawn to nab that final spot. The critically acclaimed action thriller earned $2.6 million and has now increased its domestic tally to $39.4 million. There's a chance it will get renewed life if it receives awards attention, but it has probably come to the end of the line otherwise.

Finishing outside the top ten are both Rock the Kasbah and Jem and the Holograms. Kasbah earned only $1.5 million from 2,012 screens for Open Road and had a putrid venue average of $750. It cost $15 million to make and won't come close to earning that amount. In the same boat is Jem and the Holograms, which thankfully only cost $5 million, as it earned a pitiful $1.3 million. Its average was even worse at $547. This is historical badness, as we have two films this weekend joining the list of worst openers of all time for films debuting on more than 2,000 screens. All of a sudden mega-flops like From Justin to Kelly ($2.7 million debut) and Pluto Nash ($2.2 million) look pretty good, though I guess at least they beat Ooglieloves and Delgo.

Overall, the box office officially hits the skids this weekend, putting an end to a good run through October. The top 12 earned $95.5 million, behind last year's top 12 total when Ouija and John Wick opened with $103.2 million. Next weekend, despite the Halloween situation, we have three openers. Scouts Guide to the Apocalypse, Burnt, and Our Brand is Crisis all hit screens next weekend, as it appears these titles (and the majority of this weekend's titles) are simply getting dumped.