Weekend Wrap-Up
Halloween Goes "Bumps" Into the Box Office
By John Hamann
October 18, 2015
BoxOfficeProphets.com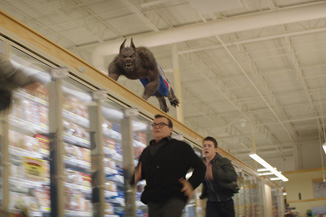 ---
It's starting to look a little spooky at the box office, as we have two films aimed at capturing the Halloween experience two weekends before the kids go trick or treating.

You can tell it's Halloween season. This weekend, two films on the scary side open, in the form of Goosebumps for kids, families and the young at heart, and Crimson Peak, which is definitely not for kids. Next weekend, two more arrive - Vin Diesel's The Last Witch Hunter and Paranormal Activity: The Ghost Dimension. Then, on October 30th, Scouts Guide to the Zombie Apocalypse debuts, but that is a big mistake, as Halloween lands on that Saturday, and horror films shrivel like shrunken heads after October 31st. This weekend, in addition to the two scarier titles, Steven Spielberg's Bridge of Spies opens, as does the faith-based Woodlawn. With The Martian and Hotel Transylvania 2 over-performing, the box office had the potential to keep its hot streak going.

For the first time in a couple of weekends, we have a new number one film, as The Martian finally relents. The new number one film is Goosebumps, Sony's youthful fright feature based on the series of books by R.L. Stine. Kid-lit is the way of the junior world these days, and Goosebumps and Sony tapped right into that. After a small Thursday preview amount that came in at less than a million, Goosebumps got started in earnest on Friday, when it earned $7.3 million. This is a solid – but not spectacular – start for this effects-driven film, but for a movie that cost "only" $58 million, it spells success. It received a solid A Cinemascore, and combined with a 73% fresh RottenTomatoes rating, Sony should have a couple of solid weekends heading toward Halloween.

On Saturday, the film that features Jack Black, Amy Ryan, a bunch of kids and R.L. Stine himself pulled in a strong $9.8 million, pushing it toward a weekend total of $23.5 million, which is about where tracking had it. While not a huge opening frame, remember that it's October, and the best for the month tops out at $55 million. This type of debut pushes Goosebumps toward the top 30 films of all time for the 10th month, of which half are sequels. Goosebumps could see as much as $75 million stateside, and given the effects-driven nature of the film, it could play well overseas. For Jack Black, who wasn't used as much of a selling point on this one, this is his best non-animated opening since Tropic Thunder, which earned $25.8 million over its opening frame back in 2008.

Second spot goes to The Martian, the Matt Damon/Ridley Scott space thriller that has been box office champ for the last two weekends. After its $37 million second frame, The Martian held decently, but not as well as its 32% drop last weekend. Given the addition of three new releases that ate up $50 million in box office, The Martian's weekend take of $21.5 million has to be seen as a success. It fell 42% compared to last weekend but brought its total up to $143.8 million. The Martian cost $108 million to make, and should still finish within arm's reach of $200 million. Overseas, the Fox release has earned a similar amount, so it should be heading to a half-billion worldwide gross before all is said and done.

Third is a bit of surprise, as Bridge of Spies is able to overtake Crimson Peak. On Friday, it was certainly close between the two films, with Spies ahead by about $75,000. Over the remainder of the weekend, Spies only got further ahead, as horror (or even goth-romance or whatever it is) is more typically front-loaded than a Steven Spielberg picture. Bridge of Spies turned a $5.4 million Friday into a weekend take of $15.4 million. It pulled that gross from only 2,811 theaters, or about 700 fewer than Goosebumps. That will give it room to expand over the next few weekends and enjoy the standard Spielberg legs. It had an excellent A Cinemascore and could get Oscar's attention given its 92% fresh rating at RottenTomatoes.

The thing I like the most about Bridge of Spies is that Spielberg made an espionage thriller set during the Cold War, and starring Tom Hanks, for only $40 million. Given this debut, Bridge of Spies' success is not in doubt, given that Lincoln opened to $21 million and went on to earn $182 million, giving it an opening-to-total multiplier of 8.7. That's not happening here, of course, but even if that gets cut in half, Bridge of Spies earns $70 million domestically. That will mean it needs $50 million overseas to get to profitability for Disney, as the lower budget significantly lowers risk for the studio.

Fourth is Crimson Peak, the new film from Guillermo Del Toro, director of iconic horror-ish films like Pan's Labyrinth and Cronos, as well as TV's The Strain. Crimson Peak looks more like a goth-thriller than horror film, or what my wife would call a "spooker." Audiences didn't buy in on this one, and Crimson Peak finished the weekend with a gross of $12.9 million from 2,984 screens. This is not a great start for a film that cost $55 million to bring to the screen and then was heavily marketed leading up to release. The good news is that this one might play decently overseas, but even if it earns $45 million stateside and a similar amount internationally, that's not enough for a film with this kind of budget. It earned a B- Cinemascore – which isn't bad for horror – and the RottenTomatoes score was 68% fresh, but none of that is likely not enough to save Crimson Peak.

Hotel Transylvania 2 is fifth, as Sony's Goosebumps moves into the territory that Hotel Transylvania had all to itself over the last couple of weekends. Like The Martian, the Transylvania sequel had already earned $120 million heading into the weekend, so holding its position was going to be tough. Regardless, Transylvania 2 still earned $12.3 million, and was off 40% from the prior frame. That puts its total up to $136.4 million, as its Friday was only the second day of its run where it earned less than the original. After four weekends, the original had earned $118.5 million, where the sequel is ahead with its $136.4 million. Overseas, this Sony sequel is approaching $100 million, and all of this earned on an $80 million budget - $5 million less than the original.

The news gets seriously worse for Pan, as the plethora of bad press it got last weekend is serving it up to crocodiles this weekend. Pan earned only $5.9 million and fell a serious 62% in its sophomore frame. The $150 million picture has now earned a sad $25.7 million and will likely peter out with $35 million. This one needs $450 million worldwide, and will be lucky to earn $100 million of that back at the worldwide box office.

The Intern is seventh but heads into bona fide hit territory in only its fourth frame. The Intern earned another $5.4 million and declined 38%, pushing its domestic total up to $58.7 million. That may not sound like much, but against a $40 million budget, and with an overseas gross slightly outpacing the domestic gross, The Intern has now earned three times its production budget worldwide.

Sicario is eighth and begins to lose steam with films like Bridge of Spies now in release. In its third weekend of wide release, Sicario earned $4.5 million and fell 41% compared to last weekend. Made for $30 million, Sicario has now picked up $34.7 million stateside and is approaching $20 million from overseas venues.

Woodlawn, a film I understand is faith-based, but know nothing else about, is ninth. If someone says Woodlawn to me, I think of a place in Live Free or Die Hard, not a religious film. Some knew the difference, though, and this one earned $4.1 million from 1,500 screens. Wikipedia tells me it's about football and cost $25 million to make, and frankly, both facts surprise me.

The Maze Runner: The Scorch Trials is 10th, as its somewhat sad stay in the top ten comes to an end. The Scorch Trials earned $2.7 million in its fifth weekend and dropped 49%. The domestic total for the Fox sequel now sits at $75.4 million, but thankfully, the overseas gross reached $170 million.

In other box office news, the two IMAX experiments The Walk and Everest hit the skids this weekend. The Walk earned only $1.2 million and Everest earned $1.17 million. The Walk fell 68% compared to last weekend and Everest fell 62% - pretty much eliminating both from the Oscar game.

Lastly, Steve Jobs continues to pull in the cash – well, at least the film does. Now on 60 screens, the biography earned an out-of-hand $1.5 million, giving it a venue average of $25,833. Despite being out to four theaters last weekend and 60 this weekend, Steve Jobs has still earned $2.3 million so far. The question remains, though – how will it do when it goes to multiplexes across the country next weekend?

Overall this weekend, October remains hot, but with Goosebumps not getting to $30 million and Crimson Peak not getting to $20 million, I feel that there was money left on the table. The top 12 earned $110.9 million this year, where last year, Fury led the top 12 to a slightly higher $121.4 million thanks to a stronger bottom half of the chart. Next weekend, though, things get even bigger. New releases include the next Paranormal Activity flick, The Ghost Dimension, The Last Witch Hunter with Vin Diesel, Rock the Kasbah with Bill Murray and Bruce Willis, and Jem and the Holograms. Steve Jobs also expands, so we really have five new wide releases coming on the heels of four hitting screens this weekend.