Weekend Forecast for Ocrtober 16-18, 2015
By Reagen Sulewski
October 16, 2015
BoxOfficeProphets.com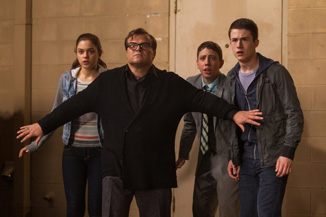 ---
It's one of those great variety weekends of fall, with two original properties, huge names, Hollywood royalty really, and gothic style. Of course, in usual fashion when we have these kinds of weekends, that's not what's going to be leading the way at the box office.

Instead, we've got an adaptation leading the way, because of course we do, although in fairness this is at least a somewhat different take on how to adapt a property. Goosebumps takes the series of scary-but-not-scary young adult horror novels and decides that while each one of them is too slight to make a movie on its own, maybe all of them together make a film? It's something I have to credit, as it could have been very tempting to go all "extended universe" on these and try working six or seven non-notable films into the mix. Here, we have one film with a bit of a hook (and hey, you can still do a sequel if you really wanted to).

Jack Back stars as R.L. Stine, the author behind the approximately seven zillion Goosebumps books, which mostly take on classic horror monsters or urban legends about things that go bump in the night. It's a classic rite of passage of childhood on par with the Choose Your Own Adventure books. In the film, Black has written all these stories in order to keep the very real horrors captive within the pages of a secret library. On a Halloween night, a group of precocious pre-teens (they are just the *worst*) stumble upon this collection and set it loose, leading to all sorts of PG-level mayhem.

Essentially, it's a film about horror films, or at least the tween version of horror films, and filled up with just enough action-adventure to bring to mind things like the Goonies and Monster Squad. Black appears to be in a barely restrained manic mode, which is a good fit for him, and playing off his typical Carrey-esque manner. It's actually been four full years since Black has been anything that's received a major release, so it's tough to judge how relevant he is these days. The Kung Fu Panda films really don't count, even kid-targeted as they are. A new Shrek movie would do really well, but that hardly makes Mike Meyers a live-action draw. However, the particular choice of actor here makes a wacky kind of sense, and the film looks both accessible enough and interesting enough to capitalize on the huge name recognition of the series. I'd be looking for a little below the typical YA adventure numbers here, with about $24 million for topicality.

The prestige release of the weekend involves two of the biggest names to ever grace Hollywood, Spielberg and Hanks. Bridge of Spies is a lower-key film for both of them, focusing on the Francis Gary Powers spy crisis during the 1960s. Hanks plays the lawyer recruited by the CIA to negotiate the release of Powers in exchange for a Russian spy caught in America. He's sent to East Berlin, the home of espionage and paranoia, and with his own goals that may have to bend to realpolitik. Spielberg rarely does pure intrigue, so it'll be interesting to see just what that looks like.

It's also from a script written by the freaking Coen Brothers, which makes this an ultra-mega-power team-up of Hollywood talent, and also adds a potential element of comedy to the film, since the Coens never do anything without a hint of whimsy in it (there were even some laughs in No Country). In essence, it's a film for all the grown-ups in the building, and is unfortunately relevant again, thanks to a resurgence of the cold war in the past few years.

Pairing Spielberg and Hanks has in the past generally meant high quality, if not necessarily high box office. Saving Private Ryan was of course an enormous success, with Catch Me If You Can sliding down a bit from that and The Terminal underwhelming significantly with just $77 million. Bridge of Spies seems to be somewhere in between those last two, and it's very much not Blockbuster Spielberg that we're getting, but Award Seeking Spielberg, which is often slower building at the box office, if it ever gets there at all. As such, we're likely to see a small start. Three years ago, Lincoln opened to around $22 million, and this is a much less important figure and time in American history. Knock a few million off for that and we're at about $18 million for an opening weekend.

Lastly, we have Crimson Peak, Guillermo del Toro's latest whatever the hell it is he does (and I mean that in the best possible sense). Starring Mia Wasikowska, Charlie Hunnam, Tom Hiddleston and Jessica Chastain, it's a Victorian-style haunted house story, filtered through del Toro's particular P.O.V. Wasikowski plays a young aspiring novelist in a love triangle with the two male leads of the film, and who travels to the crumbling estate held by brother and sister Hiddleston and Chastain. Things quickly turn to the macabre, as the house itself seems to be alive and hosting innumerable ghosts and spirits.

Some of the living aren't so hospitable either, as Chastain seems to hide a dark secret and reacts poorly to the presence of Wasikowska. With warnings never to breach certain parts of the house and parts of it that seem less... solid... than it should be, it's your classic gothic creep out story, but bathed in that Lovecraftian/creature feature ethos that del Toro brings.

His style of film hasn't often proved that popular, even as he's gained a cult following over the years. His biggest foray into big budgets to date fell a bit flat, with Pacific Rim earning just over $100 million on its Mechas vs Cthulhu premise. The Hellboy films have also been just medium earners, with more acclaim coming from his Spanish language films. This is looking more akin to The Woman in Black than Paranormal Activity, and should debut around $16 million.

The Martian has a solid chance at a third weekend at the top, particularly if none of the films this week have a breakout. Dropping less than a third from its opening weekend, it claimed $37 million more in its second frame, and crossing the $100 million mark. Word-of-mouth has definitely kicked in, and it's just the kind of quality that audiences have been searching for in the last few months. I'd look for a similar fall this weekend, and about $25 million.

Hotel Transylvania 2 had a solid third weekend with $20 million more, and seems to be getting the standard animated film run. Look for $15 million this weekend, as it heads towards about $160 million total.

Pan's $15 million opening weekend puts it in a deep, dark hole thanks to its $150 million budget, and while international markets may be more friendly, it's maybe a $50 million domestic film. People are not making eye contact around Warner Bros. offices this week. Give it $8 million this weekend.

Further returning films include The Intern, which should grab about $6 million and Sicario, with about $5 million, putting its Best Picture chances in a bit of trouble.