Friday Box Office Analysis
By John Hamann
October 10, 2015
BoxOfficeProphets.com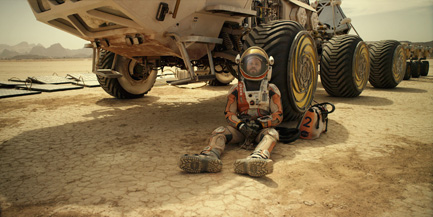 ---
Why do studios keep greenlighting expensive Peter Pan movies? They are always expensive and never work. This time around, Warner Bros. spent $150 million, but they will be very lucky to earn $50 million of that back stateside.

Number one at the Friday box office is again The Martian, the Ridley Scott sci-fi adventure that may be looking at Gravity-style legs. After a first Friday of $18.1 million (which included $2.5 million in previews), the 20th Century Fox release was not looking to match the second weekend drop of Gravity (-28%); they were instead trying to beat Interstellar's second Friday (-51%). Anything over $10 million (-45%) was going to be a good news for the Matt Damon release, and given the strong reviews and Cinemascores showcased in opening weekend, that should be no problem, especially with Pan sailing toward disaster.

The Friday number for The Martian came in at $10.8 million, off 41% from its opening weekend, but those numbers are skewed by those pesky Thursday previews from the debut frame. When comparing last weekend's "true" Friday of about $15.5 million, the drop reduces to about 32%. Either number is great news for The Martian and Fox, as that percentage drop is only going to improve over the remainder of the weekend. Add Columbus Day into the mix (and Thanksgiving in Canada), and The Martian's percentage drop should only get better.

In 2013, Gravity had a second weekend internal multiplier of 3.43, an incredibly strong multiplier for a film that plays more to adults than to youth. The Martian may be even more accessible than Gravity for all audiences, but its 140 minute run time reduces the amount of screenings compared to the 91 minutes Gravity. Reducing the multiplier to 3.3 for The Martian puts the second weekend at a very healthy $35.5 million and a drop of only 35%. It will easily cross the $100 million mark this weekend, and could be heading for a stateside total of over $200 million. Given its $109 million production budget and strong overseas results already, The Martian is going to be poised as a possible Oscar contender and a big hit for the folks at Fox.

Opener Pan is dead on arrival, despite an opening day and eventually a debut frame that wouldn't be so bad for a film with a $40 million budget. Warner Bros. likely spent $40 million on catering, as the budget for Pan was $150 million, which means it would need to earn in the neighborhood of $450 million worldwide to earn a profit. A first day gross of $5.2 million is NOT a good start on the road to $450 million, or even the $175 million this one would have needed stateside. It earned only $650,000 from previews, which pretty much foreshadowed Pan's weekend. Even if Pan draws kids all weekend and gets to a 4.0 multiplier, it would only earn $20.8 million for the weekend and be destined for a $55 million domestic finish. A more realistic multiplier is the 3.2 that Hugh Jackman saw with Real Steel, also an October release, which would put the opening frame at $16.6 million. If we split the difference, and estimate Pan at a 3.5 multiplier, the weekend number is $18.2 million, and a very far cry from the $50 million an expensive film like this needs during its debut weekend.

The Walk also expanded from its IMAX only debut on 448 screens - where it earned a troubling $1.6 million – to 2,509 venues this weekend. The result moved The Walk from a $390,345 first Friday on those few screens, to a somewhat more palatable second Friday of $1.2 million. While a significant improvement, the wider gross is still not enough to turn this into a hit, as even with a very healthy 3.5 multiplier, The Walk would only earn $4 million this weekend. The good news here is that The Walk did not carry a Pan-sized budget; it cost $35 million to make instead of $150 million. Still, a $25 million domestic finish would mean The Walk would have to earn $75 million overseas to get to a profit for Sony, and as this film is very New York centric, that would be a tough overseas pick up.

In the holdover world, Hotel Transylvania 2 continues to dominate the original, crossing the $100 million mark on Friday, its 15th day of release. The first Hotel took 17 days to reach that mark. The sequel's third Friday came in at $5.3 million, putting it off only 29% compared to its second Friday, and it should finish the weekend with more than $20 million for the third consecutive weekend. The Intern also held well ($2.67 million Friday, off 26%) as it heads for a weekend gross around $9 million. Sicario sees a bigger drop than expected at 47% Friday-to-Friday, but will make up some of that drop over the remainder of the weekend.