Weekend Forecast for Ocrtober 9-11, 2015
By Reagen Sulewski
BoxOfficeProphets.com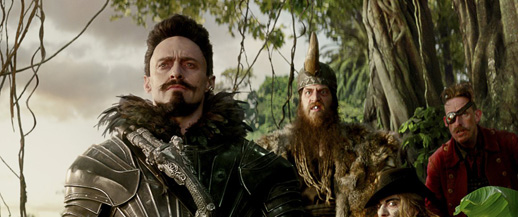 ---
After a strong...ish start to the fall season, box office takes a step back with a smaller, hyper-focused biopic and what may be the first big bomb of the month. Oh, the joys of when studios actually try.

In what is approximately the 457th cinematic take on the material, Pan is a ...prequel of sorts of the Peter Pan story, telling the back story of just how some kid named Peter got to Neverland and became Pan. It's not a bad idea as ideas go, but doesn't land in my "crucially necessary" pile of adaptations I needed to see.

Joe Wright, director of Atonement and the Kiera Knightly Pride & Prejudice, takes on this project with relative unknown Levi Miller playing a London orphan whisked away to this land of fairytales. Matching some vague notion of a prophecy, he meets us with a couple of people you might have heard of – a guy named Hook (played by Garrett Hedlund, who is apparently still a thing) and a girl named Tiger Lily (Rooney Mara, who is rilly rilly sorry about playing a Native American character but still cashing the check one supposes) as they take on legendary pirate Blackbeard. The big casting name is here, with Hugh Jackman shaving his head and putting on eyeliner to go full on frilly swashbuckler. It's an ... interesting aesthetic choice, to be sure.

Then again, this whole thing is aesthetics, and it's the kind of film where they just hand the costume and art directors a big pile of cash and tell them "have at it". There's a strong action-adventure bent to the plot, and looks a bit like a rather spectacular amusement park ride that you'll be clawing to get off after about 30 minutes. It finds itself in that unfortunate category of not really having a demographic to cater to – it's clearly trying for a young adult audience, but is a bit old-fashioned in its style, and way too young for older audiences. It's Moulin Rogue-styling for fantasy lit, but wildly off-target. Reviews could have helped it some, but they're just not there in a positive fashion, and quite frankly they're just asking for it from critics with that title. With a spectacularly large $150 million budget, this is a film that needs a huge opening to be profitable – or to have a big international performance. One of those things is possible. This week, I'd expect about $16 million.

For the second time in a month, one of our wide releases is an expansion from a large format platform. Unlike Everest, The Walk did not manage to make the Top 10 in its opening weekend, grossing a little over $1 million in around 448 venues – respectable under normal circumstances, but pales in comparison to similar strategies run before. A dramatization of Philippe Petit's highwire cross of the distance between the roofs of World Trade Towers in 1974, it stars Joseph Gordon-Levitt (complete with outraaaageous Franch accent) as the lead character, and directed by Robert Zemeckis. Previous documented in Man on Wire, this takes us much closer than that film (obviously) could, showing not just his planning to get up to the tower under cover of darkness, but his actual high-wire act many hundreds of feet in the air with imminent death the result of any mistake.

So it's That Feeling In Your Feet, You Know The One, You Have It Right Now: The Movie. Though it's clearly not done with any real danger, the effect is the same as seeing it actually being done, and the recreation, both of the act, and the Towers themselves is spectacular. Though that's merely the finale, and it concerns itself a lot with what makes someone want to do this in the first place. That may be why its limited opening was so much less than other IMAX films. It may also just be that it's a biopic about a pretty strange topic, and also may have people a little on edge about seeing the WTCs on screen again in such a way.

Gordon-Levitt has become a low-grossing, if consistent actor, who occasionally branches out into bigger material. This likely falls under the former category, with films like 50/50, Don Jon and Premium Rush serving as examples of what his draw is. Which is to say, not a ton. Although it's being pitched as an Oscar contender, it's likely to have to claw and scrape it way to that thanks to a modest opening weekend of about $8 million.

The Martian, therefore, should take its second weekend at the top of the charts, after starting out with $54 million, or basically exactly what Gravity opened up to. Word of mouth for the film should be solid, though it also appears to put it in the "good but not great" category. At any rate, it's an easily accessible, excitable and witty film with a likable star, so a strong second weekend of $36 million can be expected.

Hotel Transylvania 2 had a decent second frame with $33 million and pulling within spitting distance of $100 million before this weekend. It's slightly ahead of the first film's $150 million domestic performance, and seems to point to a way through for Sandler's career. Give it about $20 million this weekend.

Expanding crime film Sicario earned a modest $12 million last weekend, but with a fairly strong reception and should see good holdover, though its path to an Oscar nomination became a little bit tougher, given how much emphasis the Academy places on box office. It's a rather dark film, and while Blunt is getting more and more recognition as a leading lady (though this is certainly an unconventional lead), she's still got some ways to go. Give it $9 million here.

It has come to my attention that some of you readers are uncomfortable with my frequent cheapshots at Nancy Meyers' big bag of bland, The Intern. Certainly, with its $35 million to date, there are indeed some of you (but not as many as previous Meyers films!) who are in to the cinematic equivalent of a cup of camomile tea and a nice book. I'm certainly not one to say you can't go for that kind of thing, so carry on. Give it $8 million this weekend.