The Amazing Race Season 27 Power Rankings
By Kim Hollis
October 8, 2015
BoxOfficeProphets.com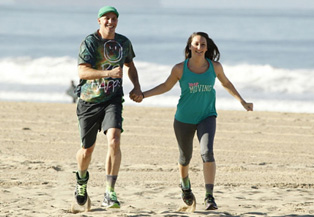 ---
With the pleasant and entertaining cousins Adam & Alex eliminated, we're now left with… a bunch of teams. Some of them have distinguished themselves more than others, with last week proving to be all about #TheGreenTeam and #TeamTexas for the most part. Let's hope that our next leg helps us to see some separation between the rest of the bunch.

1. Tanner & Josh (#TeamTexas)

Even though this duo of alpha males didn't take the top spot in the leg last week, they're still holding onto that Express Pass. Until they spend it and pass it along to the team they deem "worthy," they can stay up here as long as they're finishing in the top tier of teams. They do have a downfall, though, and that is their seemingly one-sided feud with Justin of #TheGreenTeam. In the past on The Amazing Race (and on most reality competitions for that matter), people who obsess over another team or individual generally see that fixation contribute to their ultimate demise. We won't be surprised if the same thing happens to these guys.

2. Justin & Diana (#TheGreenTeam)

This team really moved up in the world. They dominated the second leg after their introduction to the Race was filled with tragically bad luck. Fate smiled on them more kindly as they departed Rio, and they made great choices and worked well together all the way to a first place finish. We expect them to continue being great, although Justin seems to irritate more than just #TeamTexas, so other teams will be gunning for them. Also, it's all but guaranteed that Tanner & Josh won't be passing the Express Pass on to #TheGreenTeam when they're done with it, so they'll have to contend with someone using that advantage at some point down the line. Nonetheless, Justin & Diana are very well prepared for this Race, and it showed in their performance.

3. Cindy & Rick (#ChacAttack)

The dentist/doctor duo didn't have the best leg, but they sort of rise to the top by virtue of the fact that they seem to have fewer fissures than the other teams below them. Other than the fact that they were actually present and accounted for, these two made absolutely no impression. But bland is better than volatile when it comes to the Race.

4. Denise & James Earl (#TeamAlabama)

"I made you! You came out of my belly!" This mother/son team is so creepy. Unresolved life issues between them still abound, and eventually these troubles will find a way to manifest themselves. Until they do, this team is competitive.

5. Logan & Chris (#ThePaparazzi)

We're not sure we would have pegged Logan & Chris as a super volatile pair, but their blowup last week over… something is a really bad sign for them moving forward. Either Logan has a harsh temper or something was edited out. They're okay at the race, but at some point they're going to get lost or a challenge will go badly, at which point they'll turn on each other.

6. Kelsey & Joey (#TheReporters)

Considering that these two are news anchors, they might be the blandest contestants the show has ever seen. Maybe that serves them well in their jobs. Who knows? #TheReporters worked well together during the Detour, but they don't have a sense of urgency. There's nothing really wrong with them, exactly. They simply don't inspire a lot of excitement.

7. Jazmine & Danielle (#TheTrackStars)

They fell from their early heights in the first leg. It's not that they're terrible at the Race, but more that they seem to be chaotic. We do like them in a foot race, though!

8. Ernest & Jin (#TheDancers)

Okay, now we've really reached the bottom tier of teams. Ernest & Jin are so fun. They're also doomed in the Race. They're not detail-oriented at all, which will almost certainly be their downfall. They have some talents, but they're not well-suited for this Race.

9. Tiffany & Krista (#TheCheerleaders)
They weren't quite as hopeless this time around, but any challenge that doesn't involve dancing is going to be a struggle. Prove us wrong, ladies.