Weekend Wrap-Up
The Martian Blasts Off at the Box Office
By John Hamann
October 4, 2015
BoxOfficeProphets.com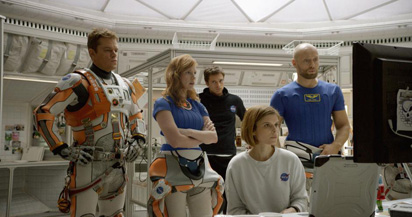 ---
Matt Damon's The Martian took off this weekend, but spent the frame trying to catch the impossible in space – Gravity. Sandra Bullock's hit from two years ago remains October's biggest film, but The Martian certainly gave it a run for its money.

The Martian, the latest film from sci-fi god Ridley Scott, almost had theaters to itself this weekend, save for an expanding Oscar chaser and a high-wire act that may become a horror story due to a fantastic plunge. The expanding film is Sicario, which lit it up in limited release with an almost $67,000 screen average on six screens and followed that up with an almost $30,000 average on 59 screens a weekend later. Sicario came into the weekend with $3 million in sales already, despite being out to only a handful of screens.

The Walk, on the other hand, is trying to replicate the success that Everest found on IMAX screens a couple of weekends ago, when the mountain climbing epic earned $7.2 million from 545 really big screens. The Walk is a different beast, though – less action-oriented, and doesn't have a previous similar IMAX release like 1998's Everest. That film earned $82 million over 117 weeks, and may have set the stage for the new Everest, which The Walk is lacking.

Our number one film of the weekend is The Martian, and with Hurricane Joaquin receding away from the mainland, the box office ended up pretty much whole for the weekend, despite some weather troubles in the Carolinas. The much anticipated release from Fox got started on Thursday with $2.5 million from previews, significantly more than Gravity's preview total of $1.4 million.

The Friday number for The Martian came in at $18 million, but was more like $15.5 million, given the Thursday previews. Gravity, on the other hand, had a first day of $17.5 million, but was actually $16.1 million given the $1.4 million from previews. So, as a showdown between the two biggest October space dramas, the race was close and extremely interesting right off the top, with just a slight edge going to Gravity, which went on to earn $55.8 million over its opening weekend, the best ever for the month of October.

Before we dive into the weekend results for The Martian, let's look at the remarkable similarities between it and Gravity. Obviously, both are star-driven spectacles with similar locations, and both films had excellent marketing campaigns (the edge has to go to Gravity in the marketing department, though). Both films received excellent reviews and are Oscar contenders – Gravity earned a 97% fresh rating at RottenTomatoes, whereas The Martian is currently 94% fresh at the site.

As for audience reaction, the Cinemascore for Gravity came in at an A-, while for The Martian, the score came in at a straight A. Gravity had great legs, so it is hard to understand how The Martian's could be even better; however, that slight uptick in the Cinemascore could help The Martian as soon as this weekend, given the age of immediate media we live in. Could this drive The Martian's Saturday higher than that of Gravity?

Gravity's first weekend run was really amazing. After posting a $17.5 million first day (keeping in mind $1.4 million of that came on Thursday), Gravity still popped incredibly on Saturday, earning $23 million – a 31% increase over Friday. Without the Thursday preview amounts, Gravity's jump to Saturday is a ludicrous 42.8%, which led to an internal weekend multiplier of 3.2. That multiplier is much higher than the standard for a film not aimed at kids over opening weekend. Normally, internal weekend multipliers for openers stay below 3.0, as more people come out on Fridays for new product. Had The Martian enjoyed the same multiplier as Gravity, it would have finished with $57.6 million for its first three days. However, on Saturday, The Martian earned $22.3 million (up 23% from Friday), and the writing was on the wall.

Over the weekend proper, The Martian may have not been able to catch Gravity, but it certainly put up a good chase. The Martian earned $55 million over its first three days from 3,831 screens (about 250 more than Gravity). That makes The Martian the second biggest October opener of all time, just barely behind Gravity. In fact, it might wind up the winner when actual box office revenue is announced on Monday. It stayed ahead of Paranormal Activity 3, which took in $52.6 million, and is only the second non-sequel to open to more than $50 million in the month of October.

The Martian becomes Matt Damon's biggest opener since The Bourne Ultimatum opened to $69.3 million in 2007, and is just ahead of The Bourne Supremacy's $52.5 million as Damon's second biggest opener. For director Ridley Scott, The Martian beats his previous bigger opener, Prometheus, as that one opened to $51.1 million in 2012. Lastly, for Fox, The Martian cost $108 million to make, and with this debut, the reviews and the Cinemascore, they will make out like bandits, as Gravity went on to earn over $700 million worldwide.

Finishing second this weekend is Hotel Transylvania 2, which actually held quite well, given that it's a sequel and stars Adam Sandler. Transylvania 2 earned $33 million in its second frame, down a decent 32% compared to last weekend. The original, which opened to $42.5 million, fell 36% in weekend two to $27.1 million, so it would appear the sequel is following a similar pattern. The original earned $148 million domestically, and this one should do the same. Overseas, I expect the sequel to earn more than the $210 million the original earned, and it already has $60 million from over there. Domestically, Hotel Transylvania 2 has pulled in $90.5 million against an $80 million budget.

Third goes to the expander, Sicario, which jumped from 59 screens last weekend to 2,620 venues this weekend. With the expansion, Sicario lifted its weekend take from $1.7 million last weekend to $12.1 million this weekend, an increase of 603%. Sicario is ticking the boxes for a Best Picture nomination – it opened successfully in New York and LA, and then continued that success via its small expansion. This is the tougher jump this weekend, but Sicario managed the expansion nicely for its brand of entertainment (R-rated, political intrigue, action-drama). These types of films are not easy to open, or to even sustain from a limited release to a wide release. Given the middling venue count it has now, Lionsgate can either choose to expand it further in the weeks ahead, or take their success and go home. So far, Sicario has earned $15.1 million, a not bad take against its $30 million budget.

Fourth goes to The Intern, as the Nancy Meyers flick enjoys a second weekend with zero comedy competition, and continue to do so for the next two weekends. Results were very positive for the second straight weekend, as after opening in the last frame to $17.7 million, the Anne Hathaway/Robert De Niro laugher fell only 35% to $11.6 million. Made for $35-40 million, The Intern has now earned $36.5 million domestically and is headed toward $65 million. It has also picked up $12.5 million overseas, so this is going to finish a winner for Warner Bros.

Fifth is Maze Runner: Scorch Trials and it has another tumble in its third weekend. The kid-lit sequel earned $7.7 million this weekend, off a hefty 46% compared to last weekend. This one opened lower than the original, and has since had two big drops since. The good news is that it is lighting it up overseas with a gross to date of $130 million. Domestically, The Scorch Trials has earned $63.2 million against a budget of $61 million.

Black Mass is sixth, and it would seem its B Cinemascore is killing its legs. After dropping 51% last weekend, the Johnny Depp crime thriller saw another steep plunge this time around. It earned $5.9 million and fell 46%. It has now at least matched its $53 million budget with its domestic gross, but is going to shut down with about $65 million stateside, and likely struggle overseas.

Everest got creamed this weekend as The Walk stole its IMAX screens. Odd that two films would take the same release tack within three weekends of each other (or maybe not odd), and now both films are struggling due to this cannibalization. Everest earned only $5.5 million this weekend (compared to $13.2 million last weekend), and thus declined a searing 58%. It appears that the Universal film will be fine, however, as the $55 million film may have $33.2 million stateside, but it already has $75 million overseas.

The Visit is eighth, and spends more time in the top 10 than most horror titles. The M. Night Shyamalan flick earned another $3.9 million this weekend and fell 41%. The $5 million film has now earned $57.7 million stateside and has picked up an additional $14 million overseas.

War Room loses some steam, as it spends its sixth weekend in the top ten. The faith based film earned another $2.8 million and fell 34%. It has picked up $60.5 million since opening.

Tenth is The Perfect Guy, as it quickly lost steam since opening four weekends ago. This time around, it earned $2.4 million and declined 50%. After opening to $25.9 million, it will leave the top ten with only $52.6 million, albeit against a budget of $12 million.

Surprisingly finishing outside of the top ten is The Walk, the new high wire release from Robert Zemeckis and starring Joseph Gordon-Levitt. Despite an Oscar pedigree, and an IMAX release that netted Everest $7.2 million, the same strategy fell apart for The Walk. Out to 448 IMAX theatres, The Walk could only muster $x.xx million. The question is whether audiences didn't care or if Everest just happened and audiences wanted to see The Martian instead. Regardless, this now has the stench of failure on it, and it will likely struggle when it goes wide next week.

Overall this weekend, the box office remains hot. The top 12 films earned a solid $142.7 million, which is similar to the $139.5 million from last year's top 12. That weekend was led by Gone Girl and Annabelle, two films that both opened to $37 million. Next weekend brings Pan, the once-delayed, $150 million Hugh Jackman flick from Warner Bros. This one is already in trouble and has yet to open, and could be the lone black mark on the fall season. The Walk expands, as does 99 Homes, the Michael Shannon/Andrew Garfield drama. With these entries unfolding, it could be a great second weekend for The Martian.