Friday Box Office Analysis for October 3, 2015
By Kim Hollis and David Mumpower
October 3, 2015
BoxOfficeProphets.com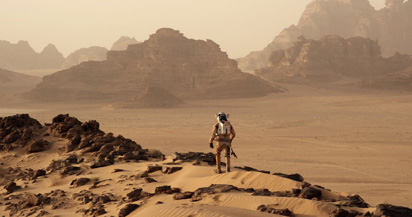 ---
Welcome to October, the month when Oscar bait-style blockbusters begin to arrive in full force. We kick off the month with a de facto sequel to Gravity and the expansion of a critical darling that has been garnering significant buzz in limited release.

Matt Damon got trapped on Mars. Maybe you noticed this in one of the 10,000 commercials that have been airing in advance of the release of The Martian. Damon, one of the few bona fide box office draws remaining in Hollywood, seemed like perfect casting when he was announced for this project. He even got a bit of a trial run for it thanks to his cameo in last year's Interstellar.

The combination of the Gravity-esque story and the legitimate lead actor struck a chord with audiences. The Martian debuted to a whopping $18 million on Friday, which barely surpasses Gravity's first day performance of $17.5 million. That's important because The Martian is attempting to break the record for largest October box office weekend, a title currently held by Gravity.

It's not a slam-dunk, however, because Gravity earned $1.4 from its Thursday previews, while The Martian needed the $2.5 million it earned from Thursday shows to beat Gravity's opening day number. This may reflect that Gravity had higher demand overall. We'll know after Saturday numbers, come in, because Gravity increased 32% to $23 million on its second day, the second-biggest single day of October box office to date.

That hefty Saturday increase is the reason why Gravity had a 3.19 internal multiplier (weekend total divided by Friday box office). If The Martian follows the same pattern as Gravity, it's looking at an opening weekend of approximately $56 million. That's just enough for it to claim the October opening weekend record. Buckle up – this is going to be a close one.

The one advantage Gravity had is that it was an hour shorter, and thereby played more times in the same theater. The upside for The Martian is that the fewer screenings artificially deflated its Friday box office, so it could have more unmet demand through the weekend and beyond.

After a great showing in 59 theaters last weekend with a $29,000 per venue average, the Emily Blunt/Benicio del Toro action drama Sicario expanded up to 2,620 locations. With a 92% fresh rating at Rotten Tomatoes and an A- Cinemascore, Lionsgate was looking to take advantage of strong word-of-mouth and headlines from its smaller scale release to make a bigger splash. The film earned $4.3 million on Friday, which is probably somewhat less than the studio was hoping to see.

The good news is that the film is distinctly targeted to adults, who are less likely to rush out and see a film on Friday night. This should mean that Sicario will hold up decently over the remainder of the weekend, with a likely $12.4 million total over the course of the weekend.

There's a small blip of news for The Walk, Robert Zemeckis's fictionalized telling of high-wire artist Philippe Petit's walk between the buildings of the World Trade Center. It was playing in very limited venues, with 448 IMAX locations. Although the film is very well reviewed, it still managed just $390,000 yesterday and has a total of $812,000 since debuting on Wednesday. Its weekend total should be right around $1.3 million, which is far lower than Sony was looking for as a preview-style release designed to generate buzz.

Last week, Hotel Transylvania 2 set the September opening weekend record. Yesterday, it fell 44% from its debut Friday to $7.5 million. That's not bad, as it's certainly going to recover significantly over the course of the weekend. Look for it to finish with about $30 million.

The Intern surprised last weekend as it opened with a terrific total of $17.7 million, and it's looking to hold somewhat decently in weekend two even with some distinctly adult-targeted competition. It earned $3.6 million yesterday, a 43% decline from last Friday, and should end the weekend with $11.3 million.

Even with a few extra screens, Everest fell 60% from last Friday, probably losing some its premium locations to The Walk. We're looking at a three-day total of $6.7 million for it, and even though Universal platformed this one kind of carefully, it feels like there might have been some missed opportunity here. While the IMAX move worked for Mission: Impossible – Ghost Protocol, both Everest and The Walk have fallen somewhat flat. Then again, neither film had a five-minute preview of The Dark Knight Rises attached to it, either.

As for The Green Inferno, it barely registers. It was down 73% from an already lousy previous Friday for a total of just $392,000. It's not going to be in the top ten, and High Top Releasing/Blumhouse are going to look to home video for the majority of their revenue.