October 2015 Box Office Forecast
By Michael Lynderey
October 1, 2015
BoxOfficeProphets.com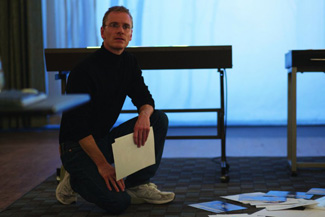 ---
October 2015 seems planned out like an old double-bill line-up, with six A-list pictures headlining the first few weeks, and a whole pack of B-listers coming in below them in the last half (especially October 23rd, which appears to be getting no fewer than five, maybe six, wide releases inflicted upon it). This month, we're getting quality, quantity, and a decent chunk of horror movies for Halloween.

1. The Martian (October 2nd)

Sadly, this is not a film about a carnivorous red-skinned interplanetary invader who lands in a small Midwestern town, where he must be combatted by plucky locals as he seeks to fulfill his cryptic extraterrestrial mission. No, the title is pretty much the ultimate cheat, because The Martian turns out to be plain old Matt Damon, playing an earthling who is merely stuck on Mars and could use a little help getting home, and who can claim Martian citizenship neither by birth nor by naturalization. And rather than a science-fiction horror film, this is a tale of scientific ingenuity, triumph over seemingly insurmountable adversity, and the endurance of the human spirit, as well as all those other things people tend to turn out to the movies for.

The Martian is director Ridley Scott's follow-up to Exodus: Gods and Kings, a film that was, in my view, underrated, and that, in all views, underperformed. There's little mystery to this new movie, though, at least from a forecasting point of view: The Martian has already been viewed and reviewed, and very well at that, by a large enough quota of critics to matter. Some say it could be a serious awards contender, and it does have a good chance for a nod or two in the major categories. So success is assured, and the only question is just how much of a blockbuster performance it can deliver, especially in being launched over a release date that is increasingly becoming populated by adult-themed genre pieces with big stars (like Gravity in 2013 and Gone Girl last year). I don't think it'll top $50 million opening weekend, but it should have very good legs as the month proceeds, and for a few weeks there it'll probably be the first choice of just about all moviegoers over 30.

Opening weekend: $49 million / Total gross: $171 million

2. Crimson Peak (October 16th)

Director Guillermo del Toro returns with another classy-looking release, and, excluding genre-benders like Blade, Hellboy, and Pacific Rim, Crimson Peak is arguably his first straightforward horror film since The Devil's Backbone in 2001. He's got a big budget to spend this time, not to mention the backing of the year's singularly most successful studio, Universal. On the one hand, low-budget independent horror movies have always been the backbone of the genre (not to mention the breeding grounds for its top talent). On the other hand, once in a while, it's fun to see something like this film, which looks like a big-studio, big-star Hollywood horror show, a gothic ghost story set in a haunted house in nineteenth century England. The film arrives in a month that also gives us a Paranormal Activity sequel, the boy scout zombie fighting movie, and Goosebumps, but there's probably enough room for a more mature piece like this. Crimson Peak is headlined by Mia Wasikowska, still in ingénue mode, and opposite an appropriately Loki-ish Tom Hiddleston, a distinctly displeased-looking Jessica Chastain, and del Toro's Pacific Rim lead, Charlie Hunnam, also on hand; they're known enough to give Crimson Peak some drawing power, and if it's a good film (which is very possible, given the talent involved), it can certainly hold on even beyond the presumably teen-dominated opening weekend.

Opening weekend: $31 million / Total gross: $95 million

3. Bridge of Spies (October 16th)

October has now become just about the prime month to launch Oscar contenders (the last three Best Pictures winners were all October releases). Bridge of Spies is set to premiere at the New York Film Festival, an almost irrefutable mark of quality, and given all the awards foreshadowing, it will likely be another top-notch film for adults, with Tom Hanks headlining a real-life '60s espionage tale, and none other than Steven Spielberg at the helm. The film is about the intricate negotiations leading to the release of Francis Gary Powers, the American pilot shot down in 1960 over USSR airspace. The release date is likely meant to mirror the October 2013 bow for Hanks' Captain Phillips, another true-life suspense thriller, and one that managed spectacular week-to-week holds all the way to $100 million. Spielberg's last Hanks-led film, The Terminal, took in $77 million in 2004, and Bridge of Spies does seem similarly low-key (I dare not say "low energy"!). Its generally action-less, detail-oriented plot might mean the movie will have more of a leggy run rather than an outright breakout, but given the names involved here, it's hard to predict low numbers.

Opening weekend: $27 million / Total gross: $89 million

4. Steve Jobs (October 9th, limited; October 23rd, wide)

With the Ashton Kutcher biopic from 2013 now in the rearview mirror, this slick, big-studio iteration by director Danny Boyle is the film that will likely become the definitive take on Mr. Jobs. Steve Jobs is led by Michael Fassbender, who looks less like Jobs than Damon does a Martian, but whose performance has so far received universal critical acclamation (Fassbender and Eddie Redmayne may be the final two in this year's Best Actor bracket). Supporting work is given by Kate Winslet, Jeff Daniels, and Seth Rogen. The script is by Aaron Sorkin, whose work here has so far been praised as among his best, and the film will almost certainly function as a semi-sequel to Sorkin and director David Fincher's The Social Network. That film, by the way, was pretty leggy ($22 million open, $96 million finish. Not bad), and Steve Jobs ought to get to a similar benchmark, through perhaps with a slightly different series of steps (I think going to a wide release right away could have been a better idea). Even in a month with some other choice films for adults, this one should stick out.

Opening weekend: $19 million (wide) / Total gross: $83 million

5. Pan (October 9th)

Pan is a prequel to the famous Peter Pan story, and indeed it unofficially follows, in reverse chronology, Benjamin Button-style, two previous films: Peter Pan (2003), a straightforward retelling of the classic tale, and the one all millennial children remember, Hook (1991), with Robin William as an adult Peter. Semi-newcomer Levi Miller plays Peter here, and some choice names embody the story's other notables: Hugh Jackman, bearded and bald, is Blackbeard, Garrett Hedlund is an extremely youthful Captain Hook, and Rooney Mara is the indigenous Tiger Lilly (that's funny, she looks exactly like I'd always imagined the character!). As with most of the month's other big films, Pan's review embargo has already been lifted, and early word is really mixed (American critics seem to like it less than English and Australian ones, if that means anything). Pan was pushed back from a competitive July spot to the more festive Halloween month, and it's possible that the seasonal touch will help a film that's just so full of bright colors and costumed tomfoolery. It's hard to peg down word-of-mouth, but Pan's appeal to children should give it a good go through the coming weeks, even with fellow traveler Goosebumps around going after its key young adult demographic.

Opening weekend: $27 million / Total gross: $81 million

6. Goosebumps (October 16th)

The month's other big children's film arrives a week after Pan, and may well begin an extended period of 1990s nostalgia (and there's surely nothing wrong with that). Goosebumps is an adaptation of the horror anthology book series that originally ran monthly from 1992 to 1997, and which has continued on with one spin-off or the other ever since. The books were highlighted by their memorably pulpy covers, and the film moves out more into tongue in cheek self-reference, with Jack Black playing series writer R. L. Stine opposite young stars Dylan Minnette and Odeya Rush, all helmed here by Rob Letterman, who also directed Black's version of Gulliver's Travels. The film, perhaps wisely, is a greatest-hits showcase and not an adaptation of a single book: they threw in the abominable snowman, a shrunken head, malevolent garden gnomes, and Slappy, who's still the scariest ventriloquist's dummy out there. The tone is of a family-friendly horror comedy, a genre that really hasn't been dabbled in all too often (Disney's Hocus Pocus is one of the few that come to mind). In any case, Goosebumps should open well enough on name recognition alone, and the seasonally-appropriate release date was probably a good idea (like Pan, it was moved from a summer date; I'm sure it would have crushed Fantastic Four on its original August 7th). If Goosebumps is good, it could even stick around and give some of the month's more pompous titles a run for their money. With 182 books, one could hardly deny that there's infinite franchise potential here!

Opening weekend: $24 million / Total gross: $73 million

7. Paranormal Activity: The Ghost Dimension (October 23rd)

Ever since they unseated Saw as America's annual Halloween horror tradition, the Paranormal Activity films have become the definitive horror franchise of the 2010s, for better or, certainly, for worse. More than any other, the series has helped influence so many of the horror films of the last five years (so much shaky-cam, so little time), and it's also one of the few horror franchises still putting out new sequels. Even if the title doesn't explicitly say so, this is number six. The last entry, released in January 2014, was marketed as the "Latino version", and it did just okay ($32 million, the series' lowest). The Ghost Dimension seeks to return more directly to the original story, if it can still be called that, given how many permutations in time, space, and meaning, these films have traversed. The bottom line is that like most recent entries, the newest Activity will open big enough, and then will travel to the box office nether. It could even be the last one, even if there's no exciting new horror series ready to take the helm for the month.

Opening weekend: $23 million / Total gross: $55 million

8. Burnt (October 23rd)

This film about a chef was, indeed, originally titled "Chef", and has presumably been renamed to avoid confusion with Jon Favreau. The name almost doesn't matter, because Burnt is a movie that seems to be marketed directly on one man's sheer star power: all three Burnt posters listed on poster powerhouse impawards.com are comprised simply of their leading man, Bradley Cooper, standing alert and staring directly at the consumer (in two of them, he is in the foreground of a kitchen; in the third, he seems to inhabit an empty grey space, perhaps another planet?). So little is known about Burnt's prospects, indeed, that I've even heard some vague Oscar buzz, though that might be more of a general reflex to Bradley Cooper's existence than anything else (he's been nominated three years in a row now, and Supporting Actor for Joy might make it four this year). Awards or not, Cooper's star power does hold up: he carried American Sniper to its status as the biggest movie of 2014. On the other hand, he didn't save Aloha from its unkind fate in May, and, unlike the sniper film, he doesn't shoot anyone from a large distance in this one, either (or if he does, it isn't in any of the ads). There are some noted supporting actors here (Uma Thurman, Lily James), but Burnt is all about the man above the title, and so I'll give it the benefit of the doubt.

Opening weekend: $15 million / Total gross: $45 million

9. Our Brand is Crisis (October 30th)

Like The Walk, David Gordon Green's Our Brand is Crisis is a fictionalization of a documentary (in this case, one with the exact same name). It's a political drama with bits of comedy and satire, about American campaign managers hired to manipulate a contentious and potentially revolutionary South American election. I'm sure the political commentary is meant to have local relevance, too, and the film is perhaps timed to coincide with the presidential election season (though you could probably say that about any movie released at any time). Early word from the Toronto festival is not particularly positive, though the praise for star Sandra Bullock's performance has been unanimous. Adults looking for serious fare have a lot of flashier options out there this month, but Bullock is still one of the few really big ticket draws, and a respectable box office showing is the least we can expect (demand?) from her.

Opening weekend: $12 million / Total gross: $34 million

10. The Last Witch Hunter (October 23rd)

With a title that recalls Hansel & Gretel: Witch Hunters, this is one of those time-bending action horror fantasy adventures studios have been making since roughly Underworld days in 2003. Vin Diesel headlines here as the lonesome title character, opposite Michael Caine and Elijah Wood. These R-rated supernatural shoot-em-ups do well on occasion - especially if they're a brand name like Resident Evil - but I'm not sure there's enough of a demand for The Last Witch Hunter, which isn't based on a video game, a graphic novel, or even on an obscure manga. And while Diesel is a big name, The Last Witch Hunter seems likely to follow closely in the path of Dracula Untold, another horror-adventure that opened last year at Octobertime without much of a breakout. Giving it a rough guess, the film may come in somewhere along the lines of some of Diesel's other recent non-car-related action adventures, most likely smack dab in between his Babylon A.D. ($22 million total) and Riddick ($42 million).

Opening weekend: $11 million / Total gross: $32 million

11. Scouts Guide to the Zombie Apocalypse (October 30th)

Rounding out the month and bowing the day before Hallowe'en, this is a horror comedy whose title has unfortunately been devolved from the far superior, near-perfect, bluntly correct, "Scouts vs. Zombies", and into a longer and less precisely memorable iteration. Either way, Scouts Guide is a picture that seems to have been designed as a cult film right from the start, and has even been marketed as such, with short and memorably off-beat trailers featuring a plethora of inventive zombie attacks. Comedy aside, this is a hard R film, the kind of rating that will prevent, or at least curtail, attendance by at least one of the groups mentioned in the film's title. And the October 30th date almost guarantees a lower-than-expected weekend for just about any challenger. On the plus side, the human cast does feature Tye Sheridan, an excellent young actor making a transition from some very well received indie films and into leading a mainstream studio film (if you can call this zombie picture that), as well as some reliable comic performers like David Koechner and Cloris Leachman (a real trooper if there ever was one!). It may not win the month, or even make October 2015's top 10, but I imagine the film might enjoy the company of many midnight basement viewings in years to come.

Opening weekend: $8 million / Total gross: $25 million

12. Jem and the Holograms (October 23rd)

Like Goosebumps a week before it, this is an adaptation of a children's property from days gone by, and one from yet another great decade, the 1980s. Jem and the Holograms is based on a girl-powered television cartoon series that mixed music with fantasy and even action, although the film seems to re-play the story as basically a straightforward live-action musical biopic. I'm not sure there's enough of an audience for the material, though the director is Jon M. Chu, helmer of Step Up and G.I. Joe sequels, and there are some lively up-and-comers (Stefanie Scott, Ryan Guzman) in the cast. It's hard to say how Jem and the Holograms will play opposite Goosebumps, but you know, many moons ago, I ridiculously overpredicted another 1980s musical remake, Fame, and that's not a mistake I'll make again.

Opening weekend: $7 million / Total gross: $21 million

13. Rock the Kasbah (October 23rd)

Many films seem ready to converge on poor, blameless, October 23rd, and this somewhat proudly uncommercial looking all-star Afghanistan-set comedy is probably the weirdest. Rock the Kasbah reminds me for whatever undeniable reason of The Men Who Stare at Goats, that oddball Kuwait-set film with George Clooney (and a few goats). Bruce Willis, Kate Hudson, and Danny McBride are among the supporting actors here, and the lead is Bill Murray, whose star power can carry a good film to decent numbers (St. Vincent finished with $44 million last October). Rock the Kasbah, though, just looks and feels so very strange, and its plot (with Murray's character training an Afghan Idol contestant) is so bizarre and decidedly non-mainstream that it's hard to see it breaking out above base wide release numbers. If the Kasbah gets good reviews, it might have a decent future as a cult film, although this month, there's a lot of competition even for that designation.

Opening weekend: $7 million / Total gross: $17 million

Also opening in this already busy October are various likely Oscar contenders making their platform starts, most prominently Freeheld (October 2nd), with Julianne Moore and Ellen Page, about a famous same-sex relationship lawsuit from a few years back; Truth (October 16th), about the Killian papers, with Robert Redford as a blonder-than-usual Dan Rather and Cate Blanchett as his producer Mary Mapes; Suffragate (October 23rd), about right-to-vote activists in Britain of old; and, last, and perhaps best, Room (October 16th), a dark thriller with Brie Larson giving what is already being hailed as a revelatory performance. Room will go wide in November, and will likely stick around long after that.