A-List: Best Boston Movies
By J. Don Birnam
October 1, 2015
BoxOfficeProphets.com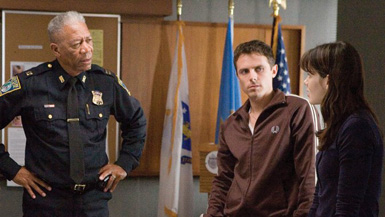 ---
We have covered the best movies about The Big Apple, as well as the best movies about Los Angeles. But with the Oscars season poised to shine a Spotlight and performing a Black Mass on Beantown, today we look at the best movies about Boston.

Research for this column revealed that, while movies about our two largest cities have been around since the dawn of the genre, the Boston movie is a much more recent phenomenon. Not only that, but the Boston movie has a very specific genre in almost all of its incantations: a crime movie. One could argue that Boston crime movie is a genre in and of itself today, but I have not found many of these films going back more than 15 or 20 years. (If you know of others, Tweet me here and let me know!).

Thus, while it turns out that Los Angeles movies were dark, noir-esque, and somber (surprisingly) and that New York movies were unexpectedly poetic and romantic (both the opposite of the stereotypes I have in my head about those cities), the Boston cliché fits the mold. Boston, the cradle of our Revolution and one of our most beautiful cities, is nevertheless a place with a dark underworld of crime and vice that manifests itself in film. Perhaps it helps that talented artists with Boston roots (think Ben Affleck and Matt Damon) have emerged to make movies about their hometown.

The rules will be the same as for the L.A. and NYC columns: the movie has to be primarily set in or about Boston. A passing glance or reference is not enough. This unfortunately disqualifies some good movies that have critical scenes in Boston, for example the X-Men sequel X2, or the fantastic War of the Worlds. I've also in the past discussed my adoration for the Aaron Sorkin baseball drama Moneyball, but the scenes in Boston are too attenuated to really make it a movie about Boston.

As for honorable mentions, I'll list two: Good Will Hunting and The Town. I know it's controversial, but I've never found much love for Hunting's somewhat trite story of a misunderstood-genius who gets the girls with the help of quirky professor story. It was in some ways a reprise of Dead Poet's Society and in others the same story as the latter drama A Beautiful Mind. I never find much inspiration in those stories without taking anything away from their performance. And The Town is a fantastic movie, a Best Picture nominee, no less, but when it comes to Ben Affleck-directed films, it is elsewhere that you will find my pick.

Oh, and one final thing: do not expect to see the horrific Fever Pitch on the list. Yeah, what could be more Boston than a movie about the 2004 ALCS and Red Sox season? But even typing those words hurts, so let's leave it at that.

5. The Verdict (1982)

The oldest movie about Boston that I could find was Sydney Lumet's courtroom drama The Verdict. I've spoken about this movie in the past as a courtroom drama. But the Paul Newman vehicle is also a good Boston movie because it pits two infamous factions of Boston society against each other - the legal establishment against the religious and political machine. In scenes that presage the upcoming Oscar contender Spotlight, Newman's boozy, washed-up attorney has to confront the Catholic Church herself in his quest for redemption and good. But, like Spotlight and most other movies about Boston, redemption comes at a price and is never ultimately achieved. The well has been so poisoned by the evil you are pursuing that you inevitably get infected yourself - if not by stooping to their amorality to stop them, then simply by being around them. In the process of becoming a hero, the savior is destroyed. That is the story of The Verdict. That is the story of Spotlight. That is the story of Boston.

4. The Departed (2006)

When the Academy finally woke up and awarded Martin Scorsese an Oscar for Best Director and Picture, it did so for this thrilling, violent Boston crime drama featuring an amazing cast, from Jack Nicholson and Leonardo DiCaprio to Matt Damon, Mark Wahlberg and Martin Sheen. The theme becomes clear early on. In the Departed, there are no true heroes and there are no true saviors. Those that are fall by the wayside quickly, the innocent are discarded - killed, or shoved aside. The most evil triumph for the most part, or at least get away with so much before they are stopped that by the time they are, it is too late to feel like you've accomplished anything meaningful.

Featuring an acidic soundtrack and an iconic performance by Nicholson, the movie weaves in and out between truth and deception as it tells the story of a corrupt cop who is really a mafia mole, and a mobster who is in reality a good cop, himself a mole. The lies and double crosses create anxiety, tension and one of the most iconic elevator scenes and denouements of all time. Marty wasn't kidding around with this one, and the bodies were dumped all over that city by the Bay.

3. Legally Blonde (2001)

There is space for some light-heartedness in this list, and if ever a romantic/girl comedy deserved a spot on a Boston list it is Reese Witherspoon's classic, Legally Blonde. Perhaps not occupying the same space as Mean Girls or The Devil Wears Prada in the pantheon of 2000s girl power films, Legally Blonde can arguably by named their grandmother (and itself, the daughter of Clueless and the bridge between the 1990s and the 2000s).

In the well-known plot, Elle Woods is dumped by her boyfriend for being too dumb, and in revenge she applies herself and gets into Harvard Law School. And what could be more Boston than the first American University itself (one that, apparently, lets candidates in based on the nakedness of their admissions videos)? The movie then features it all, a light-hearted courtroom drama with hilariously unrealistic but genuinely surprising twists, stereotypically vicious lawyers and law students, and undemanding allies, in the downtrodden neighborhoods of Boston.

The sequel moved our heroine to Washington, but it likely won't make any list about great D.C. movies. It is the original that was a breath of fresh air and has achieved iconic status with time.

2. Gone Baby Gone (2007)

Everything that L.A. Confidential did for the L.A. movie genre, Gone Baby Gone, Ben Affleck's directorial debut, did once over. Before he was trying with all his might to win Academy Awards, Affleck directed this deeply personal, surprisingly moving, and incredibly nuanced about crime, love, and betrayal. He extracted some of the best performances of Casey Affleck and Amy Ryan's careers. It features stunning and unexpected twists and a jaw-dropping finale by the usually reliable Morgan Freeman. In between, the movie weaves in and out of several iconic Boston neighborhoods, from Quincy to Dorchester, and shows you the underside, crime and poverty-ridden neighborhoods of the city.

Gone Baby Gone is a tense, taut thriller. In a way, it is obvious that Affleck took cues from Scorsese's tones and techniques for the attempt to humanize the criminals. But the younger and more sensitive Affleck gives his characters a more human, emotionally dimension that Scorsese's robotically evil players do not have.

Affleck has not yet, in my mind, topped his directorial debut, but here's hoping.

1. Mystic River (2003)

Undoubtedly my favorite Boston movie of all, however, is Clint Eastwood's tense psychological thriller Mystic River. The movie is based on the novel by the same name by author Dennis Lehane. Not coincidentally, Lehane also penned Gone Baby Gone. Dude knows his Boston drama.

But where some of Affleck's novice traits are visible around the edges of his film, Mystic River is Eastwood at perhaps the height of his career (yes, he won it all the following year for Million Dollar Baby, but to me Mystic River was his last stunning masterpiece). The movie tells the harrowing story of the kidnapping and murder of Sean Penn's character's daughter. As he and the police search for her, dark secrets will be revealed and the true nature of some of the evil and feeble characters will surprise you. With Oscar-winning performances by Penn and his feeble brother, Timothy Robbins (and a nominated turn by the hypnotic Marcia Gay Harden), the movie keeps you guessing, and dreading.

All the time, Eastwood puts his finger on the mood of the lower middle class Irish neighborhoods of the city, without ever explaining what it is that has turned these once loving families and people into vicious, unrepentant animals. Maybe it is the decay of their culture, the downturn of their city. Maybe it is the lack of hope inherent in their humanity.

Or maybe one day they woke-up and forgot what it's like to be human.