The Amazing Race Season 27 - Episode 1 Recap
A Little Too Much Beefcake
By Kim Hollis and David Mumpower
September 28, 2015
BoxOfficeProphets.com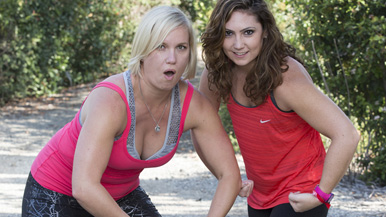 ---
Previously on The Amazing Race, one of the worst seasons on paper proved to be THE best season in the history of the show. A series of long-standing couples faced off against a bunch of "blind dating" teams. We naively believed that the people who already knew each other would have a huge competitive advantage, said as much repeatedly, and then had to laugh when the final three teams were all blind daters. How do the producers of The Amazing Race plan to follow such an inventive cast?

By going back to the same old boring format of the past. Ah, well. At least we'll always have Season 26.

The first couple we meet is Justin & Diana, aka #TheGreenTeam. They must have spent all of 15 seconds coming up with that one. They're such superfans of the show that their de facto audition was Justin creating a fake edition of the race. They traveled 5,000 miles across six states and two countries, somehow avoiding The Amazing Race's legal team. At the end of the adventure, he proposed to her under the Northern Lights. After almost 150,000 people watched, the show felt compelled to cast them.

Next up is a pair of doofuses named Tanner & Josh, who don't even introduce themselves before proudly displaying that they think with their penises. Most people talk about winning The Amazing Race. They talk about all the cute women. Ladies and gentlemen, meet #TeamTexas.

Cousins Alex & Adam, code named #TheCousins, are next up for discussion. All we learn about them is that one wrestles, one of them is into theater, and both of them have a rare form of dwarfism.

The following team enjoys slightly better branding. Team #ChacAttack is comprised of newlyweds Cindy & Rick, both of whom are "doctors." Well, he's a real doctor, an OB-GYN. She's a dentist, so it's cute that she calls herself a doctor, too. We don't know what the ChacAttack means quite yet, but they've printed T-shirts, so it must be a big deal.

#TeamAlabama is next. Unlike #TeamTexas, neither of them is into girls. Mother Denise once had a close relationship with James Earl – unexpected since she named him James Earl – but then he came out to her and she apparently handled it horribly. Her comments make it clear that she's desperate to gain his forgiveness. His body language indicates that he's not over it yet. The other memorable thing about James Earl is that he looks like a small Peyton Manning.

#TheTrackStars are up next. Apparently Jazmine broke UC Riverside's school record for the heptathlon one year and then Danielle broke it again the following season. They then annoyingly reference themselves as the "Dream Team," which no one has ever said about a UC Riverside sports team.

Logan & Chris are up next, and after two sentences, we're ready to punch them. They're dating paparazzi (and have the hashtag #ThePaparazzi, natch). In their own words, they were chasing Justin Bieber two days ago, and they'll spend the next month chasing Phil Keoghan.

As annoying as #ThePaparazzi are, we instantly dislike Tiffany & Krista more. The chip-on-the-shoulderest team this year features a pair of former NFL cheerleaders. Krista is desperate for you to know that she's more than just a dumb cheerleader since she has her Master's degree. Meanwhile, Tiffany is a physician's consultant.

That's all the introductions we have time for, apparently, because here's Phil and all the contestants at Venice Beach. Not only is Phil there, but so are a bunch of former Amazing Race contestants, including the winners of the first season. Apparently, they're more interesting than three of this season's actual teams.

The first stop this season will be Rio de Janeiro, but before teams can get on their way, they'll hustle to some cabs that will whisk them off to a bike race. The winner of that sprint will receive the only ticket for the first flight to Brazil. The other teams will be left 30 minutes behind. One final note: Phil reminds us that the winner of this first leg will be awarded the Express Pass, which they'll be able to use at a time that is advantageous to them.

During the cab ride over to the bike race, we meet #TheReporters. Kelsey & Joey love being on camera. The only thing they might love more than that is their own voices. They introduce themselves Ron Burgundy style, telling us that they are both news anchors and are also dating. Like many Racers before them, they're going to use the show as a testing ground for their relationship. Like most of those, they'll be on Tinder any minute now.

Kelly & Shevonne are everything that's wrong with the world today. They describe themselves as reporters, but what they mean is that they work for TMZ. "Anything that you're thinking about that's happening… like Caitlyn Jenner or the Kardashians…" Did they just use "thinking" and "the Kardashians" in the same sentence (fragment)? These self-important blowhards go on to mention that they're going to be mean, but that's okay. Apparently #TeamTMZ's job has trained them that being jerks is a positive. The sooner they're out of the race, the better.

Ernest & Jin seem to be the first people on The Amazing Race with a real need to win. The brothers, nicknamed #TheDancers, claim that they live in their car and say that their dance performances are the only way they can put food in their bellies. We hope this is hyperbolic.

When the teams arrive at the "bike race," they discover that they're actually boatsthat are powered by an exercise bike sort of apparatus. One person pedals while the other one rides. Team members can also take turns pedaling.

Tanner & Josh have trouble pretty quick when their contraption breaks. Justin from #TheGreenTeam tells them that he would give them a tow, but they're "beefcakes" so he's leaving them behind. That's the right call, because Justin & Diana are the first team to finish and will be the only team on the first flight. If they do get eliminated, they're really bad at this game.

After a lot of face-planting on the dock, the racers are off to the airport. Justin & Diana are hoping that their early advantage will take them all the way to winning the leg and the Express Pass. Since all of the other teams are bunched up waiting for the second plane (a rare early bunching for the show), Kelly & Shevonne show us exactly why they probably fit in perfectly at TMZ. They basically say something terrible (or borderline offensive) about all of the other teams. They might think it's clever or smarmy or funny, but what it really looks like is insecurity.

Once the teams arrive in Rio, they'll need to make their way to the Lagoa Helipad for their first clue. As it turns out, the first plane arrives 20 minutes late and the second plane is five minutes early, so that big-time advantage means absolutely nothing. You can even see them side-by-side with some other teams at the airport. Thanks for nothing, Amazing Race!

The teams battle it out for taxis, and #TheGreenTeam does arrive first at the clue box. Surprisingly, there is already a Fast Forward, but it comes with a warning. Apparently the task is weather-dependent, so it's a risk to go for it. Justin & Diana figure that they may as well take advantage of their first place positioning and try to get all the way through to the Express Pass. #ChacAttack (aka Cindy & Rick) figure it's too precarious to follow them, because the wind is pretty high.

The Fast Forward is called "Leap of Faith," while the first clue of the race sends the other teams to a helicopter ride. They must pay attention during their flight, because they will have to answer a question at the end. Once again, the teams are bunched, with only the skill of the taxi drivers determining positioning.

When Justin & Diana arrive at the Fast Forward, they learn that the wind is solidly in the danger zone. "Red flag is very dangerous. We cannot fly." Justin asks how long it might be, and the pilot tells them it could be hours before going and shutting the business down completely. As Justin says, "We just killed ourselves." Remember what we said about them being eliminated? Sorry, guys. We might be bad luck.

As they're in the taxi to head back to the copters, Justin is in tears. He feels all the responsibility for their misfortune, but Diana tells him they still have so much to do and not to worry about it. He's a superfan of the Race, though, so he is taking it way harder than your average contestant probably would.

All of the teams feel overwhelmed by the famous Christ the Redeemer statue when they pass it by, which is probably a good thing since that's going to be the answer to the question they'll be asked at the end of their flight. Indeed, Cindy & Rick get the question correct (and in Portuguese, to boot!). Next up is the Detour, which gives them the option of Sand or Sidewalk. For "Sand," teams will have to play "Footvolley" against some pros. In case you're wondering what footvolley is, it's a combination of soccer and volleyball. Because of course it is. Anyway, they'll have to score six points before the pros score 18. Also, the Racers will have a slight "advantage "in that they'll be allowed to use their hands.

For "Sidewalk," the challenge is based on a two-mile long black and white Portuguese pavement promenade. Teams will have to solve a slide puzzle based on the promenade's design. This seems like it might be the easier task, but since the design is black and white, it might be tougher than it appears.

#ChacAttack chooses "Sidewalk," noting as they head to the task that #TeamAlabama is right behind them. The mother and son team chooses "Sidewalk" as well. Apparently, whether the teams choose "Sidewalk" or "Sand," they have to perform the challenge in a bikini or short swim trunks (though mercifully not a banana hammock). Cindy & Rick look right at home in their swimwear, but Denise & James Earl seem somewhat less comfortable.

The meatheads (Tanner & Josh) choose to show their athletic prowess by going with "Sand." They figure it should be easy to get six points before their opponent reaches 18. Is it wrong for us to hope they're humiliated? Well, let's just say that it's not long before they see why they were given an advantage. The pro "footvolleyers" are tough. Jazmine & Danielle discover this pretty quickly as well.

Eventually, Tanner & Josh are able to beat their pros and are the first team to move on from the Detour. Their clue directs them to Arpoador Lookout, which is the location of the first leg's Pit Stop! We should probably note that we're only 28 minutes into the episode, so this is a fairly shocking development.

The guys ask for directions to the Pit Stop location, and learn that they can get there on foot. This is significant, because Jazmine & Danielle get their six points right away and choose to take a cab to their destination.

As speculated, the puzzle is indeed proving difficult, but Denise & James Earl are able to power through. Meanwhile, Cindy & Rick bicker as they struggle to make the pieces fit properly. Like Tanner & Josh, #TeamAlabama decides to hoof it to the Pit Stop. Or James Earl decides to, anyway. Denise whines pitifully about it.

Justin & Diana finally arrive at the helicopter, and they realize that they are solidly in last place. Justin is still in tears, but Diana seems to be appreciating the gorgeous view.

In the end, the meatheads win first place and the Express Pass. Maybe we shouldn't call them meatheads, huh? This Express Pass lets them skip any pass they don't want to do – but they must use it by the fifth leg. At that point, they must hand it over to another team, who will be required to use it in the following leg.

That means Jazmine & Danielle finish in second, and they are ridiculously excited about this pronouncement.

#TeamTMZ receives their comeuppance when they hit the footvolley court. They're uncoordinated, clumsy and can barely stay on their feet. Needless to say, they pretty quickly decide that they'd better move over to the "Sidewalk" challenge instead.

Speaking of the "Sidewalk" challenge, #ChacAttack has finally finished their puzzle and they're ready to move on to the Pit Stop. It's probably a bad sign for #TeamTMZ that they have goofy music to accompany them while they solve the slider. If they weren't heinous, we'd feel bad for them, but… we don't. Not at all.

Cindy & Rick are checked into the Pit Stop in third, which means #TeamAlabama somehow fell behind them. Phil asks Denise if she put lipstick on before she got to the mat, and she tells him she absolutely did! That's… something.

#TheReporters have joined the "reporters" (aka #TeamTMZ) at the puzzle area, while Alex & Adam and Ernest & Jin will be playing a bit of footvolley. #The Dancers say that the two people they're playing against aren't even "normal people." They definitely look pretty overwhelmed on the court. #ThePaparazzi have also arrived for a little bit of sand footy. They are the first ones to get to six points and are off to the Pit Stop.

We haven't forgotten about Justin & Diana yet, but they are reduced to begging a cab driver to take them to their next destination, because they've run out of cash. A kindly gentleman takes pity on them and they are moving forward, even if there is theoretically no hope. We say "theoretically" because we're still just at the 36-minute mark, which means a lot can still happen.

Oh, yeah. Remember the cheerleaders? They're apparently in the race, too, because their taxi driver has effectively just stopped at Copacabana Beach and told them to get out. They're telling him they need to find the Amazing Race flag, but he's not having it, so they're just going to be running up and down the beach until they find the right spot. When they ask someone how far they have to go, the guy's answer is "too far."

Perhaps all is not lost for our superfans, after all.

Logan & Chris are checked in as team number five, while Justin chants a mantra hoping that some other teams will be on the beach when they arrive. He's pleasantly surprised to see several of them there, and he and Diana rush off to their puzzle.

The cheerleaders have finally arrived at the beach area – and they look absolutely exhausted. #TheReporters are frustrated with the puzzle and decide to switch to the footvolley challenge instead.

Alex & Adam win their match, which demoralizes Ernest & Jin, who might have made some erroneous assumptions based upon differences in their physical appearance. "Don't underestimate the little people," they say.

Like #TeamTMZ over at the puzzle, the cheerleaders are now getting the goofy sound effects during their footvolley match. One of the girls breaks down in tears as the other one whines about being five foot nothing (what was that #TheDancers were saying about the little people?). We're 45 minutes into the first episode and we've already had two teams crying.

When Alex & Adam check in, Phil reminds them (as if they needed it) that one team will be winning a million dollars. Naturally, they say it will be them, because what else are they going to say?

#TheReporters win their sandvolley match, and arrive on the mat at the same time as #TheDancers. Everyone in this non-eliminated bunch is all smiles. Justin & Diana have decided to switch from the puzzle to sandvolley; conversely, the cheerleaders have moved over to the puzzle.

Shockingly, Justin & Diana turn out to be pretty darned good at sandvolley. It's probably at least partly a trick of editing, but he gets in some good shots, while Diana is able to score the game-winner. Needless to say, they've had a big turnaround in this episode.

So, now we're left with the cheerleaders and #TeamTMZ. Since one is annoying and the other relishes in being mean, we'll just say that society wins no matter who loses.

At this point Kelly & Shevonne are just moving pieces around aimlessly. They note that the guys they work with always underestimate them, so losing in the first leg will be particularly humiliating. We'd say they probably deserve it, but the guys they work with are probably terrible people, too.

At the Pit Stop, Justin is back to crying again. He says he's "still confident, but definitely not cocky."

And despite #TMZ wondering whether the cheerleaders were there to "look good or do good", Tiffany & Krista complete the puzzle first. The two of them are checked in as team #10, which means that Phil is kind enough to come visit Kelly & Shevonne just as they are finishing their puzzle. He informs them of their elimination, and we have our third crier of the day. At least now they can go back to covering the important news items, like Kardashians and Caitlyn Jenner.

"Do you think this is a karma thing, Shevonne?"

"Maybe we should be nicer."

We couldn't have said it better ourselves.