Weekend Wrap-Up
October Arrives A Week Early as Box Office Records Set
By John Hamann
September 27, 2015
BoxOfficeProphets.com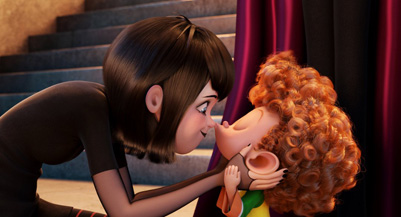 ---
It's the last weekend of September, so the box office should be just waking out of its post-summer sleep and building toward October. Instead, we have five films earning more than $10 million and the biggest opener ever for the ninth month. Could this be the biggest September ever?

Following a weekend with openers of the $30 million plus and $20 million plus variety (in September - *drink*), I thought things might soften a bit this weekend. I figured this weekend's sequel would debut lower than the original film, and the other opener would fail to punch above $10 million. Instead, Hotel Transylvania 2 pushed the envelope against its predecessor, and The Intern opened decently despite likely playing to an older audience. On top of that, Everest expanded nicely, while The Green Inferno opened low but fell right within expectations. Add to that an attention getting box office performance by Sicario – both last week and this week – which will give it some further attention with Oscar going forward.

The #1 film at the box office this weekend is Hotel Transylvania 2, and after a week of lowered expectations both by Sony and by some box office analysts, this one popped. The Adam Sandler flick started strong on Friday (there were no Thursday previews) with a stellar opening day of $13.3 million, improving on the original by $2.3 million. Consensus prior to opening was that the sequel would open lower than the original, not higher. Additionally, given that the original's debut is the current high-water mark for the month of September, the sequel was heading for more headlines.

The original Hotel Transylvania had a very high internal multiplier of 3.9, so the sequel was not likely match that of the original. Still, because it plays so well to kids, the multiplier would be higher than 3.5. As Tim Briody pointed out yesterday in BOP's Friday Box Office Analysis, this range would put it between $46.4 million and $51.7 million. In the end, the animated Sony sequel earned $47.5 million over three days and set the record for the top box office debut in September. It did it by going very wide in 3,754 venues (400 more than the original) and by answering an audience call that has gone unheeded since Minions launched 12 weekends ago.

The Hotel Transylvania franchise is becoming a nice box office bastion for Adam Sandler. After the much-hoped-for Pixels fizzled (good concept, bad execution), and following a string of disappointments, the Transylvania films stand out among Sandler's top films going back almost a decade (I don't count the Grown Ups movies – no one should).

Neither the original nor the sequel received great reviews (the original was 44% at Rotten Tomatoes, while the sequel is 47% fresh); however, according to Cinemascore, the kids seem to like them just fine. Both films earned an A-, which should give Hotel Transylvania 2 similar legs to the original, which had an opening-to-total multiplier of 3.5. The first Hotel Transylvania finished with $148.3 million, and added another $210 million overseas, all against a budget of $85 million. This one cost $5 million less at $80 million, putting Sony in an even better position this time around.

Second spot this weekend may not be September's best opening, but it is still strong regardless. The Robert DeNiro/Anne Hathaway flick could have opened anywhere between How Do You Know's $7 million and It's Complicated's $22.1 million. This older, mostly female audience can be fickle, but The Intern – despite not much of a push from the marketing department – still had a first Friday of $6.2 million, and had that been the weekend gross, I wouldn't have been overly surprised. However, the star power and cute concept pushed the Warner Bros. release to a dramatic $18.2 million, which puts this one on the road to success. The Intern debuted at 3,305 venues, and WB was smart to push this one out that wide.

Reviews were somewhat surprisingly lower than expected at 56% fresh, but that tells us why this film is getting a September release rather than a Christmas Day release. Like our #1 film, audiences liked The Intern much more than critics did, giving it an A- Cinemascore. That score likely is better news for The Intern than Hotel Transylvania 2, as these sorts of comedies rely on word-of-mouth. Usually, the older crowds don't show up over opening weekend. The budget here has been reported at $35 million, and if that number is correct, this film could do very well. A domestic multiplier of 4.5 would get it to around $80 million, which would be more than enough, as both stars have a following overseas.

Third is Maze Runner: The Scorch Trials, and following a decent opening beyond the $30 million mark, Maze Runner gets spanked this weekend, by an animated Dracula and a Nancy Meyers comedy, two films that shouldn't have been cutting in on the Scorch Trials. The sequel's second weekend came in at $14 million, off 54% compared to its $30.3 million debut. Oddly enough, the original Maze Runner did not have a drop higher than 50% until 10 weekends into its run, which shows how quickly indifference is settling into this wannabe franchise (for further examples, see Divergent/Insurgent). The sequel with the $61 million budget is going to need $180 million worldwide to see a profit, but has pulled in $82 million overseas already. Domestically, The Scorch Runner has picked up $51.7 million so far.

Everest expanded this weekend, moving from that IMAX-only screen count of 535 last weekend to an ultra-wide pattern of 3,006 in weekend two. The result was mixed, with Everest improving on last weekend's score of $7.2 million on premium screens by lifting up to $13.1 million on a mix of premium and regular screens. That's an increase of 81% for this Universal-distributed adventure flick, but given that the venues expanded six-fold, one has to wonder if the distributor wasn't looking for more. Everest cost $55 million to make, which means it will need at least $165 million worldwide to get to a profit. Currently, it looks like a $50 million earner domestically (unless it starts to hold), which will put some pressure on the overseas side of this release. Over there, it grossed $29 million to start its international campaign, so this one could end up finishing well before all is said and done.

Despite being the number one film from Monday-to-Thursday, staying ahead of Maze Runner, Black Mass got pummeled over the weekend, as its older audience avoided Friday. The comparable Friday number was off a hurtful 60%, which led to a weekend gross of $11.5 million and a weekend to weekend drop of 49%. The $53 million Johnny Depp flick has now pulled in $42.6 million, and is headed for about $65 million stateside. I'm not sure how this one will work overseas. The Town earned $61 million over there, but it was $30 million short of its domestic gross. Using that logic, Black Mass would earn $40 million overseas, for a combined $110 million, which isn't enough for a movie with a $53 million budget. Johnny Depp will probably be the difference for those international audiences.

The Visit is sixth this weekend, as M Night Shyamalan's low rent release continues to churn out box office bucks. The Visit earned another $6.8 million, and while it was off 42%, it brought its domestic gross up to $52.3 million, not bad for a movie that cost $5 million to make. It has also started to score overseas, where it's picked up $6.6 million from the UK and Spain alone. The Visit will end up funding other features for Shyamalan, which in my opinion is a good thing.

Screen Gems' The Perfect Guy drops to seventh and sees a second consecutive weekend with a big drop. After falling 62% last weekend to $9.8 million, things repeat, with The Perfect Guy earning $4.8 million this weekend and dropping 51%. Still, like The Visit, this one was economical and is now successful. The Perfect Guy cost $12 million to make and has a domestic gross so far of $48.9 million.

War Room is eighth as the faith-based film continues to hang on. This time around, War Room earned $4.3 million and declined a mere 31%. So far, this $3 million film has taken in $56 million.

Eli Roth's The Green Inferno is an interesting entry on the box office chart. Jason Blum is behind the release of Inferno, and chose to release this one to only 1,540 venues, focusing the marketing on die-hard horror fans. The result isn't much, as The Green Inferno debuted to $3.5 million. That's the lowest opening of Eli Roth's career, but it also debuted on 500 fewer screens than his lowest grosser. Made for $6 million, this one still has a chance, as Roth's films actually do quite well overseas.

Despite being out to only 59 screens, Lionsgate's Sicario still makes the top ten this weekend. After earning $400,000 from six screens last weekend (venue average $66,881), audiences stayed with Sicario after it expanded this frame. The Emily Blunt/Benicio Del Toro flick took in an awesome $1.8 million from those 59 screens, giving it another stellar venue average of $30,000. Sicario is so far following a similar pattern to Boyhood last year, as it earned average of $77,000 in its first weekend at five venues, and followed that up with an average of $34,000 on 34 screens. So far, Sicario has earned $2.4 million, and is currently the film I want to see the most in this weekend's top 10.

Overall, the top 12 films at the box office set a record for a September weekend. The top 12 earned $127.5 million this weekend thanks to a strong top five. This amount hammers last year's big 12, which took in $98 million. The previous biggest September top 12 is ironically the last time a Hotel Transylvania film opened, on September 28, 2012, when the box office took in $106.7 million.

Next weekend, things get even bigger. The Martian, Ridley Scott's Oscar hopeful with Matt Damon, will debut as a wide release, pushing toward 4,000 venues. I think it could see Gravity type numbers ($55.8 million), but it will open on 200 more screens. Additionally, Sicario will go wide following its very impressive limited roll out, and The Walk will attempt to do what Everest did so well last weekend – debut strongly at IMAX-only locations. Add that to the strength we've seen at the box office this weekend, and we should start October very strongly, continuing the roll we are on.