Weekend Forecast for September 25-27, 2015
By Reagen Sulewski
September 24, 2015
BoxOfficeProphets.com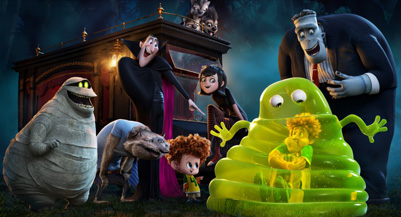 ---
September's parade of mediocrity continues with the three wide releases this weekend, although as with last weekend, a couple films have some box office breakout chances. Just hang tight, people. We're only a week away from the good stuff!

The raging dumpster fire that is Adam Sandler's recent career is highlighted with the release of Hotel Transylvania 2 – a sort of "this is where you stand now" statement – the sequel to the modestly regarded animated film from 2012 featuring him as Dracula and the leader of a refuge hotel for a group of famous monsters, Frankenstein, The Mummy and what-have-you. Into this was introduced a normal human, voiced by Andy Samberg, stumbling into the hotel and apparently not realizing anything was amiss, then falling in love with Dracula's daughter Mavis, voiced by Selena Gomez, because teen audiences.

The sequel brings everything back plus a baby, which leads to panic and anxiety, as there's the question of whether a half-Dracula/half-human will be a vampire or not (and I don't even want to get into the biology of this, it's just...), and also might lead Mavis to leave the hotel for the temptations of the real world. Because this is an animated film aimed at pre-teens, this mostly involves slurpees and dance parties. Woo.

Directed by legendary animation director Gennady Tartakovsky, of Dexter's Laboratory fame, this film seems to highlight the difficulty of either his style translating to 90 minute features, or of Adam Sandler's style translating into comedy anymore. Given that Sandler has that screenwriting credit, I know which horse I'm betting on. The original film opened to about $42 million, but I can see a bit of a slide given Sandler's recent fall off in popularity (I'd mention Samberg's rise in popularity, but he seems to barely be in the advertising for this), especially with this summer's Pixels, which took a golden premise and destroyed it. With no critics' screenings, we're left a bit in the dark about the quality of the film, but let's just say that's never a good sign. Give it about $35 million this weekend from unsuspecting parents. Pity them.

The Intern brings Nancy Meyers' brand of barely amusing pleasant comedy back to the screen, although it at least has the benefit of being a slightly descriptive title, following previous efforts such as Something's Gotta Give and It's Complicated. Rejected Titles presumably included What Gives? and Look At All These Things They Let Me Buy At Pottery Barn. Anyway, Robert DeNiro stars as a bored retired person sick of looking at ads for reverse mortgages and those motorized staircase chairs and takes an internship at a fashion magazine run by Anne Hathaway, which, yes, makes this The Devil Wears Prada with all those pesky rough edges sanded off.

Pretty much conflict-free, unless you count whether DeNiro will be able navigate Twitbook or Instaface, The Intern is that other movie that your parents are going to bug you about over the holidays (after The Walk in the Woods – it's not been a good month for legendary movie stars – Leo, gaze at your future and despair!). Previous Meyers films have hit an amazing amount of support thanks to their release at Christmas (both of the ones I mentioned earlier grossed well over $100 million – and just think about that), although the September release here signals a lack of confidence, as that's exactly when these films play best. Blander than usual, this should lag behind previous Meyers efforts and open to about $16 million.

Eli Roth continues his war against taste with The Green Inferno, his attempt at making an exploitative "native cannibal" movie in the style of legendary-but-rarely-seen horror film Cannibal Holocaust. Completed almost three years ago but shelved for various reasons, it continues Roth's themes from Hostel in that Anyone Who Is Not An American Is Trying To Kill You, Kids. A group of activists travel to the Amazonian jungle to try and help people living under terrible conditions, which forever earns them scorn from Roth for trying to do something. Once there, they realize that the scary Others are bent on sacrificing them for their rituals and devour them, as one does. Lather, rinse, repeat, then cover in gore. Opening in only 1,500 or so venues, this is likely a combination of too intense for casual horror fans, and for those that would take a chance on it, made by someone who has burned his bridges with them. I'd expect about $4 million here.

One major expansion this weekend occurs when Everest moves from its exclusive large format release to wide. Starting with a solid $7 million on 545 venues, the mountain climbing epic should see a pretty solid boost to its take, with about $15 million this weekend.

The Maze Runner's second entry was not able to build on its initial film's success, seeing a small fall back in opening weekend to around $30 million, which points at a sad, slow decline for the franchise. Still set to be spectacularly profitable, thanks to a medium-sized budget, it should drop to around $16 million.

Black Mass put itself at least in the discussion for Oscars with its $22 million opening, although Johnny Depp is the only real play here realistically. The Boston gangster film should bring in about $13 million in weekend two, and points to about a $90 million domestic take.

M. Night Shyamalan's The Visit took a significant tumble to $11 million in its second weekend, and I can't say I didn't warn you people it would be terrible. You were expecting what, exactly? It has probably one more weekend of relevance at $5 million, before a future as a RiffTrax staple.