Weekend Wrap-Up
By Tim Briody
September 20, 2015
BoxOfficeProphets.com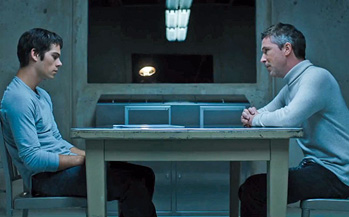 ---
A surprisingly jam-packed September weekend at theaters features a franchise sequel, the first blatant salvo in this year's Academy Awards race, and an IMAX/premium format advance release of one of next weekend's wide releases.

The weekend winner is Maze Runner: The Scorch Trials, the second film in the young adult book franchise. On this weekend a year ago, The Maze Runner won the weekend with $32.5 million on its way to a $102.3 million total, which assured films would be made out of at least the second and third books in the series (there are presently four Maze Runner books, with a fifth due in 2016, though the latter two are prequels to The Maze Runner.)

The weekend estimate for The Scorch Trials is $30.3 million, which is just fine despite a 6.7% decline in the opening. As seems to be a trend with YA adaptations, sequels are not able to expand the audience beyond the core group that saw the first film.

The reported Friday earnings for The Scorch Trials were $11 million, with $1.7 coming Thursday night. That's in line with The Maze Runner's $11.3 million, as BOP's John Hamann wrote yesterday, but it couldn't quite match the first film's weekend multiplier.

Despite the slightly lower opening weekend, there's not much to dislike here even if The Scorch Trials doesn't make the $100 million mark like its predecessor. Fox spent a lot more on this one than they did The Maze Runner ($61 million vs. $34 million), but that's likely because The Maze Runner was wildly successful overseas, taking in $243 million, thus the high budget for the sequel. The film adaptation for the third book has been greenlit, and thankfully the producers are not taking a page from the playbook of every other YA franchise and splitting it into two movies (I'm still shaking my head at you, Divergent). While The Scorch Trials came exactly a year after The Maze Runner, The Death Cure is slated to start filming in 2016 and has been penciled in for an early 2017 release.

Second on the weekend goes to Black Mass, the story of famed Boston mobster turned informant turned fugitive Whitey Bulger, played by [bp:84_]Johnny Depp[/bp]. It managed $23.3 million, a decent but not necessarily auspicious showing. It's the first wide release that truly kicks off the year's awards season (calm down, Mad Max: Fury Road fans), as it's primarily a showcase role for Depp. Critical consensus is mostly positive (76% Fresh at Rotten Tomatoes), with several reviews saying Depp carries the film adeptly and definitely places him in the conversation for a Best Actor nomination.

While nobody doubts Depp's acting chops, his box office performances have largely been lacking in movies where he does not play Captain Jack Sparrow. Mortdecai was one of the year's biggest flops, and the last few years have not been kind to him as his tendency to pick, well, "interesting" roles has basically given him a reputation as box office poison. Black Mass has already earned more than 2014's Transcendence, for instance.

It's possible for Black Mass to show some legs over the next couple weeks, as the film is definitely aimed at older viewers who tend to take their time getting to theaters, and the strong reviews for Depp's performance will likely get some people to buy tickets. It only cost $53 million to make, so it will certainly make that back domestically, and anything overseas will just be gravy.

Third place goes to The Visit, one of last weekend's openers. The first step in [bp:4219_]M. Night Shyamalan[/bp]'s plan to get him back into our good graces, The Visit earned $11.3 million, down 55% from its opening, giving it $42.3 million to date. Remember, this only cost $5 million to make, and of course it's from Universal, which is having the greatest year that any studio has ever had. The drop for The Visit actually could've been much worse considering it's basically a horror film, and will easily cross the $60 million mark over the next few weeks.

Last weekend's winner The Perfect Guy falls to fourth, down a much more predictable 63% to $9.6 million and $41.3 million in two weekends. 2014's No Good Deed, also a Screen Gems thriller with a predominantly black cast, followed a similar trajectory down the chart, also falling from first place ($24.2 million) to fourth place ($9.7 million) in its second weekend. Also cheap to make, with a reported cost of $12 million, this is just fine as it heads towards a total $55 million or so.

Everest doesn't open everywhere until next weekend, but it played in IMAX and premium theaters this weekend (545 of them, to be exact), and it earned $7.5 million. An ensemble drama starring Josh Brolin, [bp:1336_]Jake Gyllenhaal[/bp], Jason Clarke, Sam Worthington, Robin Wright, Emily Watson and [bp:86_]Keira Knightley[/bp] among others, it's a film that kind of exists because of IMAX. Audiences (and most critics, 73% Fresh at RT) agreed and this is a pretty good start for the wider release next weekend.

War Room continues to hold well despite falling from third to sixth place. It's only down 19% from last weekend with $6.3 million, giving it $49.1 million to date. Faith-based releases are still hit and miss, but when they hit, the targeted audience really latches on. Made for just $3 million, it's headed towards the $60 million mark by the time it's finished.

A Walk in the Woods slips to seventh with $2.7 million, down 42% from last week. It sits at $24.8 million and is clearly a win for the upstart distributor Broad Green Pictures.

Mission: Impossible - Rogue Nation is the elder statesman of the top ten, spending its eighth weekend in release by adding another $2.2 million to its total, which now stands at $191.7 million. It probably doesn't have enough juice left in it to top Ghost Protocol's $209 million, and it's going to be really close when it comes to the $200 million mark. My guess is it falls just short.

Former three-week champion Straight Outta Compton comes in ninth on the weekend with $1.9 million. It has now earned $158.9 million in six weekends. The NWA biopic is one of the summer's biggest successes and is one of the few films that doesn't play well overseas these days, not that it matters any in this case.

We have a surprise in the tenth spot as Sony Pictures Classics' Grandma goes to 1,061 theaters and earns $1.6 million on the weekend, giving it $3.7 million to date after four weekends in less than 150 theaters. Starring Lily Tomlin, written and directed by Paul Weitz, and reportedly made for just $600,000, it's got outstanding reviews and they might enough to push for an acting nomination for Tomlin. This weekend might be good enough for another small expansion.

Just outside the top ten is Captive, a faith-based thriller that got a targeted release of just 806 theaters and earned only $1.4 million. While it starred actors who people have heard of, or at least seen in Kate Mara and David Oyelowo, War Room was still the choice of those who are interested in films in this vein.

Overall, the top 12 this week earned $99.5 million, up from $93.3 million a year ago when the #2 film behind the Maze Runner was [bp:763_]Liam Neeson[/bp]'s A Walk Among the Tombstones, with just $13.1 million. Next weekend brings the wide release of Everest, Robert DeNiro and Anne Hathaway's The Intern and the animated sequel Hotel Transylvania 2.