Friday Box Office Analysis
By John Hamann
September 19, 2015
BoxOfficeProphets.com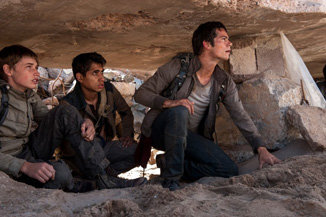 ---
Johnny Depp, a hot YA sequel, a faith-based flick, an IMAX-only mini-blockbuster, and two awards-driven limited releases all opened this weekend. It ends up feeling more like November at the box office than the usually sullen September.

Number one on Friday is Maze Runner: Scorch Trials, the sequel to last September's out-of-nowhere hit, and likely one of the big reasons this weekend is so packed. A year ago today, a small, $34 million young adult book adaptation opened to $32.5 million, and ended up squeezing out a domestic gross of $102.4 million. It then conquered the world, earning 10 times its production budget with a $341 million worldwide take. The Maze Runner became an insta-franchise, and the sequel is already upon us in Scorch Trials. Fox doubled down on the sequel, spending $61 million, while hoping for a better result.

Maze Runner: Scorch Trials got started on Thursday night, earning a preview amount of $1.7 million – ahead of the original, but not a blowout amount that really rocked. Combined with the take on Friday, Fox is reporting a first-day take of $11 million, which is in the same ballpark as the original's $11.3 million first day. Should The Scorch Trials match the original's multiplier of 2.88, the opening weekend would come in at $31.7 million, but this is a sequel. That means more teens teens saw the film on Thursday and Friday, which will move that multiplier lower. At 2.8, The Scorch Trials could earn $30.8 million this weekend, but I'm thinking that will be even lower at $30.1 million. This one has already started nicely overseas, so Fox should see a similar success to the original. Even so, it isn't breaking out into Hunger Games territory.

Johnny Depp is back this weekend, trying to clean up the mess he made with Mortdecai, Transcendence and The Lone Ranger. Johnny looks to have gotten lost in his portrayal of Whitey Bulger in Black Mass, completely transforming himself. Following some good festival reviews and strong marketing campaign, Black Mass earned $1.4 million on Thursday and turned that into an opening day gross of $8.8 million. That's better than Mortdecai and Transcendence combined, and returns Johnny Depp to a form that he is more accustomed to. Normally, I would trot out a comparison to Depp's 2009 gangster flick, Public Enemies, but that opened on a Wednesday and had a first Saturday that was July 4th, which skews numbers considerably.

If Black Mass was to play like The Departed, we would be looking at a 3.1 multiplier and a weekend gross of $27.3 million, but I don't think it will be that high. The Town, Ben Affleck's heist thriller, also opened in mid-September to $23.8 million, and picked up a weekend multiplier of 2.85, which should be similar to what Black Mass sees. If so, the Johnny Depp flick from Warner Bros. should open to $25.1 million and could possibly be in store for a decent run; however the Cinemascore came in at B, which could provoke some challenges going forward.

Everest, Universal's latest release, debuted at IMAX-only theaters this weekend in a bid to start some strong word-of-mouth prior to opening wide. The move worked solidly, as it had a Friday at $2.3 million, although it's important to note that $325,000 of that amount came on Thursday. That puts Everest in position for a weekend haul of about $6.5 million despite being out to only 546 screens.

Captive is the latest faith-based release; however, this one featured real actors in Kate Mara and David Oyelowo. Despite the pedigree of those performers and a professional production, Captive will open well under War Room. After a Friday at only $647,000, Captive is going to pull in $1.8 million this weekend and be a distant memory in a few days.

Sicario and Pawn Sacrifice, our two award-seekers, opened in limited release this weekend, with venue counts of six and 33 theatres respectively. Of course, the film with six theaters (Sicario) is easily going to outgross Pawn Sacrifice. Sicario, with Emily Blunt and Benicio Del Toro, is looking for a weekend at $375,000 and an average of $62,500. Pawn Sacrifice will be more like $175,000, with a venue average of $5,300.

Holdovers are toast, as The Visit lost more than 60% of its audience from Friday-to-Friday, and The Perfect Guy lost 70%+. The good news is that both films likely found a profit last weekend, and this weekend's drop-offs will be paying those marketing bills. It wasn't all woe in holdover land, however, as War Room fell only 15% from Friday-to-Friday and will likely lower that drop further as the weekend progresses.