Weekend Forecast for September 18-20, 2015
By Reagen Sulewski
September 18, 2015
BoxOfficeProphets.com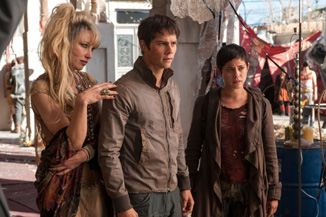 ---
The rare release of a franchise film, combined with a potential high profile, high wattage Oscar contender in September, signals a bit of a sea change – both in the month's box office as well as how studios are starting to treat what's been seen as a bit of a backwater month. It's a bit early to start lumping it in with the quality of films that appear in October, but we're doing much better with the year-round box office concept.

The Maze Runner: The Scorch Trials is the second film in that series, taking our plucky teen heroes out from the mysterious prison/puzzle/battlefield and into the real world, or what remains of it, which consists entirely of sand and ruined recognizable land marks. That's right, we're going YA Mad Max here, but without the particular artistry or inventiveness, which just makes the endless chase scenes with occasional interruptions for exposition that lets us know just what the hell is going on all that more tedious.

It's pretty clearly an amuse-bouche meant to tide you over until the last Hunger Games movie drops (of these kind of films, personally, I prefer The Group Hopper), and to cash in on every last dollar of book series that they can. Last year, the first film opened to a modest $32.5 million, and this looks to be a slight improvement on that, in that its heavier emphasis on action make it a "better" blockbuster, plus the potential for it to have gained fans thanks to the exposure of the first release. The cast, as ever, is an irrelevant bunch of 20-something actors plus character actors to act as evil Authority Figures and/or Lost Parents To Wist For – showing just how valuable Jennifer Lawrence is to her films. I look for around $36 million this weekend, and a relative topping of the charts.

One of the biggest tests of Johnny Depp's career starts this weekend, with the release of Black Mass. Playing notorious Boston crime boss Whitey Bulger, the film covers his rise to power as an FBI informant, eventually taking over the same gangs he was meant to bring down. Looking like an even more psychotic version of his Hunter S. Thompson with layers of aging making, Depp is like an animalistic center of the film, contrasting with the lower-key performances of Joel Edgerton as his FBI handler and Benedict Cumberbatch as his brother, a Massachusetts state senator.

As directed by Scott Cooper, of Crazy Heart fame, it's a slow-boiling procedural film, showing how the attempt to control organized crime only made it 10 times worse, thanks to picking exactly the wrong guy to run it. Per the reviews, the film is not that special other than Depp's performance, which has him at the polar opposite of his Captain Jack Sparrow/Tonto mugging for the camera. It's been a tough run for him outside of those kinds of roles, with Mortdecai, Transcendence, Dark Shadows and The Tourist on his recent resume. In fact, outside of his showier roles, it's almost impossible to find something that's both successful and highly acclaimed. Public Enemies might come closest, and seems like a good model for this film. The biggest question is whether audiences are willing to accept him in those roles, or whether his recent failures have soured people on his performances. I personally think he'll still be cut an enormous amount of slack, and with solid reviews and a chance to see him in a juicy, evil role, this should manage a decent opening of about $23 million.

Opening in a relatively unique fashion, Everest ties up most of the IMAX screens in the country this weekend, and just those screens, in a soft rollout. Starring Jason Clarke, who Hollywood is insistent will be a thing, dammit, it details the true story of an expedition to the top of the world's tallest mountain that led to disaster after being hit by a snowstorm. Story-wise, it's cliche city, with all the perilous mishaps and mistakes that you'd expect – basically putting The Perfect Storm on a mountain – but it's the visuals that are expected to carry the day, especially if you like looking at pictures of snow and people freezing to death.

Few films get a rave first and foremost for their cinematography without it being something of a backhanded compliment. In this case, though, it seems to be mostly the reason the film was made, so there's that, for whatever that's worth. Strangely, the rest of the cast seems to be deemphasized as a selling point, when it includes Josh Brolin, Jake Gyllenhaal, Emily Watson, Robin Wright and Keira freaking Knightley, but we are dealing with a fairly narrowly focused film in the first place.

The last notable film to take this release route was Mission: Impossible - Ghost Protocol, which pulled in about $12 million at Christmastime 2011 on a few less screens than Everest is getting. This is no Mission: Impossible film, but then again, that was a troubled franchise at that point. I'd look for this to have a solid opening on this many screens of about $6 million.

Yet another faith-themed film opens this weekend, albeit with some studio backing. Captive stars a methed-out Kate Mara as a woman taken hostage by escaped murderer David Oyelowo, whom she ends up talking down during a SWAT standoff. Looking more like an infomercial for the book The Purpose Driven Life, it's a film with little ad support, and only moderately positive reviews. A very talky film by nature, in just a national release, it's likely to hit only about the $3 million mark this weekend.

Both The Perfect Guy and The Visit surprised in their debuts last weekend, hitting about $25 million each. The former did indeed hit the same audience that powered No Good Deed, almost to the dollar, and shows that adult-focused thrillers can find an audience. That these films have almost been marketed like horror films seems significant. I'd expect this to drop to about $13 million this weekend. The Visit should fall even further, with reviews and word-of-mouth that are decidedly split. Horror as a rule doesn't hold well, so this should drop down to about $11 million this frame.