Weekend Wrap-Up
Perfect Guy, The Visit Prop Up September Box Office
By John Hamann
September 13, 2015
BoxOfficeProphets.com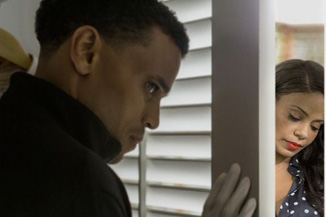 ---
After a slow Labor Day weekend with two so-so openers, the box office bounces back this weekend and sets up a frame that could be big next weekend.

If it's September, it must be time for Screen Gems to release some films. The Sony offshoot, maker of low budget, but successful films – at least over opening weekends – has seven films in the top 26 September openings of all time. This weekend Screen Gems opens The Perfect Guy, a thriller starring Sanaa Lathan, Michael Ealy and Morris Chestnut, where the nice new boyfriend turns out to be a violent psycho, a la Fatal Attraction. Films that fit into Screen Gems wheelhouse in September are horror (Resident Evil films dominate the month) and thrillers like No Good Deed.

Also opening this weekend is The Visit, the latest attempt for a career resurgence from M. Night Shyamalan, the once loved (The Sixth Sense), but now mostly mocked (After Earth, The Happening) writer and director. This one is funded by Shyamalan himself at $5 million, and then picked up by Blumhouse and delivered to Universal – and we know how their year has gone so far. Another faith-based film, 90 Minutes in Heaven, also opens this weekend, but is destined to be less successful than War Room. It stars people that are actually in movies (Hayden Christensen, Kate Bosworth) and who are looking for the Lord's help in reviving their careers.

Our number one film of the weekend is The Perfect Guy, the latest September smash from Sony's Screen Gems. For the first time in what feels like forever, we have a title that did not have Thursday previews, choosing instead to launch the old-fashioned way - on Friday. Despite not having a Thursday to prop up the Friday number, The Perfect Guy was still able to out-earn The Visit, albeit by only a few hundred thousand. The Perfect Guy minted just slightly less than $10 million on opening day. This can be considered a huge success, as it out-earned Screen Gems' 2014 thriller No Good Deed, which debuted to $8.8 million on Friday. Screen Gems, as per usual, opened The Perfect Guy on a moderate number of screens (2,221), which makes the debut that much more remarkable.

Over the weekend, The Perfect Guy followed a similar trajectory to that of No Good Deed, which isn't surprising, as the earlier film had a comparable venue count (2,174) and an African-American cast. The Perfect Guy earned $26.7 million over three days, which gives it a strong venue average of $12,022. The debut puts in in the top 13 openers ever for September and gives Screen Gems another hit. It cost the studio only $12 million to make, which means it will be profitable - marketing included – by the end of next week. Few films can make that claim in today's marketplace. The Perfect Guy will not rely on overseas grosses, or super strong legs domestically. It will follow the Screen Gems pattern of low budgets and decent opening weekends.


The Perfect Guy did not find its success due to good reviews. This one was held as long as possible (Variety's review hit on Friday at lunchtime on the west coast), and at the time of this writing, The Perfect Guy had 12 reviews posted at RottenTomatoes, of which only 4 were positive. The Perfect Guy is your typical woman-in-peril boilerplate thriller, but audiences liked it, giving it an A- Cinemascore. No Good Deed earned a B+, so a final gross of $55 million should be in the cards for this one.

Finishing second is M. Night Shyamalan's The Visit, in what might not be a "return to form" but is at least a non-maligned release for the once ballyhooed director. The Visit also started strong on Friday, taking in $9.2 million, but did it with almost 1,000 more screens more than The Perfect Guy. Additionally, it had earned $1 million from Thursday previews. Thus, The Visit had a leg up but still couldn't catch the Screen Gems thriller. Over the entire three-day portion of the weekend, The Visit accumulated $25.7 million, which is the second lowest debut ever Shyamalan as a director, I don't think anyone will care about that too much, as this is a different film than The Village or The Happening, two films that are still mocked today. The Visit at this point feels different than the others. There is some goodwill surrounding it, and audiences might embrace this horror-comedy.

The opening for The Visit is actually in the same ballpark as his last film, After Earth, which opened to $27.5 million, but that is where the similarities end. After Earth cost $130 million of Sony's money to make, whereas The Visit was made for $5 million, and all of those funds were Shyamalan's. Good for him for investing in his own work (I'm not sure who else would have invested following After Earth and The Last Airbender), and after seeing it, Jason Blum took it to Universal, who would have assisted with the marketing.

Reviews were much better than usual for Shyamalan, as The Visit currently sits at 62% fresh, yards better than After Earth's 11%, The Last Airbender's 6%, and The Happening's 17% scores. The Cinemascore came in at B-, but that is actually a fairly good score for a horror flick. In the end, Universal has another hit versus budget, and Shyamalan will keep working – maybe next time with someone else's money.

War Room continues its assault on the box office, as it has another good hold this weekend. After dropping only 17% last weekend and earning $9.5 million, War Room took in $7.4 million and dropped a slim 22%. The hold is kind of stunning; as another faith based flick entered theaters (90 Minutes in Heaven) as did another film with an African-American cast (The Perfect Guy). Made for $3 million, War Room has now accumulated a much better than expected $39.2 million.

A Walk in the Woods is fourth, and despite adding 179 screens, the Robert Redford/Nick Nolte drama struggles to hold. After earning $8.2 million over Labor Day weekend, the very white old timer flick dipped 44% to $4.6 million in its second frame. Still, the $8 million production from Broad Green Pictures has tallied $19.9 million after only 10 days of release, so it should end up as a win in the end.

Mission: Impossible – Rogue Nation is fifth, as it also sees some fatigue after being in play for seven weekends. The Tom Cruise flick grabbed another $4.2 million this weekend, declining 43%. Rogue Nation has earned $188.2 million so far, and will be a long shot to overtake Ghost Protocol's $209 million; however, a very strong debut in China keeps propelling this one overseas.

Sixth goes to Straight Outta Compton, which starts to lose significant steam in its fifth weekend due to competition and amount of time in the marketplace. Compton earned another $4.1 million and fell 53%, likely due to the appearance of The Perfect Guy in top spot and the loss of a couple of hundred screens. The Universal release has brought its total up to a massive $155.7 million against a budget of only $28 million and has added another $20 million from overseas audiences.

Owen Wilson's No Escape slips to seventh this weekend and is a film that has made little impact on the box office. No Escape earned $2.9 million in its third frame, a decline of 47%. That brings the total up to $24.2 million for the $5 million Weinstein pickup, which makes it a good September investment.

Eighth place goes to last weekend's holdover The Transporter Refueled, which declined a massive 63% on its way down to a $2.7 million weekend. This Luc Besson production will have to hope for overseas revenue to carry the way, as it has tallied just $13.3 million so far from domestic venues and is on its way out already.

90 Minutes in Heaven is certainly no War Room, as this faith-based release earned only $2.2 million in its opening weekend. Released by the Samuel Goldwyn Company, this one didn't make the inroads into the Sunday crowds that it needed to, but was another low-budget Christian release with a cost of only $5 million.

Finally in tenth is the Pantelion Spanish-language release Un Gallo con Muchos Huevos, as the animated film manages a second weekend in the top 10. Its $1.9 million total allows it to finish just ahead of The Man from U.N.C.L.E. (at least until actual numbers are released), but dropped a pretty significant 45%. The film has to be considered a win, as it has earned $6.7 million so far as it targets a very specific demographic.

Overall, the box office perked up a bit versus last weekend's top 12 ($65.9 million) but certainly doesn't blow anything up. This weekend's top 12 came in at $85.8 million, which compares favorable to 2014, when the top 12 earned $77.8 million, led by No Good Deed and Dolphin Tale 2.

Next weekend the hit parade from Film Festivals around the world begins, as Johnny Depp's well reviewed Black Mass hits screens and could do decent business. It is joined by The Maze Runner: The Scorch Trials, the sequel to the out-of-nowhere September hit from 2014, which earned $100 million domestically and $340 million worldwide. Captive, with Fantastic Four's Kate Mara and Selma's David Oyelowo, and Everest, with Jake Gyllenhaal and Josh Brolin, open in nationwide release. With all of this product and another strong weekend looming afterward, it could be an interesting end to one of the slowest moviegoing months of the year.