A-List: Top Five Lessons from Summer Box Office
By J. Don Birnam
September 10, 2015
BoxOfficeProphets.com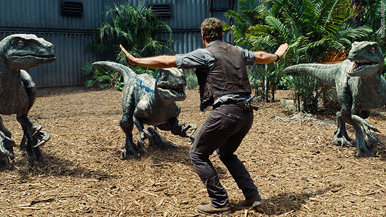 ---
Well, that was fast. The summer movie season officially ended over Labor Day weekend, although we all know that by the time August rolled around, most summer blockbusters have been seen (or not) by audiences. It seems like only yesterday that I was listing Jurassic World, Terminator, Inside Out, San Andreas, and Avengers: Age of Ultron as my most anticipated movies of the summer. And it seems almost impossible to believe, even with hindsight, that one of those five eked out the opening weekend record, smashed many other box office records, and dominantly triumphed over its rivals.

As we look back at another summer that was, we look at the five most prominent lessons that stick out about the summer box office. There are, truth be told, many stories one could focus on. One that sticks out in my mind is the fact that Universal just grossed more through August than the previous record-holder, Fox, did all last year. However, that is not, strictly speaking, a summer box office story, as Universal did it in part with its springtime releases 50 Shades of Grey and Furious 7 (query, of course, whether the summer box office has now firmly began in April).

Undoubtedly, however, the summer of 2015 provided many lessons for those in the business of predicting box office performance.

5. There is no such thing as a built-in audience for superhero movies.

Could 2015 be the year we look back on as the beginning of the demise for the ultra-profitable superhero movie, a genre that has raked in billions for studios since Spiderman wowed audiences way back in 2001?

With over two dozen superhero movies slated for release over the next several years, it sure would be devastating to studios if that were the case. Of course, I do not really believe that superhero movies are done, but some results in 2015 arguably exhibit minor fatigue with the comic book hero movie. It's not just that Avengers: Age of Ultron failed to meet expectations and fell short of the mark set by its predecessor - hey, it still made a boat load of money. It's also the mostly tepid reception for the bizarre Ant-Man (which looks too much like Spider-Man), and the absolute disaster (yet again) of the Fantastic Four franchise.

Clearly, audiences like going to these movies, but they are looking for something different and exciting. If you give them non-classic superheroes - for example, Guardians of the Galaxy - audiences are more than willing to show up in droves. But it seems that when it comes to superhero movies, audiences are starving for truly original content.

It is admittedly not intuitive to posit that there is no built-in audience for superhero movies, but the disastrous results of movies like Fantastic Four show that even the most loyal comic book superhero fans will stay at home if the product is not good enough.

Even trashy horror movies seem to have a built-in audience (with new entries in the Insidious and Sinister sagas pulling in predictable results in the $22 million openers - a great profit for studios who make these movies on a dime), and arguably women-driven films like Spy and Trainwreck have loyal audiences as well, which seem to guarantee something around a low $30s bow. But I think one will be talking about the bleeding of the loyalty of the comic book hero fans, if the studios don't do something about it.

4. Certain franchises need to be put to bed, while others deserve to continue.

Related to the above, it became clear that certain franchises - in particular Fantastic Four and Terminator - need to be put to bed. Despite the fact that, based on the movies they produce, Hollywood thinks that audiences are stupid, box office results are starting to show that this is increasingly not the case.

With the rising cost of movie ticket prices and the increasing range of options for entertainment for consumers, box office results have been in consistent trouble, when measured by number of tickets sold, for years. Universal's string of successes may obscure that a bit this year, but the flop of movies like Terminator show that if the product has been poisoned by crappy movies, audiences will stay away.

Fans are, then, clearly sick of some of these franchises, and they should be put to bed. News flash: they will not be, not as long as movies like Terminator continue to have appeal in large markets like Asia, which turns a red bottom line in North America into a profit.

Conversely, it is clear that fans of other franchises like Pitch Perfect, Minions (Despicable Me), and Mission: Impossible are thirsty for more. Or at least they were prior to this summer entries. All three franchises have green-lit (or are expected to) additional projects. Of the three, I can only see Mission: Impossible having another successful run - the other two may suffer from the same fatigue that Terminator and others did, given the relative weakness of the movies they produced. I'd also argue that the Magic Mike franchise (as entertaining as the second movie was) may have seen its last gasp.

Given the utter success of other franchises (we will get to that) and of sequels and remakes overall for the past 15 or so years, it is of course loony to expect producers to shut this valve off completely - for every three or four disasters, all they need is one big hit to pay it off - but to minimize losses they really should start listening to the audience more.

How may this translate into the fall? One franchise that has built up continued goodwill is undoubtedly the James Bond series, and I would bet that Spectre will fall on the "deserves to continue" side of the ledger.

3. Some stars are losing it, and had better get back to basics.

While Tom Cruise pulled off another stunner, the subject of a recent A-List, it was stunning to see George Clooney and Adam Sandler mostly miss with Tomorrowland and Pixels, respectively. Again, quality seemed to matter more to audiences than star power. Those two are higher than Ryan Reynolds, whose career is basically over with the additional disaster that was Self/Less, but they'd better turn it around quickly.

While newer faces like Amy Schumer and Chris Pratt rose to super stardom with their hit movies, and others like The Rock continued a string of successes, older stars were devastatingly uninteresting to audiences in the summer of 2015.

Again, it is interesting to ponder how this may affect receipts in the coming months. Will Tom Hanks' star fade or shine in the upcoming Bridge of Spies? What about Leo's for The Revenant? And will Johnny Depp's string of flops end with Black Mass? Sure, those three movies also have awards buzz to propel them, but it is clear that at least in part they are banking on star power to push them through.

2. Quality and Originality Still Brings Audiences (a.k.a. Pixar's still got it).

As I mentioned earlier, and as has been the case for years now, sequels, prequels, remakes, and reboots have dominated the summer movies line-up for years. It is easy to understand why: a studio exec that takes a risk on a previously proven item is much less likely to be in trouble if the product fails, than one who greenlights an unknown quantity. And, given the big dinosaur, er, elephant in the room regarding the 2015 summer box office, it is not hard to understand why these movies dominate.

Yet despite all this, I return to what is perhaps the overarching and maybe even hopeful theme of summer 2015: audiences are yearning for quality and, most of all, originality in movies and are rewarding it. Box office forecasters were simply unable to predict the solid success of Straight Outta Compton, and it seems difficult to believe that Inside Out obtained the highest opening weekend of all-time for a movie that did not debut in first place. Meanwhile, Mad Max: Fury Road (technically, a reboot), also did surprisingly well. Indeed, all three of these movies are arguably headed for at least some awards recognition, and are likely the three best movies of the summer.

It was, of course, a pleasant surprise to see Pixar doing what it does best. The question is whether the goodwill can translate into fall success with its release of The Good Dinosaur, and also whether audiences will respond to Pixar's next two offerings as well as they did to Inside Out - for 2016 and 2017 Pixar has two sequels set for release (Finding Dory and Toy Story 4, respectively).

Of course, for all the success of Inside Out or Compton, one can look at the more or less mediocre performances of a long list of films, including The Man from U.N.C.L.E., Vacation, Southpaw, Paper Towns, American Ultra, Hitman: Agent 47, and Ricki and the Flash. So, to hope that the success of these new(ish) elements will signal good things to come is likely futile. New ventures like this fall's The Martian will either continue this string of successes or fall by the wayside as well.

1. Nostalgia won the day.

In the end, however, one movie clearly devoured the competition this past summer, and that story is undoubtedly the biggest of the summer. No one did or could predict the stunning success of Jurassic World in the months that preceded its release. When its numbers started coming in that June weekend, it began to surprise and the only question that remained was how far it could go.

It turns out that it had the stamina to go all the way, and all the way it went. At the end of the weekend, Jurassic World had swiped The Avengers' opening weekend record, and as of this writing sits dangerously close to Titanic's #2 spot in the all-time list.

In retrospect, it seems clear that Jurassic World would dominate. After all, the first and second entries in the franchise broke the opening weekend record when they made their debut. Audiences have some attraction to people being devoured by dinosaurs. And, perhaps like with Mad Max, enough time had passed for audiences to be thirsty for more. Despite a tepid last episode in the list, the public still expected big things from it.

And so you have it.

The final question, one that Jurassic World's performance may hold clues as to, is whether its success will be replicated later this year by one of the most anticipated films left to open in 2015. Think of it: a long-beloved franchise that has held box office records in its prior incarnations, a good chunk of time between the last entry and the coming film, a tepid last few episodes but still public expectations, and the promise of a reboot of cast into fresher faces while including sufficient old ones so as to please old-timers….

Will we soon be speaking of the stunning success, or the devastating failure, in a galaxy far, far away?