Weekend Wrap-Up
By Kim Hollis and David Mumpower
August 30, 2015
BoxOfficeProphets.com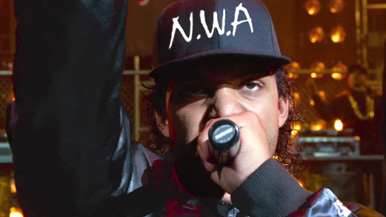 ---
A lackluster weekend at the box office finished with no changes at the top, but a three-time champion isn't the story this weekend. Instead, it's the return of faith-based cinema to the upper parts of the box office charts. For much more famous actors, however, this weekend offered no escape.

One of the oddest quirks of August box office is its penchant for repeat champions. We witnessed it in the past with films such as Tropic Thunder and The Sixth Sense, and it's happened the past two years with Guardians of the Galaxy and now Straight Outta Compton. The biopic about the inflammatory gangsta rap band, N.W.A., continues to toy with the competition.

The latest Universal blockbuster earned another $13.2 million, down a modest 50% from last weekend. After three straight weekends as the number one film in North America, Straight Outta Compton has grossed a massive $134.1 million, making it one of the most successful music-based stories of all time. The only remaining question is whether the film can entice consumers outside of North America to take a shot on this anti-establishment opus.

Despite the dominance of Straight Outta Compton, something shocking almost transpired this weekend. God almost beat gangsta rap in a heads up match-up of faith-based cinema versus basically the opposite of that. War Room, the fifth religious release from Alex and Stephen Kendrick, became the latest godly title that box office analysts woefully underestimated. BOP chronicled the dazzling 2014 triumphs of such titles in our Top Film Industry Stories of 2014, but 2015 hadn't been as strong for faith-based cinema until now.

War Room changed that behavior by opening to $3.9 million on Friday, which ended the 14-day streak of Straight Outta Compton as the number one film in North America. Since the Kendrick brothers have a reputation for their work on such films as Facing the Giants and Fireproof, there was a bit of front-loading to their film. That's all that stopped it from winning the weekend. As it stands, the $3 million production under the Sony umbrella debuted to $11 million in only 1,135 exhibitions, a per-location average of $9,692. During an otherwise sleepy August, War Room stands out as one of the most pleasant surprises.

As is so often the case with religious cinema, movie critics didn't give it much of a chance. War Room is only 18% fresh at Rotten Tomatoes, and only five top critics even bothered to offer a review of it. In terms of preaching to the choir, however, the film did as well as any religious project to date. It earned an amazing A+ Cinemascore, which means its target audience enjoyed it more than anything else this summer. That's a better Cinemascore than Inside Out, for God's sake. Err, you know what we mean.

Because we have such a weak slate of new releases, Mission: Impossible – Rogue Nation is our third place film. It continues to hold remarkably well thanks to its stellar reviews and word-of-mouth, falling just 28% to a fifth weekend total of $8.3 million. The Tom Cruise-led spy film has now amassed $170.4 million domestically, which exceeds the estimated $150 million budget. With $280 million plus from international venues, the Paramount release is now chugging along toward $500 million worldwide.

Our second new release finishes in fourth place. The Owen Wilson/Pierce Brosnan action film No Escape managed $8.28 million from Friday-to-Sunday, and now has a total since its Wednesday debut of $10.3 million. Considering the mediocre reviews and desperate-seeming marketing, this total is about as much as the Weinstein Company could hope for. It'll be forgotten in a few weeks, and the studio will be looking to home video for No Escape to earn its keep.

Sinister 2 did just about what you'd expect a horror film to do, falling 56% in its second frame for a fifth place finish. Its weekend total was $4.6 million, which brings its overall domestic earnings to $18.5 million. After two weekends, it has barely tallied what the original film made in its opening weekend. There's not much relief to be expected from international venues, but that won't matter much to Focus Features. The production budget on this one was $10 million, high for a Blumhouse project, but still generally low. We can probably expect to see future Sinisters go straight-to-video, though.

The Man from U.N.C.L.E., the latest attempted reboot of a Cold War espionage series from the 1960s, continued to offer moderate returns for Warner Bros. It finished in sixth place this frame with $4.4 million, down 40% weekend over weekend. The buddy cop movie disguised as a spy thriller has now earned a modest $34.1 million domestically against a $75 million budget. It'll need foreign revenue to save it at this point.

A different kind of spy flick, one that focuses more on the killing, finished in seventh place. Hitman: Agent 47 fell 54% to $3.9 million, bringing its grand total to a paltry $15.3 million. With a budget of only $35 million and decent overseas prospects, it's probably in the better position of the two films. Even with international box office expansion, however, it's unlikely to match the first Hitman movie's global take of just under $100 million, though.

Our eighth, ninth and 10th place films go to a semi-indie breakout, one of the biggest movies of all-time and a minor Marvel release. The Gift is our eighth place finisher, as the Joel Edgerton-directed and written film earns another $3.1 million this weekend, down just 27%. The well-reviewed movie from upstart distributor STX Entertainment has now accumulated $31 million in domestic revenue.

Universal put Jurassic World back into IMAX locations this weekend, and the result is a ninth place finish as the dinosaurs-eating-humans film expanded a mighty 230%. With an additional $3.1 million, Jurassic World has now earned a gaudy $639.7 million domestically. It's also approaching the billion-dollar mark from overseas venues alone and sits with a worldwide total of $1.6 billion, the third best total ever.

Tenth goes to Ant-Man, Marvel's attempt to show that they can even turn the most ridiculous superhero concept ever into gold. Ant-Man fell only 25% to $3 million, and now has a running domestic total of $164.5 million. It's also close to $200 million from overseas venues, which means that Disney is plenty happy with where this one will finish up, particularly when ancillary revenue is figured in.

There are a couple of noteworthy stories outside the top 10. Minions, which finished in 11th place, now has a worldwide total of over $1 billion. It has become the third-highest grossing animated film ever behind only Frozen and Toy Story 3.

Whereas Ant-Man is a successful Marvel story, Fantastic Four is… the opposite. After just four weeks in theaters, it is already out of the top 10 with just $1.7 million from this frame and a cumulative total of $52.2 million. It does have about $85 million from international venues, but there's not much good news here for Fox.

Finally, the Zac Efron new release We Are Your Friends finished well outside the top 10 and became the lowest-opening wide release of the summer with just $1.8 million. With almost no studio support, this one was doomed.

Overall, the top 12 movies for 2015 earned a dismal $68.7 million. That's 22% off last year's total of $88.2 million, which was led by Guardians of the Galaxy and Teenage Mutant Ninja Turtles. All films in release earned $85 million, which is still less than 2014's top 12 tallied, and makes this the lowest-grossing weekend in 2015 so far. Next weekend brings us The Transporter Refueled, which does not feature Jason Statham and therefore doesn't offer much excitement, and A Walk in the Woods, which seems to have some appeal amongst the older demographic thanks to star Robert Redford.