Weekend Forecast for August 28-30, 2015
By Reagen Sulewski
August 27, 2015
BoxOfficeProphets.com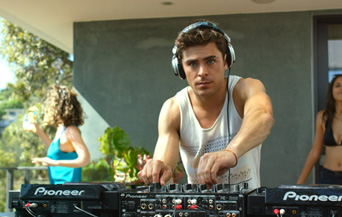 ---
It's the "nobody's watching, throw out whatever" weekend, as we reach the end of summer. Two kind of thematically appropriate movies and a niche-targeted film round out our slate for the last weekend of summer ... which you can probably best use to catch up on your reading.

In the driver's seat of the three is We Are Your Friends, a variation on the coming of age story, the "figuring out your life" story. Zac Efron plays an aspiring DJ in the San Fernando Valley, torn between pursuing a difficult artistic career, or settling into a desk job. Since it's the movies and there's rarely been a movie that glamorizes abandoning your dreams, guess which way this film goes.

Hustling from gig to gig and balancing his friendships (as various numbers of them bail out and go "straight), and his girlfriend, played by Emily Ratajkowski, along with a mentor/producer, played by Wes Bentley. Plot wise, there's not a ton to it, but that's not always needed in these kind of stories.

So it's basically Rocky with EDM, which as ideas go, isn't all that terrible a concept. The execution seems to leave a bit to be desired, with reviews falling square in the middling to "enh" range. The demo that this appeals to is kind of a narrow one, though with its stars and its timing, right as this group heads back to high school and/or college makes it a potential sleeper. Efron has done well in high concept films, but has struggled in more straightforward films like That Awkward Moment and Charlie St. Cloud. Without a mass market hook, this one's likely headed for about $8 million this weekend.

Opening on Wednesday was No Escape a thriller starring Owen Wilson, Lake Bell, Pierce Brosnan and hordes of scary Others. Wilson and Bell are expats making a life for themselves in a non-specific South East Asian country with their children, making friends with a mysterious man of action (Brosnan). As they settle into the exotic (Oh, the food is different! People don't speak English well!) life, their world is shaken up when a political uprising turns violent, sparking a coup.

Narrowly missing being massacred with a group of other foreigners, Wilson and company have to flee for their lives, turning the film into a chase movie. Full to the gills with set pieces, including the now infamous "chuck your kid across the gap between two roofs" bit, it's a weird bit of exploitation theater with some possibly icky politics to it (all them foreigners are trying to kill you, see).

A debut of $1.2 million on Wednesday doesn't bode all that well for the film, as that number would typically lead to a weekend take of under $4 million. I'll give a little benefit of the doubt and put it a little over that, but the ugliness of the film (in both aesthetic and tone) peg this as difficult to like.

War Room is the latest film from Affirm Films, which is the production company behind a number of religiously themed movies like Fireproof, Soul Surfer and Moms' Night Out (the latter a bit of a step outside the box to try and find more mainstream success). This film focuses on a black family and their strife with an older woman in the neighborhood, which they attempt to solve through prayer. Annnnnd that's about it. Not much to write home about, not a lot of drama, no cast members that I have ever, ever, ever heard of and virtually nothing to recommend this movie to anyone but the initiated. While a few of this company's films have had some modest success, in the $30 million domestic area, this seems like a limp noodle of a film, and on just over 1,100 screens seems likely to open up with only around $4 million.

Thus, for a third straight weekend, Straight Outta Compton should grab top slot. The N.W.A. biography took a bit of a tumble last weekend but still earned $26 million and pushed over the $100 million plateau. International box office is going to be weak on this one, but with a domestic total in the area of $175 million, that hardly enters into it. It should bring in about $12 million this weekend, and I can only hope this leads to Baby Got Back: The Sir-Mix-A-Lot story.

There's not likely to be much else in the category of relevant this weekend, as Mission: Impossible – Rogue Nation drops to about $7 million, and with last weekend's new films having mostly tanked and not having any real positive word-of-mouth to show for it. I'd give Sinister 2 maybe a shot at hitting $5 million, but Hitman: Agent 47 should crater, along with American Ultra. It's a real dead zone out there right now.