Weekend Wrap-Up
By David Mumpower and Kim Hollis
August 23, 2015
BoxOfficeProphets.com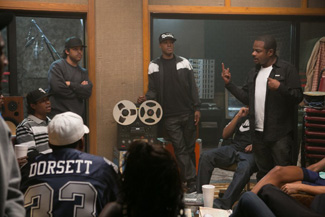 ---
Across North America, many children are back in school. As the educational years grow longer, late August box office diminishes that much more. Last weekend featured a rare breath of fresh air when a musical biopic became one of the five largest August debuts ever. This weekend, three new movies tried to knock it from its perch. All of them failed comically. Maybe if they'd had better memes…

Swirling controversy has been a staple of the rap business since its inception. Negative headlines correlate with an outsider persona that resonates with the anti-hero fans across the globe. No musical era better reflects this behavior than the ascension of gangsta rap, which spawned cross-coastal rivalries and splashy media headlines. Oftentimes, the splash was blood.

NWA, the greater Los Angeles band with an attitude so seminal to their makeup that they used it as part of the acronym, defined this culture. Their seminal debut, Straight Outta Compton, solidified their status as the It band of animus. Today, a couple of founding members of the band have personal wealth of nine figures, and one of them is approaching ten figures thanks to a marketable line of headphones.

Before they became titans of industry, however, they were just a bunch of hungry 20-somethings trying to make their mark in the music business. Straight Outta Compton the movie chronicles the combative resistance they faced in achieving greatness. And just as was the case with their music, the subject of the movie also includes its fair share of controversy thanks to the nature of the storytelling.

Since the most successful members of the band were involved with the making of the film, they chose not to highlight some of their worst moments, something that isn't rare with biopics. Given the opening weekend popularity of the film, its critics wanted to make their voices heard with regards to what the film didn't show. Unsurprisingly, that's sustained interest in what could have been a one-weekend wonder. After opening to a spectacular $60.2 million last weekend, it falls only 56% to $26.8 million during its second frame.

How strong is this result? BOP has compared Straight Outta Compton to 8 Mile for many months now. The latter film fell 62% in its second weekend and was already under $20 million by this time in its release. 8 Mile earned $116.7 million during its entire domestic run in 2002. Compare that to Straight Outta Compton, which held better in an era of much stronger box office depreciation, earned roughly 40% more in its second weekend, and now has a running total of $111.5 million. Yes, there's 13 years of box office inflation in play, but the numbers demonstrate that people love biopics about controversial rap stars. Straight Outta Compton will surpass 8 Mile by the middle of the week to become the most successful rap biopic ever.

The Tom Cruise Redemption Project's latest output, Mission: Impossible - Rogue Nation, couch jumps its way into second place for the second straight weekend after a pair of weekends at the top of the charts. No Cruise project has stayed in the top two for this long since Tropic Thunder in 2008. If we isolate the stat to films where Tom Cruise was the star, this hadn't happened since Jerry Maguire in 1996.

Rogue Nation earned $11.7 million this weekend, bringing its domestic total to $157.8 million. While it won't match Mission Impossible: Ghost Protocol's $209.4 million, it has certainly maintained the strength of one of the highest quality franchises going today. Rogue Nation has earned an additional $280.8 million internationally, giving it a worldwide take of $438.6 million.

We finally get to the first of our new openers in third place. Sinister 2, the horror sequel to the 2012 Blumhouse success, debuted with only $10.6 million. That's 41% less than the first film earned during its first weekend, as the original was able to take advantage of decent reviews and Ethan Hawke's name to earn $18 million during its October release weekend. The sequel had no such advantages. Its Rotten Tomatoes score was a pathetic 12%, while the biggest star was Shannyn Sossamon, whom we like a lot but hasn't been a draw since, well, ever.

The good news for Focus Features is that Sinister 2 was put together on a fairly small budget, although at $10 million, production costs were higher than most Blumhouse projects. Still, with more than $10 million in the bank already, it should be a profitable venture, even if it has to wait for home video revenue to get there.

If you have been clamoring for a movie reboot of the Hitman videogame franchise, well, you're in the company of about one million other people in North America. Hitman: Agent 47 earned $8.2 million, putting to rest the notion that anyone was ever that excited about a film adaptation of a game that had its last console version in 2012. The 2007 version of Hitman, which starred Justified's Timothy Olyphant, wasn't a big hit in the first place, opening with $13.2 million before going on to earn less than $40 million domestically.

Hitman: Agent 47 had a terrible Rotten Tomatoes score of just 7%, and its word-of-mouth is looking to be average at best, as its Cinemascore came in at a B. Agent 47 had an estimated budget around $35 million, and given the results from the original film, you have to wonder who at Fox thought it would be a good idea to distribute it in the first place. At least they don't seem to have spent much in marketing.

In its second weekend, The Man from U.N.C.L.E. falls 45% to $7.4 million. It was unfortunate for Warner Bros. and the people behind this project that Mission: Impossible – Rogue Nation moved back to late July, as U.N.C.L.E. seemed to cower in its shadow. Henry Cavill and Armie Hammer may eventually be able to draw audiences, but their time has not yet arrived (unless Cavill is wearing the Superman suit). So far, The Man from U.N.C.L.E. has a domestic total of $26.6 million, which means it's going to have to hope for a solid overseas performance if it's going to make any sort of profit.

Sixth place goes to our final new release, American Ultra. A sort of weird combination of Pineapple Express and maybe the Bourne Identity, this Jesse Eisenberg/Kristen Stewart film couldn't really strike a chord with movie-goers, earning just $5.5 million from a somewhat subdued venue count of 2,778. That's not even as much as their last collaboration, Adventureland, made in its first weekend. And if you're wondering, Adventureland is not what anyone would consider a hit, although it is fondly remembered as an underappreciated gem. That's probably not going to be the case for American Ultra, as it's dealing with a 45% score at Rotten Tomatoes and a B- Cinemascore. At least the budget was pretty small.

Our seventh and eighth place films both held up decently at the box office this weekend. The Gift, Joel Edgerton's well-received directorial effort, took in another $4.3 million this frame. That's a decline of just 34%, and pushes the STX Entertainment release to a domestic total of $31.1 million. The Gift is one of those Blumhouse movies that has a tiny budget at only $5 million, so it should be viewed as a success by everyone involved in bringing it together.

Ant-Man had an even better hold, as it fell only 26% from the previous frame to $4.1 million. Although it would definitely fall into the more minor category of successes for Marvel and Disney, they really have to be thrilled with its running domestic total of $164.5 million. It's not that far off of Captain America: The First Avenger's gross of $177 million.

A hilarious mix rounds out the top ten this week. In ninth place is one of the biggest hits of the summer, Minions, which grossed another $3.7 million. It's down only 28% from last weekend, and its domestic running total has hit $320 million. Minions is also only $10 million away from reaching the billion dollar mark in worldwide box office. Fantastic Four…not so much. With only $3.6 million this weekend and down 1,483 venues, the failed comic book reboot attempt is effectively done at the box office. It has grossed $49.6 million domestically while crippling the still-nascent career of director Josh Trank. Fantastic Four falls out of the top 10 for good later this week, and it won't get another mention until BOP's Top Film Industry Stories of the Year.

Overall, our top 12 movies at the box office were down 10% from last year. 2015's top 12 earned $92 million, about $10 million behind last year's group, which featured Guardians of the Galaxy in the top spot. We probably shouldn't look for the box office to improve any next weekend, as neither No Escape nor We Are Your Friends have the kind of marketing or buzz to draw audiences into theaters. Welcome to the end of summer.