Friday Box Office Analysis
By Kim Hollis
August 15, 2015
BoxOfficeProphets.com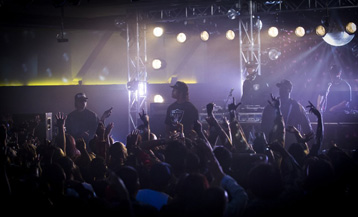 ---
The Fantastic Four might have let everyone down, but N.W.A. has saved the day.

It's almost impossible to imagine that a group as subversive as N.W.A. was in the '80s and early '90s would be the subject of a movie that will earn as much as it will this weekend. Straight Outta Compton kicked off the weekend in dominant fashion, as its box office for Friday was $24.2 million, including nearly $5 million from Thursday previews.

With top-notch reviews (88% fresh at Rotten Tomatoes) and glowing audience response (A Cinemascore), it's going to be interesting to watch the weekend unfold for Straight Outta Compton. Generally, movies that reach out to the African-American demographic skew heavily front-loaded. Because studios so rarely serve the market well, films that target the group tend to bring out crowds on opening night, serving as an event for the audience.

In the case of Compton, I think we might see that trend broken somewhat. Early reports are telling us that the audience is tending to be older (52% over the age of 25), which stands in stark contrast to a comparable film such as 8 Mile, which had an audience that was 60% under the age of 25. Generally, your older demographic is more likely to head out to theaters on all three weekend days as opposed to rushing out on Friday alone.

If we take the true Friday box office of $19.2 million and go with a 2.6 multiplier, we're looking at about $50 million. Add back the $5 million from Thursday, and the likely scenario for the weekend box office for Straight Outta Compton is $55 million. I'm not going to be surprised if it winds up estimated at $60 million plus, though. They can always steal a few dollars out of the weekday box office reporting to make it true. And by "they" I mean Universal, who can pretty much conjure gold out of almost anything this year.

We're not looking at quite such lofty levels for the Warner Bros. film The Man from U.N.C.L.E., which came in $10,000 behind Mission: Impossible – Rogue Nation yesterday. Its $4.9 million Friday includes $900,000 from Thursday sneaks. It's not a gangbuster debut by any stretch of the imagination, but it's probably not that far off from expectations, either. The film itself had a $75 million budget, and the combination of Henry Cavill and director Guy Ritchie ought to make it good for some overseas dollars. It will finish the weekend with about $11.7 million.

There's nothing but bad news to report for Fox and Fantastic Four. After its disappointing opening last week, it dropped a whopping 79% from last Friday. It's going to earn just $7.7 million this weekend (and that's likely a best-case scenario – I'm seeing reports of completely empty theaters for some available showings). It's going to be gone and (thankfully) forgotten by the end of next weekend.

In fact, it's barely going to beat The Gift this weekend. The Joel Edgerton thriller declined 53% from last Friday, but should recover some over the course of the weekend to finish with $6.5 million.

Meryl Streep's Ricki and the Flash didn't open big last weekend, but it's holding up fine. Part of that is due to being smaller in scale, but her audience is also more likely to wait to attend the movie in subsequent weekends. It's looking at a weekend of $4.6 million.