Weekend Wrap-Up
Fantastic Four
By John Hamann
August 9, 2015
BoxOfficeProphets.com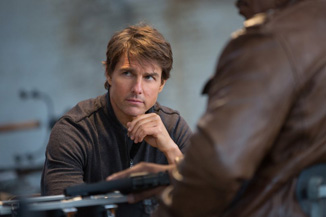 ---
We have a new term at the box office for when a big budget movie flops after the director distances himself from the product the night BEFORE it opens. More than a flop, more than a disappointment, Josh Trank's Fantastic Four has "tranked" this weekend.

The box office has a disease this weekend. That sickness is Fantastic Four, the Fox property that cost $122 million to make, was bumped from its original release date and had rumored re-shoots. It also was saddled with director who couldn't keep his mouth shut and his twitter posts neutral. Moviegoers were aware of the disease at movie theaters and stayed away en masse. Newcomer Ricki and the Flash with Meryl Streep caught the disease, as did the Shaun the Sheep, which must have been infected with mad sheep disease.

There were bright spots at the box office, with the biggest being The Gift, the new Joel Edgerton film from upstart distributor STX Entertainment. This new venture is arriving on the scene just as Relativity Media is imploding. Things do rise from the ashes, like STX, but Fantastic Four will live in the rubble for a long time to come.

It was a very close race for number one, even though it wasn't supposed to be as early as a few days ago. Tracking for Fantastic Four was calling for $45-$50 million less than a week ago, a happier time when no one had seen the attempted reboot. Tracking estimates were released Monday, and on Tuesday, four or five large entertainment media outlets posted reviews. From that point forward, it was over. Those reviews were overtly negative and confirmed all of the harrowing production rumors we have heard over the last year.

The talent was wasted, the money was not on the screen, the effects were bad, and it took too long to get the group together. Those are just a few of the early comments. The next day, the critical beating continued as the Fox review embargo was lifted one day prior to Thursday previews. Right around those first screenings on Thursday, Josh Trank turned to Twitter and said, "A year ago I had a fantastic version of this. And it would've received great reviews. You'll probably never see it. That's reality though." That quote ended Fantastic Four.

As expected, the media and the Internet jumped all over the Josh Trank tweet (and rightfully so). Whether Fox interfered or not in the making of the film, if you want to continue to direct movies, go to Aruba for a few weeks, unplug, and the let the mess settle – at least you might work again. The result was a Thursday night box office preview amount of $2.7 million, followed by a Friday of $8.6 million, which equalled a combined $11.3 million opening day. Batman & Robin, Joel Schumacher's nightmarishly bad film (11% fresh), had an opening day of $16.1 million, and that was 18 years ago. It was $10 million behind both the 2005 version of Fantastic Four and its sequel Rise of the Silver Surfer. The series was rebooted so it would earn $10 million MORE on opening day compared to the last version, not $10 million less. The chickens had come home to roost, and things were not going to improve.

The question now was whether Fantastic Four would continue to implode over the rest of the weekend, or if there were enough souls who either didn't care that this was a nightmare or were unplugged enough not to know better. Batman & Robin imploded throughout its opening frame, and in a time prior to Thursday previews, had an internal multiplier of 2.6, which was low for a superhero film. The 2005 version of Fantastic Four had a similar multiplier – it was an indication of a bad movie that had no word-of-mouth internal to the weekend. Ten years later, very little has changed. Fantastic Four followed its $11.3 million opening day with a $8.5 million Saturday (off 25% from opening day), and finished with a weekend take of only $26.2 million. Fox had a giant turd in its hands compared to the $122 million budget.

The result cut in half the tracking estimate that was at $45-50 million only a few days before release, and I don't believe that in this case tracking was off. Yes, we have had some notorious tracking misses this summer, but the drama around the badness created this, not a research company. Reviews at the time of this writing show 13 positive out of a possible 147, and those notices were compounded by the C- Cinemascore. To compare, Batman and Robin earned a C+, and both of the earlier Fantastic Four films earned a B. Green Lantern earned a B, as did both Daredevil and Elektra. To translate, Fantastic Four wasn't close to some of the worst superhero movies in recent history. This film has become epically bad. I can't begin to imagine the fallout of this disaster. I had hoped the haters were wrong for an entire year, but the proof is in the pudding.

So, what happened? What could have been done here to avoid the out and out devastation we are seeing this weekend? Once we peel back all the layers, we have a cast who best known actor is Tim Blake Nelson and a director whose only credit comes from a $12 million-budgeted sci-fi found footage flick. When newbie Chris Hemsworth did Thor, they surrounded him with actors like Natalie Portman and Anthony Hopkins. When Chris Evans became Captain America, he had already been in two Fantastic Four movies, so they surrounded him with Tommy Lee Jones, Hugo Weaving, and Sam Jackson. Thor was directed by Kenneth Branagh, a helmer with a couple of strong credits, and with Captain America, they hired Joe Johnston, again a veteran.

Making a movie is like having a big team, and the 2015 edition of Fantastic Four had no leader. This group was delivering a $122 million product, so there was a lot at stake. When this went weird early, someone needed to step in. That never happened, so Fox and Marvel are at fault here as well. This release damages the Marvel brand, but they will overcome. I would imagine that they will pay closer attention to upcoming films, like Gambit, and will hopefully learn some lessons when they reboot the Spiderman franchise.

As it turns out, Fantastic Four couldn't even grab the #1 spot at the box office, although it was certainly the #1 story. Mission: Impossible – Rogue Nation repeats at number one following its strong debut last frame, when it earned $55.5 million. The goal for Paramount would have been a decline of 50% or less, and they achieved it. Rogue Nation earned $29.4 million this weekend, dropping a neat 47% in the process. The $150 million picture crossed the $100 million domestic mark on Sunday, its 10th day. That's two days slower than Mission: Impossible 2, one day faster than the original, and four days faster than Ghost Protocol (but that one opened in limited release for five days).

Overseas, it is doing even better business, so I believe a forecast of $200 million domestic and $350 million overseas is in the offing for Rogue Nation, making this another solid entry in the Mission: Impossible franchise. Domestically, the Tom Cruise film has earned $108.7 million.

Third spot goes to The Gift, one of the few pleasant surprises in the top ten this weekend. The Gift, from new distributor STX Entertainment, stars Jason Bateman, Rebecca Hall and Joel Edgerton, who also wrote and directed. The Gift earned $4.1 million on opening day, stronger than expected, and went on to carve out $12 million over its first three days. Tracking had been looking for a debut in the $7-$10 million range, so STX has to be pleased this one woke up to the good side. It did it on the super strength of the reviews. It earned a 92% fresh rating from all critics at RottenTomatoes and 95% from top critics. The Cinemascore was a B, but this one has a shocker ending that will divide audiences yet keep them talking.

STX got involved in this picture for only half of the film's $5 million budget, but paid all domestic marketing costs. That production cost is already easily paid back, but the marketing cost (which is tough to define) will take more time to cover. This is still a great investment for a first film, as the domestic result should equate to a push for the company before they send it off to Showtime and other home video outlets for a true profit. The next release for STX is The Secret In Their Eyes, with Julia Roberts, Nicole Kidman and Chiwetel Ejiofor. I hadn't seen the Argentinian film it is based on, but wow, the trailer looks good, as Julia Roberts plays against type, and gets all revenge-y on the killer of her daughter. The Gift is a great start for the upstart company, and I look forward to other films they bring forward.

Fourth is the unfortunate Vacation reboot, which deserves to go in the same forgotten drawer that Fantastic Four will be put in. Vacation earned $9.1 million in its second weekend, and falls 38%. Made for $31 million, the Ed Helms comedy has now pulled in $37.3 million on the domestic side, and has yet to be released overseas.

Ant-Man is fifth and likely only has that ranking due the implosion of Fantastic Four. This weekend, the Paul Rudd starrer took in another $7.8 million, dropping a not bad 39%, and brings its domestic gross up to $147.4 million. Ant-Man cost Marvel and Disney $130 million to make, which means it needs $400 million worldwide to get to the good side. Overseas, Ant-Man has earned $179 million, but still needs more.

Sixth is Minions, which is now in its fifth weekend of release. Minions earned another $7.4 million and declined 40%, mostly due to the fact that it lost 450 venues this weekend. Minions crossed the $300 million mark on Sunday, its 31st day of release, making it the 27th fastest ever to that mark. It was one day slower than Inside Out and a couple of days faster than Shrek the Third. Give it $302.8 million on the domestic side. It has now passed $600 million overseas.

Ricki and the Flash opened in seventh, but I don't think Meryl or TriStar were looking for world domination. They seem to be just looking to get the family together and have a good time. That good time earned $7 million over opening weekend from a muted venue count of 1,603 theaters. Reviews were okay at 59% fresh, and the Cinemascore decent with a B. I think that with Ricki, Streep just wanted to work with her daughter, Mamie Gummer, and will seek Oscar glory through her next feature, Suffragette.

Trainwreck dips to eighth but sees a strong hold in its third weekend. The Amy Schumer comedy earned another $6.3 million and fell 34%. Trainwreck, which cost only $35 million to make, has now pulled in $91.1 million and has added a few million overseas.

Pixels is ninth. It earned $5.4 million this weekend and dropped 48%. The $88 million Sony release has now earned $57.6 million domestically and $73 million overseas.

Tenth is Southpaw, the Jake Gyllenhaal boxing flick. Southpaw earned $4.8 million and declined 38%. The Weinstein release has earned $40.8 million stateside against its $30 million budget and has found another $10 million plus overseas.

Sadly, Shaun of the Sheep finishes outside of the top ten despite a 99% fresh rating at RottenTomatoes. From Aardman, Shaun earned only $4 million from 2,320 screens, and pulled in $5.6 million since opening Wednesday. The good news for Aardman is that their film had already earned $60 million away from the US before it opened stateside.

Overall, the box office is kneecapped thanks to the unraveling of Fantastic Four, leaving the top 12 well back of comparable weekends. The top 12 films earned $122.2 million this weekend, far off the $174 million earned last year when Teenage Mutant Ninja Turtles was on top, while Guardians of the Galaxy had a strong second weekend. It is also well behind the 2013 weekend, which took in $142.3 million. Next weekend will be interesting as we get two wildcards – Straight Outta Compton, the NWA biopic from Universal, and The Man from U.N.C.L.E., with Armie Hammer and Henry Cavill.