Weekend Wrap-Up
No Vacation for Tom Cruise as Rogue Nation Hits
By John Hamann
August 2, 2015
BoxOfficeProphets.com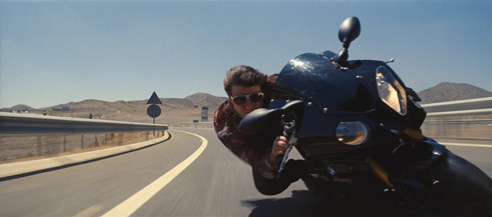 ---
Two films debuted this weekend, and the reverse of the norm actually happened at the box office, as the good film triumphed and the bad film was handed its hat.

Welcome to August, everyone, where the box office tends to cool off somewhat. The lower box office returns occur as people go on vacation and find other things to do than go to the movies (people certainly did not go TO Vacation this weekend). Openers included Mission: Impossible – Rogue Nation, the fifth in a franchise that has spanned almost 20 years and had earned three-quarters of a billion dollars domestically before the fifth film opened. Tom Cruise has had a rough go of it at the box office in the last decade, but is starting to show himself as one of the hardest working actors in Hollywood today – and not just on the marketing side.

Our other opener is the reboot of the Vacation franchise, a film that thought it had everything going for it, but obviously didn't. This lazy, charmless comedy missed the dynamic that the original had, and instead relied on the gross out jokes that have worked before in recent comedies. Heading into the weekend, I thought North America would make a bad decision again and head out on this bad trip, but thankfully, that wasn't the case.

The age of social media and instant information seems to be helping people make better choices at the movies. We saw a poorly reviewed film fail when Terminator: Genisys opened in third behind three- and four-weekend-old Inside Out and Jurassic World. It also happened the weekend before, when Ted 2 opened behind the same two films. If we go back to May, we saw similar results when Tomorrowland opened low over Memorial Day weekend and when Hot Pursuit shriveled up and died (I'll wait while you look up "Hot Pursuit").

The moviegoer has made hits of very good films like Mad Max: Fury Road, Trainwreck and Inside Out, as well as good films like Jurassic World and Pitch Perfect 2. At no point this summer have we had to endure a Transformers or Ninja Turtles nightmare dominating the box office. The worst we've had to endure at #1 is San Andreas, and that was 50% fresh at Rotten Tomatoes and carried an A- Cinemascore. Moviegoers are picking the good movies this summer - and there are more good movies available – which shows that studios are growing wise to that trend. Of the two openers this weekend, one was 93% fresh and one was 23% fresh, and I am happy to report that good conquered evil again this weekend.

Our number one film of the weekend is Mission: Impossible – Rogue Nation and I think that with this release, it is finally time to lay off the Tom Cruise bashing. First off, the box office: Rogue Nation, or Mission: Impossible 5, got off to a decent start on Thursday with $4 million from previews. This was neither a good nor a bad result, as we can show similar box office figures from films that either opened to much more or less than that of Rogue Nation with a similar preview amount.

It was clear that the preview figure was not a disaster by any means, which was further proved on Friday when Rogue Nation had a combined Thursday/Friday of $20.4 million. That's a better first day than both San Andreas and Mad Max: Fury Road, which went on to open to $54.6 million and $45.4 million respectively. Rogue Nation just missed the opening day of Ant-Man, which took in $22.6 million and enjoyed an opening frame of $57.2 million. Rogue Nation was off to a very good start, as this was the best opening day of the franchise's history.

The weekend total Rogue Nation came in at a better-than-expected $56 million from 3,956 venues from Paramount. The studio was looking for an opening weekend of $40 million, while tracking predicted a $45-50 million debut While this performance didn't blow the cover off the tracking estimate, it did exceed expectations, and I think that Cruise, Paramount, Skydance and JJ Abrams' Bad Robot will be quite pleased with this result. With incredible reviews (93% fresh) and an A- Cinemascore, I think a 4.0 opening-to-total multiplier is definitely in play, which would bring the domestic total in at around $220 million. With a production cost of $150 million, a worldwide total of $450 million will be needed, along with a domestic score over $200 million. M:I 5 will be in position to repeat the performance of Ghost Protocol, which rang up $700 million at the worldwide box office.

Who's to thank for this success, not only of Rogue Nation, but also Ghost Protocol? Tom Cruise. Since 2011, Mr. Cruise has delivered Mission: Impossible – Ghost Protocol, Jack Reacher, Live Die Repeat: Edge of Tomorrow (one of the better films released in the last few years), and Rogue Nation, while recognizing the two backward steps with Rock of Ages and Oblivion (a film I liked more than most, and one that improves after repeat viewings). For Cruise, the time before was the time before, and this guy is obviously putting it on the line for his films. Whether it's hanging off the side of an airplane, rappelling down the side of a glass tower, or doing some nutty things in Edge of Tomorrow, this guy puts in the work for his films.

Cruise is also is doing a better job of developing and/or picking scripts and surrounding himself with solid co-stars and top-notch people behind the camera. Christopher McQuarrie, who directed Rogue Nation, also wrote the screenplay for Edge of Tomorrow, as well as Jack Reacher. The next film for Tom Cruise is Mena, which re-unites him with Edge of Tomorrow director Doug Liman. For now, Cruise adds another strong entry to his lengthy resume, and this one will be financially successful.

The opposite end of the spectrum is a very distant second this weekend, in the form of the rebooted Vacation. This was a good idea waiting to happen, and when it was announced, I was excited to see what an updated version of this franchise could deliver. Vacation and Christmas Vacation are treasures I hold in the same regard as a film like Groundhog Day, and it felt like enough time had passed for the franchise to be made fresh again. I thought Ed Helms was a perfect Griswold, and that all was going to work out fine with the reboot. Boy, was I wrong.

Reviews were terrible (and the bad ones were nasty), with this version of Vacation coming in at only 23% fresh (the original is listed at 93% fresh at Rotten Tomatoes). I then thought that maybe reviewers were missing the glory days of old, and maybe this reboot isn't as bad as they said, but the Cinemascore came in at a B, matching that of Pixels and Tomorrowland, two of the more notoriously bad films of the summer so far. Would audiences attend anyway?

Thankfully, they did not. Vacation opened on Tuesday night with previews and earned a laughably bad $1.2 million. That debut followed efforts by Warner Bros. to hold reviews back from patrons. Variety's review hit on Monday, July 27th, and some outlets didn't post until Tuesday or Wednesday (Fantastic Four will be the same next weekend). Those horrible reviews led to a Tuesday/Wednesday of $3.8 million, which finished the story right there. The Thursday was 35% lower at $2.5 million (behind Ant-Man and Minions). Friday was $4.5 million, which led to a weekend take of only $14.9 million and a five-day tally of $21.2 million. The good news for Warner Bros. is that this sad re-imagining of a treasure cost only $31 million to make, so other than destroying America's memories of a classic, they should make out just fine. Why they had to take this in such a foul direction leaves me behind, but they needed to shoot higher than We're the Millers. For me, this is the summer's greatest disappointment.

Finishing in third place is Marvel's Ant-Man, the now three-weekend-old superhero. After two weekends at number one, Ant-Man slips to third, but thanks to the implosion of Pixels and Vacation, it has seen some decent legs instead of getting buried. This weekend, Ant-Man earned another $12.6 million, off 49% compared to last weekend. That's right in the neighborhood of Captain America's third weekend at $13 million and far better than $9.6 million the Ed Norton version of The Incredible Hulk earned in its third frame. Ant-Man will have overtaken The Incredible Hulk's domestic tally of $134.8 million shortly, but it is a long shot to beat Captain America's $176 million. Overseas, Ant-Man is just ahead with the domestic tally, and will need to exceed it by around $100 million to get this one into the Marvel profit column.

Fourth is Minions, as our little yellow friends strive for $300 million. Since its debut, Minions has not had a drop below 50%, but narrowly see its first this weekend. Minions earned $12.2 million in its fourth frame and dropped an improved 47%. Minions improves its domestic gross to $287.4 million, and should see $300 million next weekend or shortly after, and has already cracked the half-billion mark overseas. Remember, this Universal/Illumination Entertainment release cost only $75 million to make it, and it's going to at least approach a billion worldwide.

Fifth is Pixels, Adam Sandler's latest misfire. Despite opening to only $24 million last weekend, Pixels still got slammed in weekend two, earning only $10.4 million and dropping 57%. Pixels cost $88 million to make and has a gross to date of only $45.6 million. Pixels and Vacation have a lot in common, as they were both premises that could have worked, but the writers, filmmakers and stars got sloppy. They're paying for it.

Trainwreck slips to sixth, as Amy Schumer's comedy keeps trucking along. This weekend, Trainwreck earnsedanother $9.7 million, and fell 44% in its third frame. Gunning for $100 million, this Universal product has a gross-to-date of $79.7 million, and will narrowly cross the $100 million mark in a few weeks.

Surprisingly, Southpaw hit the skids a bit, as adult audiences flocked to Mission: Impossible - Rogue Nation instead of the more serious drama. After opening to $16.7 million last weekend, Southpaw took a left hook to the head, and grossed only $7.5 million in weekend two. That gives it a bigger-than-expected drop of 55%, but brings the total for the Weinstein boxing movie up to $31.6 million.

Paper Towns also got brutalized this weekend, but this was more expected than the drop for Southpaw. The teen lit product could only pull in $4.6 million after opening last weekend to $12.7 million. That's a drop of 64% for this Fox product, but it cost only $12 million to make, so the care level goes down drastically.

Hard to believe, but Inside Out and Jurassic World almost got pushed out of the top ten this weekend. Inside Out earned another $4.5 million and pushed its domestic total up to $329.6 million, ever closer to Finding Nemo's $339.7 million. Jurassic World earned $3.8 million and fell 47%. Its running total is now at an awesome $631.5 million.

Overall, the box office keeps clicking along but is smarting over flops from Pixels and Vacation, as both should have opened at least $20 million higher. The top 12 this weekend earned $139.4 million, well back of last year when Guardians of the Galaxy took the box office to $172.4 million. The good news, though, is that 2013 was a much stronger year, and the same weekend that year only pulled in $123.3 million.

Next weekend brings a bit of chaos, as four films open and we see limited releases from three other films with potential. New releases include Fantastic Four, and with no reviews out yet, I think we all know how that's going to go – the embargo lifts Wednesday. The Gift, a thriller directed by actor Joel Edgerton and starring Jason Bateman, also debuts, and the eight reviews released thus far have all been good. The same goes for Shaun the Sheep, an Aardman film with 100% good reviews so far, and Ricki and the Flash, you know, with Meryl. On the limited side, Kevin Bacon's Cop Car sees its release, as do Dark Places, with Charlize Theron and Christina Hendricks, and Salma Hayek's The Prophet.