Weekend Forecast for July 31 - August 2, 2015
By Reagen Sulewski
July 31, 2015
BoxOfficeProphets.com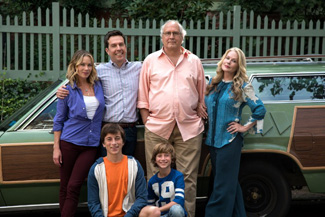 ---
In what's becoming a bit of a trend lately, the sequel to the nearly 20-year-old film franchise is *not* the furthest reach back in time for material. In fairness to Hollywood, none of you seem to want anything original anyway, so...

Mission: Impossible is an old enough series such that its first leading lady is now considered way too old to be a leading lady in a film anymore and would probably be cast as a grandmother now or something. It's so old that looking things up on the Internet was still kind of a novelty. It's so old that killing off Emilio Estevez was legitimately shocking. And now, we have Rogue Nation, the fifth film in the franchise that is only tangentially related to the '60s TV series anymore, and is now a bit of a way for Tom Cruise to have a James Bond film of his very own, complete with picking bands to do a theme song every time and to have a different top flight director – this time Christopher McQuarrie, do his bidding.

Slightly unusual in that this film directly connects with the previous entry (ahhh! Continuity, get it off me!!), it sees Ethan Hunt's IMF group chasing after the Syndicate, an underground, counter-spy force committed to destroying the IMF. This, you might note, is quite similar to the upcoming Bond film Spectre as well as the general plot of the MCU up until now, but then again, it's not like "secret evil organization" is that unique and brilliant of an idea to begin with. This may have something to do with the film's surprise move to this weekend from its original planned Christmas release, but I think it just reflects general confidence in the property by Paramount, and it's set to become a late-summer hit.

At this point in the franchise, the roster has started to settle down instead of the revolving cast of hangers-on we had in the first few films, and now Simon Pegg and Jeremy Renner can officially be considered full-fledged members of the IMF team, along with Ving Rhames in his fifth straight appearance. The female lead rotates once again with Paula Patton cast aside and Swedish actress Rebecca Ferguson stepping into a femme fatale role. Alec Baldwin gets to be the Authority Figure Who Is Wrong About Everything and Explosions star as Explosions.

This seems to be a twisty-turny version of the film, getting back to the head-scratching plot of the first film in some ways, but retaining the lessons learned since then (I mean hopefully – we can all agree that the second one Never Happened, right?). The third film was one of the first victims of Tom Cruise Crazy, grossing just $133 million domestically, although still finding a welcome home overseas, which is why we've actually made to the fifth one. There's no denying that Cruise's star has dimmed in recent years though, and films that would have been surefire hits in his heyday like Oblivion and Edge of Tomorrow (why, oh why, didn't you watch this, people?) have become either just modest hits or outright flops (though Rock of Ages was a bad idea from the outset).

The quality of the M:I films seem to be slowly winning people over, and reviews for this film are about as strong as any action film out there that isn't Mad Max. Comparisons with Ghost Protocol are pretty much impossible thanks to that film's wacky roll out, but looking to its $209 million final figure is illustrative. I'd look for a weekend of about $52 million here.

Vacation reaches back to the heady days of 1984 to follow in the footsteps – but notably, not to reboot them – of the Chevy Chase hit, which spawned one good sequel, one OK sequel and one terrible one. Hey, they're bound to strike gold again sometime, right? Ed Helms takes over the pater familias role – but as Rusty, not Clark (dudes, Anthony Michael Hall was *right* there), embarking on a family vacation of his own to WalleyWorld, with all the mishaps and wacky shenanigans that entails. I'd mention other cast members here, but I'm probably doing them a favor by keeping them out of it.

A fair bit has been made about what seems like a cruel and gross take on the material, but let's not forget some of the things that happened in the first film (dead grandma, urine sandwiches, dragged dog). Sure, the raw sewage bath is a bit far over the top, but still in general keeping with the tone of the series, sad as that is to say. The problem comes with the fact that the film is apparently just not that funny, which is a particular death knell for comedies. Reviews are hammering it, and the Wednesday opening figure does not bode well. With just under $4 million, it did win its first day, but will head towards a $19 million opening weekend.

Leading our left behind films is probably still Ant-Man, which held off the barely-trying Pixels for a win by $900,000. Although it's definitely proving to be a step backwards box-office wise, it should still come in with about $150 million domestic, and probably about as much internationally. Call it a not-miss. Look for about $11 million this frame.

The aforementioned Pixels should slump hard, with few reviews rising above a "you could do worse." Adam Sandler is rapidly shedding fans, and the turn to Netflix, where his numbers are much less subject to public scrutiny couldn't come at a better time. Look for about $9 million this weekend.

Meanwhile, Minions has not been able to hang on to its results after a hot start, and has dropped over 80 percent in two weeks. What could have been a $350 or $400 million performance is looking more like a $300 to $325 total. Perhaps that's to be expected with such a pre-sold audience, but it's a bitter pill for Universal to swallow compared to their expectations. Give it about $11 million this weekend.

Amy Schumer's Trainwreck held up OK but not fantastically, pulling in $17 million in its second weekend, and should end up in the $100-110 million range for a final figure. Look for about $10 million here. Southpaw debuted a little stronger than expected with $16 million, surprisingly beating out the apparently not so rabid John Green fanbase for Paper Towns, which garnered only $12 million. Still great for a little film, but compared to Fault in our Stars, it's a dramatic drop back. Give Southpaw $9 million, and Paper Towns about $5 million as it sheds viewers rapidly.