Weekend Wrap-Up
Soft Openers Cool Box Office Momentum
By John Hamann
July 26, 2015
BoxOfficeProphets.com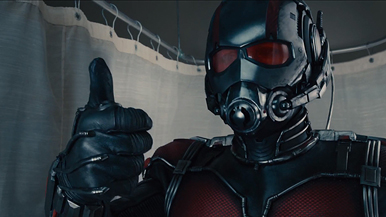 ---
There were three more original openers and once again, we didn't have much to party about at the box office this weekend. The July 24th frame sports the lowest earning #1 film in July since 2009's Funny People, and like Pixels, that also starred Adam Sandler. Thankfully, other than Pixels, there are no disasters either, as five films finish with more than $15 million in ticket sales, thereby saving the weekend.

With three completely original openers this weekend, and one and a half last weekend (anything from Marvel's Universe has to be considered sequel-ish), there is a lot of shiny new product in the top 12. That originality has pushed out some sequels that didn't work, such as Terminator: Genisys, Ted 2 and Magic Mike XXL. Still, the barrage of sequels and reboots will return next weekend in the form of Vacation and Mission: Impossible - Rogue Nation.

For now, though, original films come in the form of Adam Sandler's Pixels, a good idea with a bad script; Paper Towns, another cheap-to-produce teen-lit adaptation (this time without vampires, death or dystopia); and Southpaw, Jake Gyllenhaal's boxing drama in which he transformed his body to play the lead. Only one of these films, Pixels, feels like a summer film, while the other two feel like they would be more comfortable either when school is back in, or Southpaw's case, closer to Oscar season.

All of the new titles faced an unexpected obstacle. On Thursday night, a psychopath in Lafayette, Louisiana opened fire in a crowded theater during a screening of Trainwreck. He killed two people and injured nine others. The events occurred almost three years to the day after the incident in Aurora, Colorado that left 12 people dead. The 2012 event negatively impacted the box office of The Dark Knight Rises, and none of this weekend's titles were anywhere near as engaging as a Batman movie. So, a key question that may never get resolved is whether the new films were damaged by the Lafayette tragedy. All that we can do is evaluate them based on their actual weekend performance, so that's what we'll do.

It's a close race to number one this weekend as three films, Ant-Man, Pixels and Minions, all finished within a few million of each other. Our current #1 (rankings are useless in the top three this weekend, and may change when actuals are released on Monday) is last weekend's top film Ant-Man, which is really becoming ant-sized compared to the rest of the Marvel canon. Last weekend, I expected Ant-Man to open the way it did, and then hold above 50% this weekend, but that wasn't to be.

After opening to $57.2 million last weekend, the Paul Rudd starrer could only find $24.8 million in weekend two. That gives the $130 million Marvel release a second weekend drop of 57%, well off the 47% that Thor fell, but in line or better than the 60% that both Captain America and The Incredible Hulk fell in their second weekends. Ant-Man, if it can improve on the size of these drops, could be a $175 million finisher; however, its current trajectory puts it lower. Ant-Man needs about $400 million worldwide to see profit, and so far, it has $106.1 million domestic. Thus, it has a long way to go to see profitability.

Second, at least for now, is Pixels, the Adam Sandler space invaders movie from Sony and Chris Columbus. Pixels was always going to be a long shot given its description, and terrible reviews sealed its fate prior to its debut. A film like Pixels, with its outlandish plot and setup (gamers from the '80s reunite to save the world from Donkey Kong and other arcade classics), only works with a strong script, and from all accounts, that is drastically missing here. In the age of social media, the days of marketing the hell out of crap and still getting a response are over, as Pixels found out this weekend.

Pixels got started on Thursday night at previews, earning a sad $1.5 million, which was a distant second to the $2 million that Paper Towns took in. Obviously, moviegoers were not stoked to see Pixels, and the writing was on the wall for the rest of the weekend. The Thursday/Friday combo was $9.2 million, or $7.7 million with the Thursday removed. The question became whether kids would show up for the CG action, or if Sandler's dwindling fanbase had already seen it - leaving Pixels to wane over the rest of the weekend.

Over the three-day portion of the frame, Pixels earned $24.8 million from a massive screen count of 3,723. The Sony release cost $88 million to make, so this is not enough of a domestic start for a film with big special effects. Those effects will help sell it overseas, along with Sandler, but it will need to make up some serious ground. Pixels will need to make $270 million worldwide to recoup production and marketing costs; it should make $70 million stateside (the awful Jack and Jill earned $75 million domestic with a similar debut), which means it will be a long shot bet at finding a profit.

Pixels could have been a good film. Scott Pilgrim vs The World proves that, with its 80's gaming concepts made fun on the screen. However, the mistake here is making this an Adam Sandler/Happy Madison film, all the way to having Kevin James play the President and a bunch of members of Sandler's family having small parts. This concept would work with a more solid script and if Sandler had played against his usual type. It would also help if he'd stop using expensive films as family reunions (Grown-Ups). As the producers chose to bow to Sandler, Pixels finished with a B Cinemascore. Unless the film is embraced heavily in Asia, Sony should prepare for a decent sized write-down. This is another good idea wasted.

Minions, the most economical blockbuster of the summer (it carries a cost of only $74 million - $14 million less than Pixels), sees another steep drop this weekend as the rarified air it is in already ($240 million prior to the start of the weekend) makes it hard to keep momentum going. This weekend, those cute little evildoers earned another $22.1 million, giving Minions a drop of 55%. That follows a drop last weekend of 57%, which came after the film's stunning opening frame at $115 million. Minions surpassed the domestic take of the original Despicable Me this weekend ($251.5 million), crossing the $250 million mark in only 16 days, the same amount of time it took Despicable Me 2. It joins Furious 7 and Jurassic World in Universal's top 10 biggest films ever, with a gross to date of $261.6 million. Overseas, it is huge as well, has it is approaching the $500 million mark from international venues.

Trainwreck is fourth, and despite Thursday's tragic shooting, it has one of the better holds in the top five. That's the perfect "FU" to the shooter. The Amy Schumer comedy earned another $17.3 million in its second frame, off a decent 43% compared to its $30.1 million debut. With the drop, Trainwreck is on pace to earn $90 or $100 million, but it will have to deal with Vacation next weekend, and Ricki and the Flash in the following session. Trainwreck cost only $35 million to make, so it will have Universal whistling again, thanks to the low budget, although it will also experience a historical footnote due to the events in Louisiana. Its total so far is $61.5 million.

New opener Southpaw did surprisingly decent business this weekend. Clearly, some audiences were in the mood for a punchy drama and wanted to get away from the escapist fare that surrounds the summer box office. Southpaw earned a decent $16.5 million and garnered that amount from a subdued venue count of only 2,772 venues. At $5,952, it had the third best venue average of the top ten, and considering reviews were quite mixed (58% fresh), this has to be considered a success. The Jake Gyllenhaal flick cost $30 million to make, and with an A Cinemascore, it should be able to leg out a win. Add some overseas grosses to that total and a possible Oscar nomination for Gyllenhaal, all should be well for Weinstein with this one.

Paper Towns, the new teen-lit feature from novelist John Green, finds itself debuting in sixth but is a success regardless. After a huge Thursday with a $2 million gross from previews, the wheels came off, and Paper Towns finished the weekend with $12.5 million. Although it was never expected to be a Fault in Our Stars-type opener ($48 million), it did have something in common with TFiOS other than just the writer – the low production cost. Paper Towns cost only $12 million to make, so will be a slam dunk for Fox into the win column.

Former behemoths Inside Out and Jurassic World continue to slide down the list, with big worldwide grosses (and huge profits for Disney and Universal) already in place. Inside Out earned $7.4 million, dropping only 36%. That brings the domestic gross for the Pixar film up to $320.3 million. It's going to need another couple of weekends to beat Finding Nemo's original gross of $329 million, but it will get there. Overseas, Inside Out has surpassed the $225 million mark, and will grow significantly from there.

Jurassic World just never stops. The Universal reboot earned another $6.9 million, dropping an okay 40%. Today it gets ahead of Marvel's Avengers, which sat as the third biggest domestic release of all-time for a few years with a domestic take of $623.36 million. Now Avengers finds itself in fourth, as Jurassic World has earned $623.8 million domestically. It won't get to Avatar, and has already surpassed Titanic's original gross of $600 million, but a pesky re-release in 3D will keep it as the second biggest ever - with an asterisk.

Sir Ian McKellan's Mr. Holmes expands to 686 venues and has some success in the process. After earning $2.4 million from 361 venues last weekend, Roadside Attractions doubled down on screens this weekend, and the earnings followed. Mr. Holmes earned $2.8 million this frame, up 17%. This small film now has a domestic take of $6.4 million to go with the $3.5 million earned in the UK thus far. No budget data has been released, but I would be surprised to see a budget larger than $20 million.

Tenth goes to Terminator: Genisys, which earned only $2.4 million and fell 56%. The $155 million film has been the poster child for non-success at the box office this summer, as the domestic earnings are not going to get to $100 million. Thankfully, overseas audiences have pushed the overseas total past $200 million, but it is still not going to be nearly enough, as that budget calls for a worldwide take of $465 million. Domestically, Terminator: Genisys has earned $85.7 million.

Overall, the box office finished just ahead of where it was this time last year. This weekend, the top 12 cooked up $140.1 million, thanks to five films earning more than $15 million. A year ago, the top 12 earned $136.9 million thanks to Lucy, as the Luc Besson film debuted to $44 million. This weekend couldn't keep up with 2013, though, as Wolverine's $53 million debut led the top 12 to $158 million.

Next weekend brings Vacation and Mission: Impossible - Rogue Nation, two films that could find decent sized success at the box office. The Vacation reboot opens on Wednesday and is a bit of an enigma. The concept feels great, but so far I haven't loved the marketing, outside of a red band trailer released months ago. Rogue Nation may suffer from having Tom Cruise up front, which is starting to feel a little unfair. I've watched Live Die Repeat (Edge of Tomorrow) numerous times since its home video release, and Mission: Impossible - Ghost Protocol was extremely solid. Add to that extremely good reviews for Rogue Nation so far, and this should be a knock out of the park, but due to Cruise, it will likely struggle to earn $50 million over three days.