Weekend Forecast for July 24-26, 2015
By Reagen Sulewski
July 24, 2015
BoxOfficeProphets.com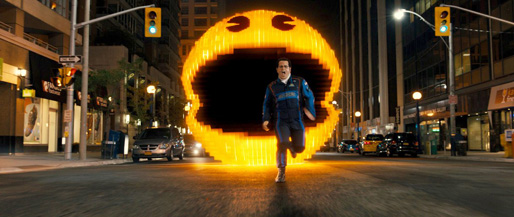 ---
Is there anything quite so terrible as a clever premise wasted (other than mayo on burgers. That's gotta stop, people)? We're likely to find out this weekend.

As premises go, Pixels is actually based on quite a potentially fruitful one. An alien civilization, upon receiving transmissions of video games from Earth from 1982, interpret these as declarations of war and decide to respond in kind, sending giant versions of the characters from these video games to Earth, which turn everything they touch into colorful cubes (voxels, if we're being pedantic/correct). A team of video game experts then band together to take down the space invaders (but not, you know, Space Invaders). I mean, you could totally make a good movie about this, touching on the dangers of nostalgia overload, laden with pop culture references and clever action sequences, and it's semi-original if you haven't seen that Futurama episode that is this exactly. But moving on...

Then, you look at who's involved with the project and it's no no no no no this can't be please no no no. Adam Sandler has gotten his grimy, lazy hands all over it and has teamed up with Chris Columbus, who is a film director like beige is a color, to give it the most basic and banal effort possible. Sandler plays a former video game champion now working at a Geek Squad type outlet who gets brought in to fight the invaders by his childhood friend, who is now the President of the United States (Kevin James – you know, I'll actually give them that one, that's pretty funny). The cast also include Josh Gad as the "real" nerd of the bunch, Michelle Monaghan, Peter Dinklage and Ashley Benson as notables, but it's that big gaping hole at its center that's really the problem.

Once upon a time, Sandler was actually a comedic force to be reckoned with, and produced, if not particularly highbrow, at least inventive comedies (though in a nice twist of fate, was actually launched into being a big-time draw with another nostalgia piece). Some time in the early '00s, however, he kind of stopped caring, and now openly takes films take get him a family vacation in the process. I mean, nice work if you can get it, but if you want me to watch the things... While the Grown Ups films have done well, he's basically at the point of writing off theatrical release, signing a deal with Netflix and recently had a film not get out of limited release, which would have been an insane thought back in the Big Daddy days.

Pixels didn't involve a vacation, but it does involve Sandler at his hackiest. As a tech demo, it's probably pretty dazzling. As a film played for laughs and action, well... Critics are teeing off on the film, as much good as that will do, as the premise is likely to give Sandler one last kick at the blockbuster can unless he starts trying again. It's a cynically marketed movie, playing off images of Pac-Man and Q-Bert and the worst thing is that it's likely to work. Look for an opening weekend around $32 million.

In the young adult lit world, there is John Green, and there is everyone else. The writer of The Fault in Our Stars, as well as the book this week's Paper Towns is based on, has tapped into a rich vein of teen angst that he has smelted down into an ore and... look, I don't quite know where I'm going with this metaphor, let's just say he seems to have clung well to what teens desire and talk about. Last June, Stars was something of a sensation, with its tragic romance between two teens diagnosed with cancer, opening to nearly $50 million. Paper Towns doesn't quite have that following, but is a film that can't be dismissed regardless of that.

Nat Wolff (who had a supporting role in Stars) plays a young wallflower who falls into the orbit of an enigmatic and charismatic manic pixie dream girl (current It Girl Cara Delevingne), who then promptly disappears mysteriously. Tracking her down through what seems to be a series of clever clues, this leads him to undertake a road-trip adventure that makes it The Best Summar Evar. This is, essentially, The Perks of Being a Wallflower with a bigger ad budget and a built-in audience for the author. It's also been timed for a release with VidCon, an online video con established by one... John Green. Anyway, good luck getting a ticket for this movie in Anaheim this weekend. While not having quite the following as Stars, Paper Towns should find its way to around $22 million this weekend.

Southpaw seems like an experiment to see if a film could be constructed entirely of cliches and still garner some form of acclaim. Jake Gyllenhaal stars as a boxer who, after a hotheaded move, gets suspended and has to start from scratch again. Then, tragedy strikes his family and he finds a wise old trainer to fix him, not just in body but in mind. Yada yada yada, lessons are learned.

Also starring Rachel McAdams, Forest Whitaker, 50 Cent, directed by Antoine Fuqua and written by Kurt Sutter of Sons of Anarchy fame, it looks to have a similar appeal to 2011's Warrior, which was a minor hit. Gyllenhaal has shown himself to have a solid draw in these gritty films, including End of Watch and Prisoners, but this seems to be falling on the lower end of his scale. I'd expect about $12 million here.

Returning films are led by Ant-Man, which pulled off a win at $57 million, albeit a figure that was quite below expectations. This may have finally been the bridge too far for Marvel fans, although this is also a film that shouldn't have worked in any respect, so kudos to Marvel there. While word-of-mouth is solid, I'd look for a significant drop anyway, to around $28 million.

Universal's Minions ran out of steam fairly quickly, losing almost 60 percent of its business, albeit still crossing $200 million domestic. One huge benefit it has going for it is its easy packaging for international markets, where it's already earned $400 million. In its third weekend, it should pull in about $26 million.

Trainwreck was a mild surprise with $30 million, and launching the film career of Amy Schumer. When Harry Met Sally with the genders reversed, its got a solid chance for some legs, and should slide in with about $21 million this frame.

This summer's real hits are still hanging around, with Inside Out and Jurassic World set to earn about $7 million each this weekend. For the latter film, it's still within striking distance of Titanic's $658 million, and should pass by The Avengers' $623 million this weekend.