Monday Morning Quarterback Part II
By BOP Staff
July 22, 2015
BoxOfficeProphets.com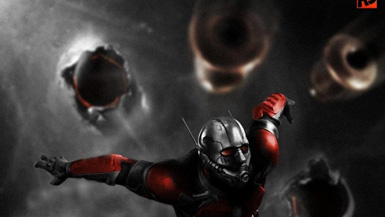 ---
Kim Hollis: How much, if any, do you think Paul Rudd's likability played into opening weekend and consumers giving Ant-Man's very odd concept a chance? Also, while we're discussing unprovable theoreticals, do you think Ant-Man does better, worse or about the same if Edgar Wright had stayed on the project?

Ben Gruchow: It's the same thing as the first Iron Man: put anyone in that suit other than Paul Rudd/Robert Downey, Jr., and you have a vastly different experience. Put Tom Cruise in the Iron Man suit (he was an early contender) and you'd have a different (and less successful movie). Put Nicolas Cage in the Iron Man suit (he was another early contender) and you have something that'd be absolutely freaking awesome and that I'd see at any theater serving alcohol, but a totally different experience (and one that, honestly, would probably bomb and kill the MCU in its cradle). Paul Rudd was the perfect fit for this character; he sells the criminal aspect, he sells us on the human aspect, he's got a good poker face, and he's good with a deadpan remark.

Had Edgar Wright stayed on (and therefore, if he'd been given more creative control), I think it ultimately would have done about the same. I think we might've seen something a little closer critically to what James Gunn got away with last year with Guardians of the Galaxy, but the conceptual hook wouldn't have really changed much.

Edwin Davies: As I said in the previous answer, Rudd is someone that a lot of people know from his past roles, but he's not someone who has ever opened a film to big numbers. His comedic chops worked in the ads, which I thought had the right balance between self-deprecation and action, and he seems like a good fit for a film that doesn't take itself too seriously.

While the film itself may not have changed all that radically if Edgar Wright had stayed on board (though it's worth noting that it would have had a somewhat different cast since some characters ended up being cut from his script, while Patrick Wilson left the film when delays to production caused by Wright's departure meant that he could no longer do it), I think the press surrounding the film would probably have been a lot more positive. You wouldn't have had a month of confusion over who was going to direct, the film wouldn't have been pegged with the "troubled" label, and Wright would have been the perfect person to go out there and stoke enthusiasm for the film amongst the geek community. Even if he delivered substantially the same film, I don't think it's too much to suggest that it could have opened in the mid-$60 million range if he had stayed on and save Marvel a whole ton of bad press.

Felix Quinonez: As much as I love Paul Rudd, I don't think he played a big, if any, role in the box office. I really don't think he hurt it but I doubt that if anybody thought the movie looked too weird that they changed their minds because of Rudd.

I think it would have done about the same if Wright had directed it. Wright has done great movies and none of them made very much money. And even though his firing caused a lot of bad headlines and uncertainty, I don't think that general audiences really pay much attention to that. World War Z had just as bad press and back screen drama and that wasn't hurt at all by it.

Max Braden: I think it could be argued that anyone else cast in the role would have hurt the box office (except maybe Chris Pratt) more than Paul Rudd helped, but that still makes Rudd the best fit. He's not too big a star, not too big a personality, not over the top with his acting, but is still memorable and approachable, which is probably key to the character being literally a small guy. Ant-Man is similar to Spider-Man in that regard; both are underdogs rather than the wealthy and powerful like Bruce Wayne or Tony Stark. The one other person I could see in the role is his costar from Role Models, Seann William Scott. Unfortunately, Scott's problem is that people still see him as Stifler even though he's done solid work in movies like Goon. On the directing side, I love Edgar Wright's work, but I think he has an anti-commercial edge to his style that might have hurt Ant-Man box-office wise. Ant-Man needed to have as strong a connection to The Avengers visual style as possible to have the best chance at audience reception.

Jason Barney: Paul Rudd's smile and presence definitely added to this success. He is a likable guy and using him was a neat option in a movie industry full of muscles, toughness, and action. You look at him and you could see him as your town librarian or a pre-school teacher. Casting Paul Rudd in a superhero role that was not designed to take itself seriously was part of the win for Marvel this weekend.

Ryan Kyle: I don't think Paul Rudd was the driving factor for anybody's decision to see this movie, but I do think the trust around his name quelled down "disaster" rumors surrounding the project after Edgar Wright left for creative differences. Again, I don't think Edgar leaving the project had much of a backlash to the box office potential either. His hardcore fan base is most likely the same as the Marvel fan base who bought their tickets for this movie the minute the pre-sale started on Fandango. The only harmful result that happened to Ant-Man when Edgar Wright left the directorial chair was most likely in the film's overall quality.

David Mumpower: While I don't think Rudd's presence was the driving force behind the film's box office, he still helped the bottom line. As others have mentioned, casting the WRONG person in Ant-Man would have caused fatal repercussions to its box office. When Edgar Wright left, there was plenty of cause for concern. The one selling point Ant-Man offered was that its star, Paul Rudd, kills in likability ratings. He's not going to sell tickets on his own, but his presence is reassuring to fence-sittings. And I consider a lot of the people who watched this film on opening weekend folks who took a chance on Ant-Man rather than had a burning desire to see it. If, say, Timothy Olyphant or Kellan Lutz starred in the title, each would have been wrong for very different reasons. Rudd is right, because he has an every-man charm.

Kim Hollis: Trainwreck, the comedy featuring Amy Schumer and directed by Judd Apatow, earned $30.1 this weekend. What do you think of this result?

Ben Gruchow: This is right in the middle of Apatow's typical opening weekend, if we're looking at tickets sold: roughly 3.7 million here, versus a high of 4.4 million for Knocked Up and a low of 3 million for Funny People (This is 40 technically did 1.4 million, but it also opened right at the start of the 12 Days of Christmas period). It's also right in line with where it should be given the dulling of the Apatow brand and the rising popularity of Amy Schumer. It's Apatow's best-reviewed film since Knocked Up, so it'll be interesting to see if this translates to legs, or if it gets the rug pulled out from underneath it after the opening weekend. I'm thinking the former; we've got until the 29th before this movie's audience gets Vacation to distract them.

Edwin Davies: This is a very promising start, especially considering the film's $35 million budget, and is probably a testament more to Schumer's ascendance than Apatow's involvement, though it's probably a 60/40 split. Schumer has become a quiet phenomenon thanks to her sketch show and the way it offered a steady supply of buzzed about viral hits earlier this year, while Apatow remains a big name who can both draw an audience while allowing his collaborators to do their own thing. Coupled with the strong reviews and word-of-mouth that has been building for the better part of a year, it's not surprising that the film exceeded most of the expectations for it.

What's interesting now is the question of where it ends up. Apatow's first two films earned roughly five times their opening weekend over their respective runs, and they received a pretty similar response to Trainwreck. R-rated comedies that appeal to women have also been proven to be pretty leggy in the past (to cite a film from this summer, Spy is currently on course to earn almost four times its opening weekend) so there's a real possibility for the film to earn anywhere from $100-150 million, if word-of-mouth and precedent are anything to go by.

Felix Quinonez: I think this is a great opening especially when you consider its budget. The reviews and audience reaction should keep it going for a while, and this is a big notch on Amy Schumer's belt. She is definitely a star on the rise.

Max Braden: Schumer is everywhere recently, so I think she captured the right project at the right time to get a strong box office result like this. Key & Peele has been running a little longer on Comedy Central and garnered critical awards, so I'm a little surprised they didn't make this move first. But it also shows that Schumer has something the other Comedy Central shows don't (boobs? legs? more anatomy?) I don't think anyone would think Nick Swardson could have turned Pretend Time into a successful theatrical movie. I don't see it for Nick Kroll either. But I do see comparisons to Kevin Hart's transition from his 2011 stand-up film Laugh at My Pain to acting roles like Think Like a Man, Ride Along, The Wedding Ringer, and Get Hard. I think Amy Schumer could have a successful string of movies if that's the way she wants to go.

Jason Barney: With the positive reviews, strong weekend opening, and the relative cost, this is going to be another huge win for Universal. The $35 million budget number is easily going to be in the rear view mirror by Tuesday at the latest, then marketing costs will be eaten into over the next few weekends.

I would expect the holds to be pretty good, as word-of-mouth could substantially continue the success of this one.

Ryan Kyle: Another weekend, another win for Universal. This is a sweet opening for Apatow that harkens back to Knocked Up compared to his more recent dwindling returns. The reviews have been fantastic and the Friday-to-Saturday bump is very encouraging in terms of the audience word-of-mouth being just as strong as the critics. For a $35 million production cost - and a solid chance at hitting $100 million - Trainwreck is another profitable hit for the studio.

Michael Lynderey: It's kind of surprising, even though these are pretty much the numbers I expected. Judd Apatow's movies have rarely opened this high even with more established stars, but here we have another comedy that's almost certainly going to clear $100 million after some good legs (like Spy). As a matter of fact, it seems Apatow's movies are usually much more successful when he's breaking out a previously little known actor (Steve Carell in The 40-Year-Old-Virgin and Seth Rogen in Knocked Up) than when he's using more well-known names (Sandler and 2009-era Rogen in Funny People, and Paul Rudd in This is 40). Teaming with Schumer definitely seems to have brought Apatow's box office mojo back, and it'll probably help whatever he has lined up next.

David Mumpower: If I can go way back with an analogy, this debut reminds me of The Truth about Cats and Dogs. It was a small-scale release by the standards of the mid-90s, and it was also the perfect vehicle to give Janeane Garofalo a chance to become a lead actress. The later results were predictable, because Garofalo unfortunately wasn't for everyone, but that one film was a solid hit relative to expectations.

Trainwreck is slightly different in that this is Schumer's first real appearance in a major film, while Garofalo had famously gotten her start in Reality Bites. The situation is otherwise similar, though. Both women are extremely funny and likable, and they're trying to translate those characteristics into unconventional romantic comedies.

The box office here indicates that enough people were interested in Schumer to keep her relevant for another try, but it's not enough to secure her future. In order words, she's somewhat passed the initial test thanks to the Judd Apatow brand. She'll need to do more to sustain a career as a lead, though.