Weekend Wrap-Up
Minions Make Way for Ant-Man, and It's No Trainwreck
By John Hamann
July 19, 2015
BoxOfficeProphets.com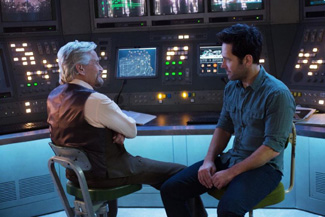 ---
Amy Schumer and Paul Rudd make a glorious couple at the box office ball. Add in some Minions, and the party gets really hot.

It is a very unique weekend at the box office, as two original, non-sequel, non-reboot flicks open on the same day. So far in summer 2015, that has happened on June 19th (Dope and Inside Out), May 29th (San Andreas and Aloha), and May 8th (Hot Pursuit, The D-Train). New ideas are few, and this weekend, the big new idea is Marvel's Ant-Man. While Ant-Man is a new idea, it brings with it all the power of the Marvel Cinematic Universe. The larger portion of that great power is usually reserved for Marvel sequels or team-ups (Avengers, anyone?), and their new ideas usually open to a much smaller degree.

Our other new opener is the poster-girl for originality, the Judd Apatow-directed comedy Trainwreck, featuring Amy Schumer. This movie is as original as they come, as it is Schumer's first movie role (she had a bit part in the awesome but little-seen Seeking A Friend for the End of the World), and is a true non-sequel, but it does bring the Apatow brand (Knocked Up, This is 40), and Schumer's fanbase from her Emmy nominated TV show, Inside Amy Schumer.

Our number one film this weekend is the Marvel film, naturally. Ant-Man came in right around where early-week expectations had predicted it would (some media outlets get overly excited about strong Friday matinees). The Paul Rudd starrer got started on Thursday night with previews, which has really just become opening night. This time around, Marvel's Ant-Man earned $6.4 million from those early screenings, an amount that makes forecasting the weekend a little easier. We knew at that point that Ant-Man wasn't going to do ant-sized business. We also knew it wasn't going to do Iron Man or Spider-Man kind of business – approaching $100 million despite not being a sequel. The Thursday preview was a good number, but it didn't really tell us much, other than indicating that the $130 million picture was off to a solid start.

The rest of the weekend was decent, but far from explosive. Friday came in at $16.2 million, or $22.6 million with those Thursday amounts included. The stripped down Friday number was a little tougher to defend, as it was behaving more like The Incredible Hulk ($21.5 million opening day) than Thor or Captain America ($25.5 and $25.7 million opening days). The kicker, though, is those Thursday previews. When The Incredible Hulk opened in 2008, the preview prior to opening wasn't what it was today, which puts Ant-Man at a disadvantage, even compared to Marvel's weakest member (at least in terms of box office). Does this make Ant-Man a loser? Lord, no.

The weekend total for Ant-Man came in at $58 million, a respectable debut for a non-sequel even with it carrying the Marvel brand. This is not an explosive, city-shattering behemoth. It is a small story, a heist-film, a family film, not the usual kind of release for Marvel. With a cost of $130 million, it needs to make $400 million worldwide. Ant-Man should have no problem making $150 million domestically at the very least, which will mean that overseas will need to make up the slack - and I'm confident it will. As the Marvel brand is always building, they can afford to not win the lottery every time. By partnering Ant-Man with Avengers: Age of Ultron (which currently has a worldwide total of $1.4 billion) this summer, any creative steps taken are afforded by the sure things, which gives the Marvel universe room to grow with little financial risk.

And grow it will, as moviegoers seem to like what they see with Ant-Man. The small-scale Marvel release is 79% fresh at RottenTomatoes, lower than some other Marvel releases, but many reviews looked at what Ant-Man wasn't rather than what it was. Ant-Man had some turmoil as it approached release, most notably losing wunderkind director Edgar Wright (the Three Flavours Cornetto trilogy, Scott Pilgrim), and replacing him with Peyton Reed, who has a much more bland resume (Bring it On, The Yes Man). I also would like Edgar Wright to direct a Marvel movie, but I wouldn't pine for that in my review. The Cinemascore was very solid, coming in at an A, which bodes well for legs going forward. It has to deal with Pixels next weekend, but I see that more as a comedy (and I'm still not sure it will work), and then Ant-Man has to face a new Mission: Impossible the following weekend.

What a weird road it's been for Paul Rudd. Starting in the early '90s in Clueless, Rudd got some decent roles through the 1990s including a more dramatic turn in The Cider House Rules. Things got quiet for the star in the early 2000s, but then he landed a supporting role on Friends, which led to a role in Anchorman. His portrayal of Brian Fantana in that comedy led to a long relationship with Judd Apatow, who Rudd is up against this weekend. Roles in The 40-Year-Old Virgin and Knocked Up followed, which led to above-the-title hits with Role Models and I Love You, Man. The comedic actor will now go from small roles to the world of the mega-blockbuster, as Ant-Man will appear in Captain America: Civil War, coming next year in May with an opening weekend likely at least three times that of Ant-Man.

Finishing second is Minions, which opened last weekend to a ludicrously large $115.7 million. With $85 million in new business going on with the openers, it was going to be tough for the Minions to hold despite no animated competition this weekend, though some families may have been redirected to Ant Man. The result is a second weekend gross of $50.2 million, off a higher-than-expected 57% compared to its massive debut. Does that take the shine off of Minions? No way. Our little yellow frenemies crossed the $200 million mark on Sunday, the film's 10th day of release. That's the same amount of time it took Shrek the Third and one day faster than Shrek 2, but one day slower than Toy Story 3, which earned $200 million in nine days. Minions has a domestic total of $216.7 million and the overseas total is now passed the $400 million mark. Remember, Minions cost only $74 million to make, which means it needed only about $250 million to be profitable for the studio of the year, Universal.

Speaking of Universal, the studio got another nice surprise this weekend in the form of Trainwreck, which blasted past expectations by about $10 million. The Amy Schumer comedy (sorry Judd Apatow, but you are NOT the star this weekend) is really the highlight of the July 17th frame, as a movie star is born in Schumer, whose style seems to be the hit of the summer. Trainwreck got started with a muted $1.8 million from Thursday previews before blowing up on Friday with a gross of $10.7 million, which included the preview amount. Other than horror films, movies do not have an opening day above $10 million if the lead has never been in anything. Schumer brings the fanbase from her TV show, Inside Amy Schumer, which garnered an impressive seven Emmy nominations last week, as well as her stand up fanbase.

Universal used its masterful marketing department again, getting this very funny person out everywhere to promote the hell of out Trainwreck. The marketing campaign works when every word that comes out of the star's mouth is funny, and that's exactly what Schumer did (see her recent appearance on Jimmy Fallon for an example). Apatow was no slouch, either, but the it-girl made Trainwreck work (yes, I have a crush, leave me alone).

The Marketing of Amy Schumer paid off nicely for Trainwreck, as the weekend gross came in at a very impressive $30.2 million from a ballsy venue count of 3,158, giving it an impressive venue average of $9,563. Critics loved the film, as despite a hard R rating, critical notices came in at 85% fresh, and the Cinemascore was an A-. That's a better Cinemascore than Knocked Up, and the same as 40-Year-Old Virgin, two leggy hits from Judd Apatow. I am expecting sturdy legs from Trainwreck, which should easily push this one toward $100 million domestic. Universal is going to have their zillionth hit of the summer, and Amy Schumer is going to have a long and happy career.

That pushes Inside Out down to fourth in its fifth weekend. The Pixar release took in another $11.7 million, dropping a not-bad 34% in the process. Inside Out eclipsed another big plateau this weekend, as it crossed the $300 million mark on Saturday, its 30th day of release. That's four days faster than it took Shrek the Third, and it becomes the fastest Pixar release to hit $300 million save only for Toy Story 3. Inside Out also passed Up this weekend on Pixar's all time domestic gross list, leaving it behind only Toy Story 3 ($415 million gross) and Finding Nemo ($339.7 million). It will be close between Inside Out and Nemo, and had those pesky Minions not shown up, it would be a sure second. So far, Inside Out has earned $306.4 million domestic, and has another $180 million and counting overseas.

In its sixth weekend, Jurassic World tumbles from second to fifth. The behemoth of the summer earned another $11.4 million and was off an okay 37%. This weekend, Jurassic World became only the fourth film ever to earn more than $600 million, and passed the original gross of Titanic, which earned $600.8 million back in 1997 before it was converted to 3D. Jurassic World's domestic total is now at $611.2 million and the worldwide take has reached $1.513 billion (enough to put it ahead of both Furious 7 and Avengers: Age of Ultron). Tremble against its power.

Sixth is Terminator: Genisys, as it winds its way out of the top ten (three new releases next weekend and possible expansions of the some platformers may push it out in the next frame). Genisys earned $5.4 million, giving it a decline of 61%. Made for $155 million, the reboot would need a miracle to make back the $500 million it must earn in order to see a profit. So far, it has tallied $80.6 million domestically and has $196 million from overseas venues.

Despite lower totals, Magic Mike XXL is a success where Terminator: Genisys is a failure. The Magic Mike sequel earned $4.5 million, and while it fell 53%, it did bring its domestic total up to $58.6 million. At a cost of $14.5 million, and with an overseas take of $31 million, Magic Mike XXL is certainly profitable for Warner Bros.

The Gallows gets the noose in weekend two, but it's not unexpected. The low budget horror flick earned $4 million and slid a hurtful 59%. While the drop may hurt, this one was made for a couple of hundred thousand and picked up by Warner Bros. for a couple of million. It has a domestic gross so far of $18 million, and has a picked up a few million overseas.

Ted 2, Universal's lone miss of the summer, is pretty much de-fluffed at this point, as it earned only $2.7 million. It fell 52% and has a cumulative total of $77.5 million thus far, against a budget of $85 million.

Ian McKellan's Mr. Holmes takes the 10th spot despite having only a 363 screen limited release. The Roadside Attractions film picked up $2.5 million, earning an average of $6,857. I would expect to see it on a few more screens next weekend.

Another Indian performs well this weekend, as Bajrangi Bhaijaan takes the 10th spot despite being out to only 256 screens. It earned $2.4 million and had a per screen average of $9,473.

Overall this weekend, things continue to sparkle at the overall box office. The top 12 films this weekend earned a very solid $185.3 million, thanks to a top three pulling more than $130 million. A year ago, the box office languished with two flops (Sex Tape, Planes: Fire & Rescue), earning only $134.9 million. In 2013, seven films earned more than $10 million, and the top 12 pulled in $181.1 million.

Next weekend brings three new releases. Paper Towns is the latest youth-oriented film drafted from a popular novel, which surprisingly isn't dystopic. Is it a repeat of The Fault in our Stars? I don't think so, but with kids these days, who knows. Also opening is Southpaw, the new boxing film with Jake Gyllenhaal that distributor Harvey Weinstein is very high on. Lastly, Adam Sandler is back, this time in Pixels, a video game sci-fi from director Chris Columbus. It would be nice if it didn't suck, but we all probably know better.