Weekend Wrap-Up
Universal's Minions Revive Box Office
By John Hamann
July 12, 2015
BoxOfficeProphets.com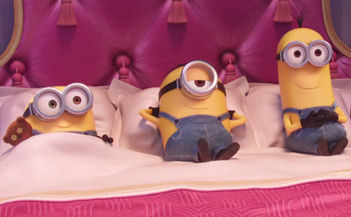 ---
After the box office collapsed last weekend, I thought nothing could bring it back. Obviously, I underestimated the Minions.

Universal's awesome roll continues this weekend, as the little yellow Despicable Me characters didn't do a Penguins of Madagascar. Instead, they were triumphant, lording over the box office like few animated characters ever have. Minions are everywhere in pop culture, from major league baseball to Comic-Con to McDonald's, where they were accused of swearing in their gibberish language. The wannabe evil creatures crept into everything and obviously slinked into the collective zeitgeist, given their movie's box office performance this weekend. There were other openers as well. Cheapie The Gallows debuted, and the countdown continues until Jason Blum is out of business. We can also keep tracking the countdown on the career of Ryan Reynolds, as he had another flop this weekend with Self/less, which was doomed with that title.

We are all about the Minions this weekend, as the little yellow babblers blew up the frame, giving Universal another assault on the box office record book. It all started Thursday night, when Minions managed a Thursday preview amount of $6.2 million. At the time, I didn't think too much of this debut; sure, it was solid, but Thursday screenings started at 6 p.m., easily giving it three screenings before Thursday turned into Friday. It was the Friday amount that boggled the mind, coming in at $40 million, or $46.2 million with the preview amounts included. That's the 23rd biggest day ever, and the biggest opening day ever for an animated film, coming in $5 million higher than Toy Story 3. It missed the animated single day record by about a million, coming in just behind Shrek the Third's first Saturday at $47.1 million. Minions were on fire, almost achieving half the tracking estimate of $100 million on opening day.

While not a direct sequel, awareness of the Minions was extremely high thanks to another highly effective marketing campaign from Universal and two very successful Despicable Me movies. The first flick with Gru and the girls earned $250 million domestically and $563 million worldwide against a budget of only $69 million. The second, which cost only $7 million more, earned $368 million domestically, and just short of a billion worldwide. Even without Despicable Me in the title, Minions had a strong base to build upon, and build they did.

Minions ended up with a massive weekend estimate of $115.2 million, giving Universal three films opening above the century mark this year. Minions was able to pass Pixar's biggest opening, Toy Story 3, which opened to $110 million, and Shrek 2, which debuted to $108 million. Shrek the Third, the animated realm's biggest opener at $121.6 million does manage to retain the record, though. The best news of all for Universal is the cost of the film. Minions cost just $75 million to make, so it is certain to be a profitable venture just from theatrical revenue alone.


How did these little yellow creatures that speak a language not our own manage to dominate so triumphantly? Marketing. Universal's marketing team similarly turned Jurassic World into a $208 million opener and Furious 7 into a $147 million opener. Minions were everywhere, as Universal provided these little guys with the franchise's biggest promotional push ever. The studio also played this very smartly with the release date, avoiding the July 4th weekend were fireworks were happening on Saturday, instead dropping it the weekend after. It avoided the Inside Out push as well, as the Pixar release is now in its fourth weekend and earning less than $20 million now. Additionally, by opening overseas two weekends prior to the domestic debut, there was already good box office news for Minions. It has already earned $280 million overseas.

The marketing was incredibly key for the Despicable spinoff, as it didn't have the strong reviews that the other films in the Despicable Me universe had. Despicable Me was 81% fresh, and the sequel was 74% fresh. Minions came in much lower at 55% fresh, and the site's "top critics" liked it even less at 33% fresh. Audiences were not as critical. Minions earned the same Cinemascore, an A, that both the previous Despicable Me movies did. Word is that Minions is more kid-focussed than the previous films, and regardless of reviews, it should play long into the summer. For comparison's sake, both Despicable movies earned opening-to-total multipliers greater than 4.4. Minions have the dance floor to themselves for most of the remainder of the summer. Aardman Animations' Shaun of the Sheep (August 7th) likely won't open to much (despite being extremely well-reviewed), and the same goes for Underdogs from The Weinstein Company, which debuts on August 14th.

Universal continues to sizzle in 2015 and still isn't done for the summer or the year. On the domestic side alone, Ted 2, Fifty Shades of Grey, Pitch Perfect 2, Furious 7, Jurassic World and one weekend of Minions have earned almost $1.5 billion stateside, and the studio still has what could be two big films still to come. Trainwreck launches next weekend against Ant-Man, and given the current celebrity of Amy Schumer and Judd Apatow, this could be a $40 million opener, and see a multiplier similar to that of Knocked Up. Then, in August, Universal has Straight Outta Compton, which could do 8 Mile kind of business. In September, Uni has the next Night Shyamalan film, The Visit, and then Everest the following weekend. The rest of the year seems just as strong for the studio, and includes some Oscar bait with the Steve Jobs movie and By The Sea with Brad Pitt and Angelina Jolie.

Finishing about $100 million behind in second is Universal's last behemoth, Jurassic World. Despite millions from Minions, and a loss of 300 screens, Jurassic World still put up decent numbers this weekend. The franchise reboot earned another $18.1 million and dropped a not bad 38%. Considering Jurassic World opened to more than $200 million and had a second frame above $100 million, the fact that it has never dropped more than 50% in its run is significant, especially since both Inside Out and Minions have run well in its wake. Its domestic cume has now reached $590.7 million, with $600 million coming next week. It should outgun Marvel's Avengers $623 million before August begins. It also has a worldwide tally of $1.47 billion now.

Inside Out is a narrow third, as Minions cuts into its business but does not destroy it. The Pixar film earned another $17.1 million this weekend, off a respectable 43%, considering what it was up against. The kids flick will surpass the $293 million earned by Up and cross the $300 million mark over the next week. It will then shoot for Finding Nemo's original take of $339.7 million. Inside Out has taken in an impressive $283.6 so far.

Terminator: Genisys continued its descent into franchise-killer, as following its lame opening, it failed to hold in its second frame. The attempted Terminator reboot could only find $13.7 million in weekend two, giving it a drop of 49%. Considering Saturday was almost eliminated last weekend, a good hold shouldn't have been too difficult for this Paramount release, but you see the result. Genisys has now earned $68.7 million domestically, and has turned in over $100 million overseas. It cost $155 million to make, so needs almost a half-billion worldwide to see a profit.

New release The Gallows opens in fifth, as it fools some young people out of their hard earned money. Made for a song, (less than $1 million) – The Gallows earned $10 million from 2,720 venues, and will be quickly forgotten. People are starting to catch on to Jason Blum and his types of films – usually of the found footage variety and not very good. This one was mostly improvised (why spend money on a script?), and stars no one. Reviews were horrible, and the C Cinemascore was even low for horror. This one will disappear after next weekend.

Magic Mike XXL actually held quite well this weekend, making the Terminator look bad again. Magic Mike XXL earned $9.6 million, dropping a terrific 25% compared to last weekend. Made for $14.5 million, Mike is heading toward wild profitability, as it has a domestic total of $48.4 million and has pulled in a few million overseas as well.

Ted 2 continues its descent, as it earned only $5.6 million and fell 50%. Again, considering last Saturday was a write-off, things should have held, but Ted 2 did not. The $85 million talking bear movie is going to be Universal's lone disappointment of the summer so far, as it has a gross to date of $71.6 million.

If Deadpool wasn't coming out, I swear that Ryan Reynolds would be serving up Minions Happy Meals. Self/Less opened in 2,353 venues this weekend, but you may not know given the response. Self/Less earned $5.4 million, not enough, even though the budget was only $25 million. This should have opened in September as it gets lost among the other big films in release this frame. Reynolds needs a hit (or a new agent), and this certainly wasn't it.

Max is ninth and got pinned somewhat by the other family titles in the top ten. Max earned $3.4 million, declined 48%, and has a gross so far of $33.7 million.

Tenth is Baahubali: The Beginning, an Indian film. The most expensive Indian film ever made at about $40 million US, it cracked the top ten despite being out to only 236 venues in North America. It took in $3.2 million, and earned a venue average of $13,771.

Overall, the box office continues its see saw of success and failure. After bottoming out over the July 4th weekend with a top 12 that saw only $128 million, we bounce back strong this weekend with a top 12 worth $204.1 million. A year ago, the same weekend earned $138.6 million when Dawn of the Planet Apes was on top with $72 million. This weekend was also ahead of 2013, when the second weekend of Despicable Me 2 was on top, and the top 12 earned $187 million.

Next weekend will be very interesting, as Marvel releases their small scale 2015 release, Ant-Man, with Paul Rudd. Will this Marvel release come in under the rest, or reach that mid-tier of the first Captain America/Thor films at around $65 million? Also opening is Trainwreck, the comedy directed by Judd Apatow and starring today's it-girl Amy Schumer. Can the two films combine for $100 million? Can Ant-Man beat the second weekend of Minions? Check back next weekend to find out.