Friday Box Office Analysis
By Kim Hollis
July 11, 2015
BoxOfficeProphets.com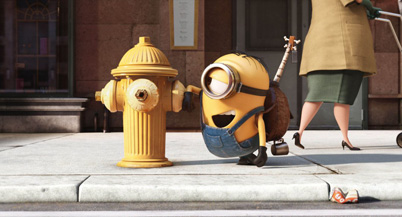 ---
After a brief lull thanks to a calendar configuration that put July 4th on a Saturday (and some middle-tier offerings that disappointed), the box office is back in a big way this weekend thanks to the adorable, banana-shaped, and possibly foul-mouthed little guys known as Minions.

Yes, the little yellow dudes popularized by the Despicable Me films are the centerpiece of their own theatrical release, and once again Universal is going to be thrilled with the results. After starting out with a decent $6.2 million on Thursday night, Minions exploded on Friday. Its $46.2 million take includes those early preview showings, proving that Gru's tiny army is not to be compared to Puss in Boots or the Penguins of Madagascar. Those characters previously tried to make it on their own in showcase films, and while Puss in Boots had mild success, the Penguins were a significant disappointment.

Instead, Minions has an outside shot at beating Shrek the Third to take the title of biggest opening weekend ever for an animated film. The 2007 DreamWorks production earned $121.6 million in its first weekend, which puts it ahead of Pixar's Toy Story 3 in second place. Under any circumstance, Minions will pass Toy Story 3. The only question is by how much.

We'd be tempted to use Despicable Me 2 as a comparison to determine an appropriate multiplier for Minions. After all, it's the same franchise and also debuted in July. However, DM2 started on a Wednesday, and its first Friday was July 5th, meaning that more people had the day off, deflating its numbers over the rest of the weekend. Instead, I think we can look to Inside Out, which had a similarly strong start on Friday but also had a fanboy/rush factor at play. Its Friday-to-Sunday multiplier was a 2.63, and that's probably a fair guess for the performance of Minions, though it does skew younger. That 2.6 multiplier would give Minions a three-day total of $120.1 million, but we certainly won't be surprised to see Universal's estimate take it over the top for the animated opening record.

Minions will become the fourth film of 2015 to open over $100 million, the first time we've ever seen that happen – and we've still got the finale of Hunger Games and a new Star Wars film on the horizon. Also of note is that three of these four films have all been released by Universal, a studio that is having a terrific, wonderful, so good, very fantastic year. If you want to keep on being impressed, Minions has already passed the $200 million mark internationally, so like Furious 7 and Jurassic World before it, this Universal project is dominating the overseas market as well.

There were some other new releases this weekend, believe it or not. One of them was The Gallows, another low-budget entry from Blumhouse Productions. Despite terrible reviews and a C Cinemascore, it earned $4.5 million on Friday, meaning that it's already a money-maker for the production company and New Line/Warner Bros. With a reported budget of $100,000, this film followed the Blumhouse model of development and marketing, and while it won't necessarily be as huge as some of the company's other hits, (Paranormal Activity, Insidious, The Purge), it will nonetheless get the job done. It should come in with a weekend total of $10.3 million.

Also new this weekend was the Ryan Reynolds sci-fi thriller Self/less, which earned just $2 million yesterday. Terrible reviews did the film no favor, although at least you can expect something that looks a little different than usual with Tarsem Singh at the helm. Give it a weekend of $4.9 million before it falls off the face of the Earth.

We have one surprise in the top 10. Baahubali: The Beginning, the most expensive Indian movie ever made, debuted at #9 on Friday as it took in $1.3 million. We've seen this niche audience support films from India in the past, and they should help propel it to a fantastic per venue average for the weekend. $3 million in the US for opening weekend will make some financiers very pleased.

As for last weekend's returning films, Terminator: Genisys fell a hefty 62% to $4.1 million. The BOP staff discussed the decline of the franchise in last week's Monday Morning Quarterback, and as was commented there, it certainly does appear as if it will be many years before we see an attempt at another reboot. A weekend total of $12.3 million seems reasonable here. Magic Mike XXL held up quite a bit better with a 42% decline, and it's actually not all that far behind Genisys when it comes to Friday box office, as it earned $3.6 million yesterday. Its three-day total should come in at $10.8 million.