Weekend Forecast for July 10-12, 2015
By Reagen Sulewski
July 9, 2015
BoxOfficeProphets.com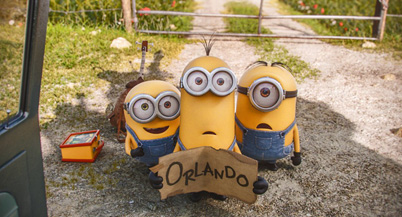 ---
A very swingy summer turns once again to the manic, in a couple senses of the term, to improve the overall fortunes of the box office.

As any parent of small children who have been exposed to the Despicable Me movies, let's say, dozens of times can tell you, their killer app has been the little pidgin-speaking homunculi known as minions, a cross between The Three Stooges and classic Chuck Jones. Now, they get their own movie, cleverly entitled Minions, which shows their origins, not that anyone really cared, but also more adventures in their past as they try to choose a new infernal leader.

In addition to the cast of thousands of little yellow chaos engines, we also have a strong voice cast including Sandra Bullock, Jon Hamm, Michael Keaton, Allison Janney, Steve Coogan and Steve Carell (for maximum tie-in) although their presence has been minimized in the ads, with most of the focus being on the title characters – or at least three of them that have been singled out to streamline the film a little bit. These characters are essentially the comedy version of crack cocaine for the under 12 set, and also satisfy a particular comedy itch for adults. It's very much not highbrow comedy, but it's also not insulting or saccharine, and extracting all the best anarchic bits from the Despicable Me movies into one package seems like a winning concept.

Of course, the producers of The Penguins of Madagascar also thought this was a winning concept, until that film fell flat last fall. Another attempt at a spin-off film, it managed just $83 million domestically, albeit with a decent worldwide take. There are a couple of significant differences here. The first is that the minion characters are much more popular and more easily marketable, and the second is that the Despicable Me films trend much older in audience than the Madagascar films, which have been largely intolerable for anyone over the age of 15.

The minions have also reached the point of full cultural phenomenon, and are essentially this decade's equivalent of a Garfield stuck on a car window (kids, ask your parents). The film basically sells itself at this point and is probably limited only by the lower ticket prices paid by a large portion of its audience. In some ways, this is the Jurassic World for those who were too young to get into Jurassic World. I'd look for a massive weekend of about $120 million for Minions.

Falling much further behind is The Gallows, this weekend's horror counter-programming. In the film, a high school drama program attempts to revive a play 20 years after a horrific accident occurred during its initial showing, leaving an actor dead from the titular prop. Of course, this is a bad idea in all ways, especially if you exist in a universe where hauntings are possible. As the revival gets going, mysterious things start to happen which, yada yada vengeful spirit you get the drill.


Adding to this hoary old plot, we have the found footage element to drop on top of it, making it something like Final Destination meets Paranormal Activity (and for good reason, since it shares producers with that latter film). A largely unknown cast doesn't help or hurt this film but with terrible reviews, I'd say we're looking at diehard horror fans only. 2015 has not been a great year for the genre, with only Insidious 3 breaking $50 million domestic, although with as cheap as these films are, they are still guaranteed profit machines even at this level. I'd expect a very modest $8 million this weekend.

Finally, we have Self/less, the latest from Tarsem Singh, a frequent creator of beautiful nonsense. Ben Kingsley plays an extremely wealthy man who on his deathbed, plans for an experimental procedure to be transferred into the body of a younger, healthy man (Ryan Reynolds). After waking up, questions start to arise about who this person was, and where they might have obtained a spare body (wait, *after* this you have questions?).

What starts out as a potentially thought provoking sci-fi premise about the nature of identity falls into the Hollywood trap and becomes an action thriller, though you'll forgive me if I don't place a lot of confidence in the action thriller credentials of the director of Mirror Mirror and The Cell (yes, yes, and Immortals, but I don't think that boosts his case). Although Reynolds has proven himself to have charisma and draw in the right role, he's got quite a number of bombs on his resume that make him largely a non-factor here. With little ad support and terrible reviews, this looks to be quickly forgotten other than the inspiration for a million Slash/title jokes and should open to around $5 million.

Inside Out managed after the final analysis to capture top spot last weekend by about $500,000, leaving it out of contention to be the answer to an obscure box office trivia question (highest grossing film never to reach #1 for the weekend). It's currently on pace to become Pixar's second highest grossing film (in between Finding Nemo and Toy Story 3) although it's got a bit of work to do to ensure that. This weekend will probably be critical to that end, with anything over $16 million being a positive development.

Meanwhile, despite failing to win a fourth weekend, Jurassic World still moved to fourth all-time at the box office, now sitting in the $570 million area. It should be touch and go as far as hitting second overall and breaking Titanic's $658 million, which is a development I think no one expected even a month ago. Look for about $15 million here.

Last week's new films both fell flat, though to differing levels – Terminator Genisys opening to just $27 million, while Magic Mike XXL cratered at $13 million. Both are potential franchise killers, though only the first likely leads to a money loss. International takes make help out Schwarzenegger's attempt at going down memory lane but I'd still expect just $12 million for it this weekend.

Magic Mike may rewrite the definition of front-loaded, though, with over a third of its five-day weekend total coming from its Wednesday opening. On a meager $15 million budget, this is still a win monetarily, but goes to show the double edged sword of a targeted release. I'd expect just $5 million this weekend.