Weekend Wrap-Up
Terminator, Magic Mike Flaccid Against Fireworks and Holdovers
By John Hamann
July 5, 2015
BoxOfficeProphets.com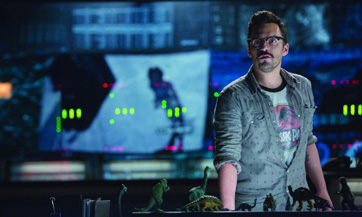 ---
It's the July 4th weekend, so everything should be rosy at the box office. Instead, with the 4th falling on a Saturday, the box office is robbed of the biggest moviegoing night of the week - and any fireworks.

In 2013, July 4th fell on a Thursday, which led to a huge box office weekend, as folks had Friday off and no fireworks, barbecues and similar activities over the weekend to get in the way of moviegoing. That year, Despicable Me 2 launched to a marvelous $83.5 million, and while The Lone Ranger stumbled badly to $29.2 million, the top eight films all earned more than $10 million, leading the top 12 films to a massive $221 million combined.

Last year, with the 4th on a Friday, all the openers tanked. Tammy earned $21.6 million, and Deliver Us From Evil and Earth to Echo both earned less than $10 million. The top 12 finished with a sad $120 million. This shows the massive impact a weekend 4th has on the box office. Not only do folks come out less, but Hollywood schedulers also tend to veer bigger releases away from the weekend when the calendar configures in a certain way.

Calendar configuration didn't scare off one of our openers, as Paramount chose to open the rebooted Terminator franchise this weekend. The term "reboot" has been bandied around quite a bit lately with some franchises, but with Terminator, Paramount was really rebooting the series, changing the timeline and events of a franchise that is still quite fresh in people heads. Terminator Salvation came out in 2009, a $200 million disaster for Warner Bros., as the Christian Bale flick earned only $371 million worldwide, when it would have needed $600 million to break even. This weekend's follow up did not follow the Salvation timeline, starting from scratch. The effort cost $155 million to make, so the stakes were very high.

At the other end of the opener spectrum is Magic Mike XXL, the male stripper flick made on a G-string - I mean shoestring - budget. After the original earned $39.1 million over opening weekend (against a budget of $7 million), it was only a matter of time before a sequel of some sort materialized, as the original was profitable after a single day of release. This time around, the stakes were a bit higher with a $15 million budget, but that is $140 million cheaper than Terminator: Genisys and it didn't have to worry about the 4th on a Saturday. Magic Mike was going to be seriously front-loaded but was going to grind out a profit regardless.

With stripper and cyborg sequels entering the marketplace, it is somewhat of a surprise that our one/two combo at the box office is again is Jurassic World, rebooted from a dormant franchise, and the original concept Inside Out. Family audiences dominated movie theaters, taking in the somewhat more family-friendly fare. At the top of the heap once again is Jurassic World, the now four-weekend-old film that is breaking records like an Indominous Rex stomping on a human.

Jurassic World is now spending its fourth consecutive weekend at the top spot (assuming estimates hold). With $527 million in the domestic bank before the weekend began, a slip to number two was in the forecast, but the dinosaurs-eating-people movie had a relatively strong Saturday-Sunday to just edge out the Pixar film that is constantly playing the bridesmaid role. Jurassic World certainly didn't implode versus The Terminator and in its fourth frame, Jurassic World still managed to earn a healthy $30.9 million, and fell a not bad 43% compared to last weekend's haul of $54.5 million. People are definitely seeing Jurassic World more than once, as the big screen spectacle keeps drawing them back in. Made for $150 million, the Universal release only needed to find $450 million worldwide to see a profit, but with a domestic total of $558.2 million and a worldwide gross of $1.385 billion, Universal can fund a year's worth of blockbusters from the profit made off of Jurassic World.

Given how the 4th landed, Inside Out could have been skewered just as much as the openers. Still, it is summer, so now every day acts like a weekend box office day. For Inside Out, the holiday gave Friday even more oomph, and it earned $12.5 million for Friday alone, off only 17% from the Friday previous. Even if Saturday and Sunday was down heavily due to July 4th, the weekend wasn't going to be a disaster given the Friday hold.

The weekend gross for Pixar's masterpiece is estimated at $30.1 million, which means Inside Out was down 42% from its second weekend earnings of $52.3 million. For a good comparison, in July of 2009, Up was in its sixth frame and July 4th similarly landed on a Saturday. Up was off a hefty 50% that weekend, but it carries an asterisk, as Ice Age: Dawn of the Dinosaurs opened to $41.7 million over the same weekend.

Inside Out's domestic total rises to $246.2 million, as the critically embraced flick crossed the $200 million mark on Monday, only its 12th day of release. That's faster than all other Pixar titles save Toy Story 3, which hit the same mark in nine days. Things will get much more difficult from here though for Inside Out, as Universal's Minions opens next weekend, and I believe awareness is quite high for our little yellow friends. Despite that, Inside Out will cross the $300 million mark and should challenge Finding Nemo's original domestic earnings of $340 million.

Terminator: Genisys pulls up in a somewhat disappointing third. It failed to create any momentum heading into opening weekend, and when it gained a little on Friday night, it ran into July 4th on Saturday. The return of Arnold Schwarzenegger to the role of Terminator was met with little reaction when it opened on Tuesday and Wednesday, when it settled for an opening day gross of only $8.9 million. The sad writing was already on the wall at that point, and Paramount was already pointing to strong overseas results to lessen the blow. With a $155 million budget, a half billion worldwide was necessary, split between $200 million domestic and $300 million overseas if possible. Paramount had to be sweating after opening day, and it had nothing to do with the hot summer sun.

The Thursday amount provided no relief, coming in at $6.5 million, off 27% from opening day. The combined Tuesday preview, Wednesday and Thursday totaled $15.5 million, just a little higher than what Terminator Salvation earned on its $13.4 million opening day, a Thursday. It was also significantly lower than the $28.3 million that Terminator: Rise of the Machines earned over its first Tuesday to Thursday. Rise of the Machines had a July 4th Friday but still outgrossed Genisys, as the reboot earned only $10.7 million, whereas Rise took in $13 million against fireworks, barbecues and a Legally Blonde sequel. Results were ugly for Terminator: Genisys and comparisons against previous films in the franchise make it even worse.

Over the Friday-to-Sunday portion of the weekend, Terminator: Genisys earned only $28.7 million, and over its first five days, Genisys took in $44.1 million. The score is simply not good enough compared to budget, and unless overseas results vary wildly from the domestic, the Terminator franchise is dead. Proper care and attention of this asset was not taken. Reviews were putrid at 27% fresh, and audiences gave it a Cinemascore of B+. Usually a turd can still be sold for a solid opening weekend, but the marketing here was awful, much like what happened with Spy (but that was a good film that failed to meet expectations). There was nothing good about this marketing campaign, no real memorable takeaways like we saw with Jurassic World, and no memorable money shots. The marketing always seemed to go back to the shot of Emilia Clarke hanging out a helicopter, which to me is underwhelming when $155 million has been spent on a single film's creation.

The lone good thing about the lead up to this release is Arnold Schwarzenegger, who knows how to talk up a film. He did a great bit a few weeks ago posing as wax sculpture of The Terminator and then scaring tourists. He also gave countless interviews, but unfortunately those interviews led to press about this personal life instead of the film. Arnold may be able to bring up the overseas box office, though, as a film like Escape Plan, which he did with Stallone, earned only $25 million stateside, but exploded to $112.2 million overseas. Terminator 3 doubled its domestic gross overseas ($150 million domestic/$283 million overseas), but still lost a bucketload of money due to its $200 million production budget. I am hesitant to come out using the flop word, but the opening weekend is definitely a disappointment for all involved – including us.

Magic Mike XXL finishes fourth this weekend after a strong start over its first few weekdays. The Warner Bros. release got the party started on Wednesday, earning $9.3 million from Tuesday previews and Wednesday proper. Giving the production budget of only $14.5 million, the sequel was off to a very strong start, even though Warner Bros. was aware that its best day was already behind it. The Thursday came in at $5.7 million, which means it cleared its budget after only two days of release. Friday's gross improved on the Thursday only slightly, with Mike and friends earning $6.3 million. The combined first three days came in at $21.3 million, ahead of the original's opening day amount of $19.4 million.

Magic Mike XXL finished the three-day portion of the weekend with $12 million, and while off of the $39 million the original earned over its first three days, it did manage $27.1 million over its first five days, which is likely a better comparison. This version is not going to make the $113 million domestic that the original did, but it will earn more than $45 million domestic it needs. It should also do fine overseas, and will likely earn a similar $50 million or so, pushing this one far into profitability. It finished with a better Cinemascore than Terminator at A-, and was actually a couple of grades better than the original's B. Reviews, on the other hand, were not as good as the original, coming in at 60% fresh compared to the original film's 80%. None of it matters, though, as Magic Mike XXL will put up workmanlike numbers for Warner Bros., and it and The Gallows next weekend will provide decent fodder for the studio until Vacation opens on July 31st (and I expect that one to do very good business).

Ted 2 got the stuffing pulled out this weekend, as it follows a soft opening with a even softer second frame. Ted 2 could only find $11 million in its second frame despite the lukewarm reception received by the openers. The Universal release fell 67% compared to its $33.5 million opening, and now the $68 million comedy has a domestic take of $58.3 million. Ted 2 needs $200 million at home and abroad, and it looks at this point like the domestic side is going to come in at $80 million. It will need some significant help internationally.

Max is sixth, and sees a much better hold than Ted 2 did. Max, the returning warrior dog, earned $7 million, which means it was off 42% from its opening $12.2 million frame. Made for $20 million by MGM and distributed by Warner Bros., Max has a gross so far of $25.7 million, and could get to $45 million if its legs hold up.

Spy drops to seventh this weekend, but has a third consecutive solid hold at the box office. The Melissa McCarthy film earned $5.5 million, dropping a not bad 30%. Released by Fox at a cost of $65 million, the domestic gross has now reached $97.9 million, and has already crossed the $100 million mark away from the US. Spy has done enough for the film turn a profit, but I still feel that this one has left significant money on the table, due to that lackluster marketing and opening weekend.

San Andreas drops to eighth in its sixth weekend, but has already done what it needs for success. This weekend, the Dwayne Johnson starrer found $3 million, off 44% compared to last weekend. The domestic take has reached $147.4 million, and the overseas take has crossed the $300 million mark, against a $110 million budget.

Ninth is Me and Earl and the Dying Girl, Fox Searchlight's Sundance pickup that has been handled much better than Open Road's Dope. Following a 15 screen limited release, Searchlight expanded to 68 screens and then 354, before widening to 870 venues this weekend. It earned $1.3 million from those venues this weekend, and while this is not a breakout success, it does give word-of-mouth a chance over follow up weekends, before having a full life on home video and on demand. It has a domestic take to date of $4 million.

Dope is tenth this weekend, and Open Road Films used the opposite strategy of Earl and the Dying Girl. Open Road went wide three weekends ago and earned $6 million, and then fell 54% in weekend two. This weekend it earned only $1.1 million and fell 61%. It has a gross so far of $14.1 million, but has zero chance at recovering, and with a short life at theaters, will likely be forgotten as a home video release.

Overall, despite a soft result from Terminator: Genisys, the box office still performed decently. The top 12 films earned $132.6 million, and while better than last year's $120.6 million, it was way behind the $221.6 million earned in 2013. The overall could earn some of that back next weekend, as Minions finally opens, as does the Ryan Reynolds flick Self/Less, and the new found footage horror flick, The Gallows – which has had an interesting marketing campaign thus far.