Weekend Wrap-Up
Holdovers Happy as Ted Misses Expectations
By John Hamann
June 28, 2015
BoxOfficeProphets.com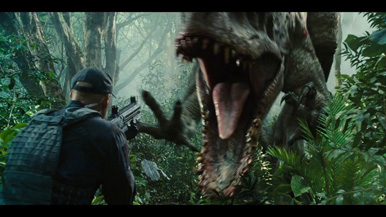 ---
The roll the box office was on has come to an end after only two weekends (but what weekends they were), as Ted 2 fails to meet expectations. Thank goodness Jurassic World and Inside Out continue to roll, as without them, exhibitors would be in real trouble.

After two consecutive weekends where the top 12 films were of the biggest in history, that kind of good news is not sustainable. Openers had promise, as they included the sequel Ted 2, and a home-from-war story in Max; however, this one starred a dog instead of Bradley Cooper. Ted 2 had big potential, as the original opened to a massive $54.4 million over the same weekend in 2012. Max also had a chance to exceed expectations, given the reception of American Sniper ($350 million domestic), but that comparison is more of stretch due to the family target of the film. Despite that promise, holdovers dominate (and thank goodness), as it is another Jurassic World/Inside Out kind of weekend.

After winning the previous weekend by about $16 million over newcomer Inside Out, Jurassic World faced a stiffer challenge from the Pixar property this weekend, its third. Inside Out was destined to hold this weekend despite its expectation-shattering $90.4 million opening frame. Jurassic World already had $445.6 million in the kitty prior to the start of its third weekend, so new eyeballs seeking out Jurassic World were quickly becoming limited (ads now say "see it again"). The race for top spot was destined to be close - and close it was, as Friday numbers were reported at $15 million for Inside Out and $14.7 million for Jurassic World. Given that healthy multipliers were destined for both, we were set to have a photo finish at the box office.

Our number one film of the weekend - for the third frame in a row - is Jurassic World. Yes, the dino-juggernaut continues, but the two openers were so close this weekend, that there really isn't a number one or a number two film this weekend. Friday's $14.7 million take was 50% down from the previous Friday, but as I said above, the train has come into the station eventually. On Friday, Jurassic World crossed the $450 million mark, accomplishing that feat two days faster than Marvel's Avengers did, and an entire 10 days faster than The Dark Knight did in 2008.

Jurassic World finished the weekend with $54.2 million. It was off 49% compared to the previous frame, and finished just short of Marvel's Avengers third weekend, which came in at $55.6 million. Jurassic World has the third biggest third weekend of all time, behind Avatar's $68.5 million, and the Avengers score. The total for Jurassic World, Universal's biggest release ever, has reached an awesome $500 million on the domestic side (fifth biggest ever), and the worldwide total has reached $1.24 billion. Jurassic World also overtook Avengers: Age of Ultron as the biggest release of 2015 so far, as the Avengers sequel has earned $452.4 million, and is going to top out with about $460 million.


Jurassic World also claimed the record for fastest film to reach $500 million, reaching that mark in just 17 days. That's six days faster than the Avengers, and 28 days faster than The Dark Knight. The only question now is where it fits in with the big three – Avatar at $760.5 million, Titanic at $658.7 million and Marvel's Avengers, which finished at the domestic box office with $623.4 million. At this point, I believe it finishes very close to Marvel's Avengers, and could beat it by a few million – but that is still a long way off.

The other great news story at the box office this weekend is the second weekend performance of Inside Out. The Pixar/Disney release wowed last weekend with a $90.4 million open, and the question was whether it could keep the momentum going and hold in weekend two after such a big debut? The answer, as it is with most Pixar releases, is a resounding yes, as like last weekend, it finished ahead of Jurassic World on Friday. Over the remainder of the weekend, Inside Out earned a powerful $52.1 million, dropping only 42%. I say "only," because films that gross $90 million plus in their opening weekends have a tendency to fall more than 50% in weekend two. Inside Out followed the Pixar standard, as Monsters University fell 45% in its second frame, Toy Story 3 fell 46%, and Despicable Me 2 fell 47%. Inside Out has the playing field to itself until July 10th when Minions opens. It has a gross to date of $184.9 million. At this point, there's every reason to think that Inside Out will either meet or exceed the domestic gross of Up, which earned $293 million stateside.

Third goes to Ted 2, Seth MacFarlane's follow up to the foul talking bear movie from 2012, which earned over a half-billion worldwide and $219 million in North America. Unfortunately, between the release of Ted and Ted 2 came a MacFarlane disaster called A Million Ways to Die in the West, the critical and financial bomb released last year. It flopped, barely meeting its $40 million production budget with domestic gross. That performance seems to have taken the shine of MacFarlane and may have resulted in some of the heat coming off of Ted 2. The original opened to $54.4 million, so, if behaved like The Hangover or 21 Jump Street sequels, the opening should go up, right? Not this time.

Ted 2 got started on Thursday with $2.5 million from Thursday previews starting at 8 p.m. Given the start time of the previews and the amount earned, this was neither exciting nor an indicator of its future. The Thursday/Friday combined amount of $13.2 million was certainly telling, as it failed to match that of the big holdovers and was immediately destined for a third place finish. The weekend total reached a subdued $32.9 million, more than 30% less than the original. Ted 2 cost a hefty $85 million to make, so it is going to need $250 million worldwide for Universal to see a profit. With this debut, Ted 2 is certainly going to tap out before $100 million domestic. One has to wonder if there will be enough gas in the tank to get it to a profit.

Other than A Million Ways To Die in the West, what else happened to keep Ted 2 in under-performing mode? Ted 2 came in 20 points lower than the original at RottenTomatoes, as the original earned a 67% fresh rating, whereas the sequel was 47% fresh. The idea of Ted itself also became a lot less original than, well, the original, as once the high concept is released once, the sequel is really just a Mark Wahlberg movie. The marketing was decent ("Ted is coming, again"), but the trailer didn't knock me on my ass, and the courtroom drama angle came off as boring (safe) or Jim Carrey-like. It felt as though Universal courted women more with the sequel, which may have turned off the core audience. Ted 2 is in no way a disaster and can hardly be considered a disappointment; however, it does seem to have left some money on the table.

Despite much lower numbers, war-dog movie Max is almost a better news story than Ted 2. Max earned $12.2 million this weekend, slightly better than the $10 million that analysts were expecting. Of the Free Willy variety, this family flick was a good investment for MGM, as it cost $20 million to make, so it should see a profit eventually. Critics weren't impressed at RottenTomatoes, with all critics giving it a 38% fresh rating, though the site's "top critics" surprisingly liked it a little more at 45%. The good news is that Max seems to resonate with the target audience, as it earned an A Cinemascore, the same score earned by Free Willy (which earned 10 times its opening weekend gross domestically and spawned two sequels). Will the same thing happen here? I doubt it, but one never knows.

Spy is fifth, and after a decent 28% drop last weekend, it continues to hold up well even in the face of a new comedy. In its fourth weekend, Spy earned $7.8 million, giving it a percentage drop of 31%. The $65 million action comedy has now earned $88.4 million domestically, and had picked up $57 million overseas prior to the start of the weekend. It still has some work to do to find Fox a profit, but it should be able to get there.

San Andreas shimmies down to sixth in its fifth weekend, but has remained a top earner for longer than I thought it would. This weekend, San Andreas earns a decent $5.3 million, dropping an okay 39% compared to last weekend. The Warner Bros. release cost $110 million to make. It has a domestic gross of $141.9 million and an overseas gross approaching $300 million.

After a lackluster opening frame, Dope falls hard this weekend. The release that Open Road should have platformed earned $6.1 million in its opening frame, and follows that up with $2.9 million in weekend two for a drop of 53%. Open Road had high hopes for this Sundance pickup, but the release strategy failed, leaving it with only $11.8 million so far.

The rest of the top ten barely registered. Insidious Chapter 3 earned $2 million, bringing its total up to $49.8 million; Mad Max: Fury Road added $1.7 million and has a domestic total of $147.1 million; and Age of Ultron earned $1.6 million for a cume of $452.4 million.

Overall, the box office took a step back from the sizzling $240 million plus weekends it has put up recently, but is still strong overall. The top 12 films earned $175.5 million, similar to the $172.8 million put up last year when Transformers: Age of Extinction pulled in $100 million, but was behind 2013 when the top 12 earned $183 million. Next weekend starts early, on Wednesday, as both Terminator: Genisys and the Magic Mike sequel open mid-week.