Over There: International Box Office Report
for June 19-21, 2015
By Kim Hollis
June 22, 2015
BoxOfficeProphets.com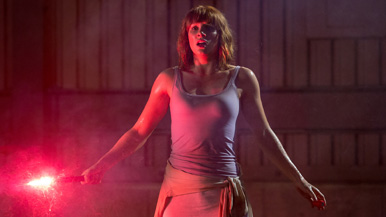 ---
Across the world, no matter where you are, dinosaurs are so hot right now.

Even as the Indominus Rex and Velociraptors of Jurassic World were scoring a second weekend in excess of $100 million in North America, the film's performance overseas continues on its scintillating path to glory. Its weekend total from international venues came in at $160.5 million, which brings its cumulative 10-day total from those overseas locations to an almost incomprehensible $583 million. Its gaudy worldwide tally is $981 million. Jurassic World will join the billion dollar worldwide mark within a couple of days, which is incredible when you consider that only 21 films total have reached that mark in their entire theatrical run.

Coming in a distant second place is Pixar's Inside Out, which opened in just 38 territories and as is the case with most of the studios film, will see a slow, steady rollout to more locations as the season progresses. It earned $41 million from those overseas locations this weekend, and has an excellent start on what is certain to be an outstanding worldwide box office run.

Third place goes to the Hong Kong-Chinese action film SPL II: A Time for Consequences. A sequel in name only to 2005's SPL: Sha Po Lang (aka Kill Zone), the Tony Jaa feature earned a terrific $29 million from just three territories. We look forward to the inevitable "we're just keeping this name because it will make you buy a ticket" SPL III.

San Andreas continues to chug along, adding $18.8 million to its international take. Clearly, The Rock plays well overseas, as he was part of the indestructible force that was Furious 7 earlier this year and has now been a key factor in San Andreas earning $282 million internationally thus far. Its worldwide total of $414.2 million has to be a delight for Warner Bros.

They may have only opened in four markets total (Australia, Indonesia, Malaysia and Singapore), but the Minions still managed to get started with a remarkable $12.3 million from those few locations. It will add six additional markets next weekend and is set to open in North America on July 10th, where we'll be tracking whether it can exceed the debut weekend of Despicable Me 2.

Although it can be challenging for Hollywood comedies to find their footing overseas, that's not at all the case for Melissa McCarthy's spy, probably because her costars (Jason Statham, Jude Law) are international draws in their own right. Spy earned $9.6 million internationally, almost matching the domestic total for the weekend. Thus far, the film's overseas tally is $96 million, and it sits with $170 million worldwide.

Korean film The Classified File got started in its home territory with $8.5 million. Kim Yoon-seok, an actor known for hits in Korea such as Tazza: The High Rollers and The Thieves, toplines the film, which was highly anticipated in that territory prior to release.

Coming in with $7 million is Dragon Ball Z: Resurrection F. The 19th Japanese animated feature film based on the manga/TV series has accumulated $38 million so far, all from international venues.

Mad Max: Fury Road continues to hang around in the top 10 as it earns another $4.9 million internationally. Thus far, the $150 million-budgeted George Miller film has earned $203 million overseas and has stretched its worldwide earnings to $346 million. Even with that solid performance, it's likely going to need home video to show a profit.

We wrap it up with Poltergeist, which made a lot more internationally than it did in North America. It's definitely winding down its domestic run, as it pulled in just around $200,000 for the weekend, but it nonetheless managed $4 million from its international play dates. Its cumulative total overseas is $31 million, and its worldwide total is $78 million.