Weekend Wrap-Up
Jurassic World, Inside Out Lead Triumphant Box Office
By John Hamann
June 21, 2015
BoxOfficeProphets.com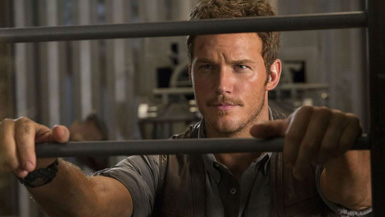 ---
Pixar and Inside Out won the battle on Friday, but lost the war to Jurassic World over the weekend. However, this is one of those weekends where everyone wins and records fall.

The box office had gone cool a few weekends ago, getting everyone concerned that the 2015 summer box office was in trouble. Then, Jurassic World stormed the record book last weekend, debuting to a record setting $208.8 million and becoming the first non-comic book, non-Harry Potter or Hunger Games film to enter the top ten. Suddenly things were looking up, but when Marvel's Avengers stormed the box office, totals fell off in its follow-up weekend, despite the Marvel property earning $103.1 million in its second frame. That weekend, the top 12 earned $162.3 million, somewhat average considering the size of the number one film. This weekend, Jurassic World's competition does not come with the floppy Dark Shadows; instead, it comes with the first Pixar release in two years - Inside Out, with its 98% fresh rating and A Cinemascore.

Given the size of its opening, it was hard to imagine Jurassic World not being the number one film of the weekend, even if Inside Out broke out (which it did). The Universal behemoth did slip to number two on Friday, finishing behind Inside Out, but then trampled the competition over the remainder of Father's Day weekend. On Friday, though, moviegoers sought out the animation and left Jurassic World earning $29 million, off 65% compared to the $82 million opening day. Of course, $18.5 million of that debut came on Thursday, so compared to the real Friday score of $63.5 million, Jurassic World was off a mere 54%, giving it a chance to hold extremely well. The target for Jurassic World was naturally the second weekend of Avengers, which fell only 50% in its second weekend from $207.4 million to the biggest second weekend of all time, at $103.1 million. Marvel's Avengers started its second weekend with $29.2 million, so the two blockbusters were neck and neck off the top.

Over the remainder of the weekend, Jurassic World continued to put up impressive numbers, just like it has since it opened. With a weekend total of $102 million, which means it just missed the $103.1 million record for biggest second weekend. Of course, it's important to remember that this time last week, we didn't think Jurassic World had the opening weekend record, either. When estimates are updated tomorrow, it could very well be the second weekend champ.

For the weekend, Jurassic World falls a relatively tiny 51%, avoiding the 55%+ falls of other uber-blockbusters like Age of Ultron (-59%), Iron Man 3 (-58%), and Harry Potter and the Deathly Hallows Part 2 (-72%). It follows a huge Monday-to-Thursday where it earned $85 million, and the film crossed the $300 million on Friday, its eighth day, beating the record held by Marvel's Avengers, which did it in nine days.

Jurassic World's current domestic total has reached $398.2 million, which means it will become the fastest movie to reach $400 million tomorrow and doing it in only means it is the fastest movie to reach $400 million, doing so in only 11 days of release. Jurassic World didn't sneak by The Avengers like it did when it crossed $300 million one day faster, it beat the Disney product by an entire three days when reaching $400 million. It will earn $450 million by the end of the week (only four other films have earned $450 million). At this point, Jurassic World's box office is bigger than any of the freaks of nature in the actual film, and it shows no signs of stopping. It gets a little direct demographic competition next weekend in Max (boys under 18), but doesn't have to deal with Terminator: Genisys until July 3rd (and the verdict is still out on the reboot, anyway). Overseas, Jurassic World has brought its total up to $583 million, and has a massive worldwide take of $981 million.


The performance of Jurassic World takes absolutely nothing away from the massive success that Inside Out found at the box office this weekend, as Pixar literally does it again – just not at number one for the first time ever. Inside Out earned a best-for-Pixar $3.7 million from Thursday previews, setting the stage for what was going to end up being a stunning weekend. Inside Out then took in $34.2 million on Friday ($30.5 million without the preview amounts included), the second best opening day for a Pixar film, behind only Toy Story 3's massive $41 million first day in June 2010. The opening day was bigger than Monster University's $30.5 million, which meant it was destined to outgross one of the Pixar sequels, despite tracking and a bucketload of analysts calling for a $60-65 million opening (no wonder Nielsen is selling off NRG).

As per traditional Pixar, it had a lower internal multiplier than most family fare (meaning it plays across demos, and not just to kids). The weekend finished at powerful $91.1 million, making it the second biggest Pixar debut of all-time, behind Toy Story 3's $110.3 million, and well ahead of Monster University's $82.4 million. Inside Out becomes the biggest film to not open at #1, hammering The Day After Tomorrow's $68.7 million debut. Inside Out used a clever marketing campaign, which has become the usual Pixar/Disney process, stopping at Cannes and having the voice actors out and about everywhere talking up the film.

Again, as usual for Pixar, it was able to promote itself through stellar reviews – this time even stronger than usual, as Inside Out is 98% fresh, with only four sad sacks out of a possible 182 finding something not to like. Up was a very similar release for the studio and its maker, as that Disney/Pixar release was also 98% fresh, with only five negative nellies out there bringing the score down.

The Cinemascore for Inside Out came in at an A, just a bit lower than Up's A+ but matches the score that Toy Story 3 received. This is huge news for the overall box office, as now we have two decently reviewed crowd-pleasers running neck and neck, which should help overall box office scores going forward. When Marvel's Avengers opened, it stayed number one for three weekends, but overall box office scores drifted significantly downward each weekend after, as there were no solid releases issued in its wake. Dark Shadows, Battleship, The Dictator, and Men in Black 3 all failed after the release of the Avengers, which removed momentum. After Inside Out, we have Ted 2 and Max next weekend, the Magic Mike sequel and Terminator the following frame, and the Minions movie the weekend after. While the verdict is still out on the Terminator reboot, the rest of the titles look strong, and should keep that momentum going into July.

That puts Melissa McCarthy's Spy into third this weekend, as it sees a better hold than it had in the previous frame, when Jurassic World dominated. Spy earned another $10.5 million, off a respectable 33% compared to last weekend. The Fox release has now earned $74.4 million domestically against a $65 million budget, and has picked up another $60 million overseas. It needs about $50 million more worldwide to see a profit from the theatrical release, and should have no problem getting there.

Fourth is The Rock's San Andreas, as the event film tries to recover from the dino-rampage last weekend, when it fell 58%. With a lesser impact from Jurassic World, San Andreas held much better in weekend four, as it earned $8.2 million and fell 24%. The $110 million film has now earned $132.2 million domestically and over $250 million overseas. San Andreas will have no problem turning a profit for Warner Bros., New Line and Village Roadshow.

Fifth is Dope, the Sundance pickup being released by Open Road. The opener had a challenging task this weekend – open against two huge films in the marketplace, with no benefit of a platform release for a film with few stars and little awareness. Dope took these challenges and still managed to earn $6 million, a few million below the $8-10 million expectation. Out to 2,002 venues, Dope had a venue average of $3,006. This one may have performed better if Open Road attempted to platform it, opening on four screens, and then 60, and then 2,002. Reviews are great at 90% fresh, and word-of-mouth is also going to be excellent as it earned an A- Cinemascore, so audiences may find this gem eventually. Open Road paid $7 million for Dope, and committed another $15 million for advertising, so it is going to need a decent multiplier to bail out the distributor.

Insidious Chapter 3 is sixth as it winds its way down the top ten ladder. This weekend, its third, the Insidious sequel earned only $4.1 million, and fell 44% compared to last weekend. The $10 million Jason Blum feature distributed by Focus Features has now earned $45.4 million domestically, and has pulled in more than $25 million overseas.

Pitch Perfect 2 is seventh, earning another $3.3 million and declining 49%. The $29 million film is hugely profitable, as it has earned $177.5 million stateside and is approaching $100 million overseas.

Mad Max: Fury Road is eighth, as it spends a sixth weekend in the top ten. Running on fumes, Fury Road took in another $2.8 million and fell 31%. Normally a domestic total of $143.6 million and worldwide gross to date of $340 million would be cause to celebrate, but this one cost $150 million to make, so after all that marketing is paid for, Warner Bros. may still be left holding the bag and waiting for home video revenue to fill in the financial gap.

Avengers: Age of Ultron continues to hang on for an eighth consecutive weekend as it moves up the top 10 domestic earners of all-time list. This weekend, the Marvel sequel earned $2.7 million and declined only 26%. The domestic total has now exceeded that of The Dark Knight Rises, as the cume has reached $449.3 million. Worldwide, Age of Ultron is the fifth biggest film ever with $1.37 billion, against a $250 million budget.

Rounding out the top ten and making its last appearance in this column is Tomorrowland, the Disney failure. The $190 million George Clooney flop earned $2 million this weekend, off 42% from the previous frame. The good news for Disney is that Tomorrowland's revenue has now matched its massive budget, but that's worldwide revenue. Domestic revenue has only reached $87.7 million.

It's the overall success of the box office that is another big story this weekend. After the top 12 films set a record last weekend with a massive $260 million, the box office should have been hard-pressed to have another weekend above $200 million, with $100 million moving out of the top ten thanks to Jurassic World's drop alone. However with Inside Out surprising to the upside, this weekend's top 12 of $236.3 million ends up bigger than Age of Ultron's weekend, where the top 12 earned $226.4 million. That puts two consecutive weekends into the top ten biggest ever.

That portends well for next weekend as well. Ted 2, our first mainstream comedy since Spy and Entourage opened on June 5th. The original Ted opened to $54.4 million, and there is no reason why the sequel can't do same or better, and tracking is currently seeing a mid-$60 million open. Max is a bit more of enigma, especially with Inside Out over-performing this weekend. If it connects – which it could, especially with red state families, it could reach $15 million. If the big holdovers can also hold, the box office could be in for its third consecutive massive frame.