Friday Box Office Analysis
By Kim Hollis
June 20, 2015
BoxOfficeProphets.com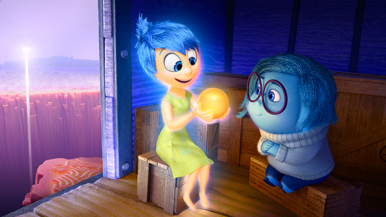 ---
After stomping all over the box office, chomping on it and spitting it out, Jurassic World shocked the world as it debuted to an opening weekend record $208.8 million. Its weekday numbers were exemplary as well, helping it to trend ahead of Marvel's Avengers and easily become the fastest movie to ever reach the $300 million mark (in just eight days).

It might surprise you to learn, then, that its reign at the top of the box office ended after seven days.

Yes, Inside Out, the new release from Pixar and Walt Disney, was the #1 film at the box office on Friday. Although it's likely that Jurassic World will win out over the weekend, it's nonetheless a surprise that the dinosaur film ceded the top spot even for a day. Marvel's Avengers, the film that saw its record surpassed by Jurassic World, held the #1 spot for 21 days in a row. Even Avengers: Age of Ultron kept it for 14 days.

Rather than speaking to any real negative box behavior on the part of Jurassic World, the fact that Inside Out was able to grab the #1 position at the box office speaks much more to a marvelous marketing campaign from Disney and absolutely rapturous reviews. There was a time when reviews mattered very little to the opening of a film, but with easy access to sites like Rotten Tomatoes and media awareness of that quality, it's much easy for that kind of positive buzz to spread. Thus, while a movie with so-so reviews might not be impacted at the box office, those with extremely positive ones often see a lift.

Just how well did Inside Out do? It had a Friday box office estimate of $34.2 million, giving it a pretty good head start over Jurassic World's $29 million. That $34.2 million does include Thursday evening previews that totaled $3.6 million, but even without them factored in, it would have be the #1 film on Friday.

Now, the question becomes whether Inside Out can actually win the weekend. The answer is "probably not," but it's not an absolute impossibility. There's a fun fact about Disney and Pixar films released in June. They almost uniformly have internal multipliers (weekend box office divided by Friday box office) of 2.7. Even as box office changed and Thursday screenings began to be offered, that number has remained consistent. I guess we can presume that the people who head out to see the movie on Thursday evening would have gone ahead and seen it Friday anyway.

If we apply the 2.7 multiplier to Inside Out, we come up with a weekend total of $92.4 million. The only reason that 2.7 might be a bit too high in this case is because we're talking about a larger debut than we typically see from Pixar (they normally fall comfortably in the $65-70 million range for the weekend). Nonetheless, it started stronger than 2013's Monsters University, which was a sequel and should presumably have had a bigger rush factor. It would have been amazing if we could have had two $100 million films in a weekend, but it does look like we're going to fall just a bit short of that mark. Either way, this is the second best Pixar debut ever, behind only Toy Story 3.

So, where does that leave Jurassic World? Considering that many forecasters were figuring that its debut weekend would be in the $110-125 million range, let's just say that we don't need to feel badly for it at all. Its $29 million Friday represents a 65% decline from its opening day, which is ever so slightly behind Avengers, which fell 64% to a very similar $29.2 million on its second Friday. Seems like that's the perfect model for our box office behavior for the remainder of the weekend, though, which means that Jurassic World should come in with a three-day total of $102.3 million, putting it back in the top spot and allowing it to compete for biggest second weekend of all-time (chances are, Universal's estimate will give it the record). By the way, Inside Out will become the highest second place movie at the box office ever, besting The Day After Tomorrow's $68.7 million by a lot.

We do have one other movie to talk about, and that's Open Road's Dope, which debuted in 2,002 locations with $2.4 million on Friday. Another critical and word-of-mouth darling, it has been able to ride some positive buzz to a decent showing at the box office, especially when you figure that it likely had a teeny-tiny production budget. It should come in with $6.7 million for the weekend and a nice little run in theaters. With its 90% fresh rating at Rotten Tomatoes and an A- Cinemascore, people will be talking about Dope.