Weekend Forecast for June 19-21, 2015
By Reagen Sulewski
June 19, 2015
BoxOfficeProphets.com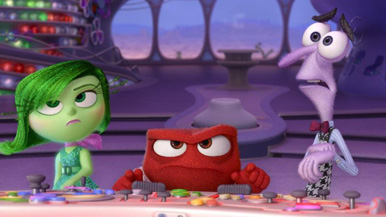 ---
After an earthshaking and wholly unexpected record-breaking performance, summer looks to be right back on track (though of course it remains a series of unconnected semi-random events. But that's no fun for punditry!). A return of a critical-acclaim factory studio to the summer should make for a fairly gaudy figure overall for this weekend.

After taking 2014 off from releasing films, Pixar returns with its 15th full length feature (and its first of two this year), Inside Out. Set mostly within the mind of a 12-year-old girl, it anthropomorphizes the emotions in her head, giving us a peek into what makes her tick – a brilliant original concept, if you never watched the late '90s sitcom Herman's Head. Okay, so it's the execution, not the idea, and Pixar are experts at taking ideas that shouldn't work and turning them into magic. Rapturous reviews show they've once again pulled it off.

Following a move from the midwest to San Francisco, Riley, the main character in charge (sort of) of these emotions, struggles with adapting to her new life. A mix of Joy, Sadness, Fear, Disgust and Anger run the controls, and we get a look at how each of them interact with all the new situations and people, along with the real enemies – mom and dad (and their own emotions, too). Reviews have focused on the clever interplay of the inner mind and the outside world, as well as the bright and sparking voice performances (including Amy Poehler, Bill Hader, Lewis Black, Mindy Kaling and Phyllis Smith). All evidence points to this being another winner on all fronts for Pixar.

As successful as Pixar has continually been, they've rarely hit the mega-opener mark, with only Toy Story 3 hitting the $100 million mark for an opening weekend. For the most part they've stuck in a comfortable $60-70 million range, although with the two year gap between their most recent films,we're possibly going to get a decent look at how the market has changed. Original projects have suffered quite a bit this summer relative to known franchises (we'll get to one of those in a bit), and may be leaving some a little gun shy, but with the universal praise that Inside Out is receiving, this feels like the film to break that pattern. While it faces a monster of a returning film that will keep it from claiming top spot, it'll have to settle for being the highest opening film that didn't reach #1, potentially breaking the 11-year-old record held by The Day After Tomorrow, with around $73 million.

A lower-key release – opening in just over 2,000 venues – rounds out our slate of new films, with Dope. A bit of a play on '90s hood-coming-of-age movies, it stars relative Shaemik Moore as an inner-city nerd – though as a modern nerd, he's got a thriving multi-racial/gendered/oriented punk band – who accidentally finds himself inducted into a drug deal while trying to impress a girl (Zoe Kravitz). Meanwhile, his application to Harvard hangs in the balance.

A critical hit at Sundance, it's an inventive-looking film that punctures a few of the tropes of films like Boyz N The Hood and Menace II Society. Needless to say, this is not a widely targeted film, but has the potential to become a cultural touchstone for teens who are in equal part obsessed with identity and early '90s hip-hop. Teens are not a huge market, though they can occasionally come out in a small force for the right project. I'd expect this to have a smallish opening of around $7 million but run on well for a couple of weeks.

This brings us to our major surprise of last weekend and our likely two-week champion, Jurassic World. Not just a surprise, it nearly doubled most estimates and broke the all time opening weekend record with $209 million, becoming the third film in the franchise to do so. Clearly, we just can't get enough of dinos as a people. Combine that with Chris Pratt, and you apparently get to make all the money. How big was this opening? Its Monday, with $25 million, would be the 17th biggest weekend of 2015. Its next test is whether it can best The Avengers again, for the highest second weekend, by making more than $103 million. Word-of-mouth looks to be solid for this film, though the natural front-loading that comes when you gross the GDP of a small Pacific country in one weekend makes what we'd call traditional legs difficult. However, I'd still be confident in another nine-figure weekend, with $108 million.

Finally, we have the third weekend for Spy, the Melissa McCarthy vehicle that defied terrible ads to open well. Its holdover was a solid $15.6 million, pushing it over the $60 million mark midweek. It should earn about $8 million this frame, moving very close to $75 million by the end of this weekend, and leaving open the possibility of a century mark.