Weekend Wrap-Up
It's a Jurassic World at the Box Office (And We Just Live in It)
By John Hamann
June 14, 2015
BoxOfficeProphets.com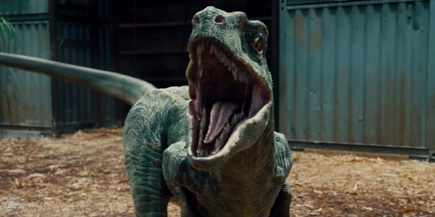 ---
What the hell just happened? We knew that after a month of box office results on the ugly side, Jurassic World was going to show up and put the box office back on track. What we didn't expect was the complete and utter dominance the rampaging dinosaur reboot delivered. Jurassic World almost literally broke the box office this weekend, and the best we can do now is examine the pieces.

While I was watching TV this week, those very impressive Jurassic World TV ads would come on, and I would shout out what my current estimate for the weekend box office was (yes, my wife thinks I'm nuts). I started the week yelling "$110!" on Monday, which changed to "$125!" by Wednesday. Thursday morning I was up to shouting "$150!" but after seeing Thursday preview amounts on Friday morning, my living room became very quiet, as the TV ads would just play and I would quietly wonder where the weekend would actually end up. The Indominus-Rex-coming-out-of-the-egg TV spot got me thinking that Jurassic World was really heading for the heights of box office glory – into the realm of Iron Man 3's $174 million – but then I would just laugh to myself and shake my head – impossible.

The Thursday preview amount of $18.5 million got me quite excited – it was a T-Rex sized amount that indicated Jurassic World was firing on all cylinders, as this isn't an Age of Ultron with a big original released in the last few years and a rabid fanbase drooling for the next piece of anything. This was a reboot/sequel with the last chapter coming 14 years ago. The timing is somewhat similar to the Star Trek reboot, but that film had a $4 million Thursday on its way to a $75 million opening weekend, or less than half of what Jurassic World earned this frame.

The Thursday number for Jurassic World was bigger than Furious 7's $15.8 million preview amount; right on target with The Dark Knight's $18.5 million, and just slightly behind the original Avengers, which earned $18.7 million on Thursday, but opened at midnight, whereas Jurassic World opened at 7 p.m.. So, the Thursday told us Jurassic World was going to be big, but it didn't tell us how big – the final Harry Potter earned $43.5 million from previews, and earned $169 million over opening weekend.

Jurassic World's Friday told the story that the 2015 summer box office so desperately needed to hear. Combined with the $18.5 million it earned on Thursday, the Friday number was reported at a ludicrous $82.8 million – the third biggest opening day ever behind only Harry Potter and the Deathly Hallows Part 2 ($91.1 million) and Avengers: Age of Ultron ($84.4 million). It beat Avengers ($80.8 million) and trounced The Dark Knight Rises ($75.8 million). It was now truly playing with the biggest films ever, leaving Furious 7 in the dirt. Its "true" Friday (Friday amount with the Thursday preview removed) was $64.3 million, bigger than the entire opening weekends of the first and third Jurassic Park films. To get to a $200 million opening frame, Jurassic World was going to need a 2.8 multiplier (weekend gross divided by true Friday gross ) over the rest of the weekend, but with basketball and hockey playoffs happening on Saturday and Sunday, that was going to be a tough feat to achieve.

The weekend total for Jurassic World came in at a sizzling $204.6 million, more than double the $100 million most were expecting heading into the weekend. It outgrossed its $150 million production budget in only a few days, setting the stage for a huge profit for Universal and Legendary Films. The Colin Treverrow-directed flick becomes the second biggest domestic opener ever, behind only Marvel's Avengers' $207.4 million debut, and comfortably ahead of Avengers: Age of Ultron, which opened to $191.3 million. To drop in between the two biggest openers off all time is a huge achievement, and despite the size of the picture, for me, the size of the opening is the biggest surprise since the original Hunger Games started with $152.5 million in March 2012.

Jurassic World broke the record book, as the second best opening weekend means that it's going to take down a lot of them. It becomes the biggest June opener ever (and every other month except May), taking down the Man of Steel's $116.6 million opening. It also joins 14 other films as the fastest to $100 million (two days) and joins eight other films as the fastest to $150 million (three days). Jurassic World tied Avengers as the second fastest to $200 million, with both doing it in three days. The film is also Universal's biggest opener ever (sorry, Furious 7 – I hope it was fun while it lasted) and really, if you can dream it up, Jurassic World beat it.

Why did Jurassic World break out? I think everyone would agree that the marketing here sizzled, but so did Furious 7's and so did the marketing for Age of Ultron. Reviews were good but not spectacular, coming in at 71% fresh, with 145 good reviews out of a possible 205. That was in the same ballpark as Age of Ultron (74% fresh), but not the lofty height of Marvel's Avengers (92%) or Harry Potter and the Deathly Hallows Part 2 (96%). The Cinemascore for Jurassic World matched the marketing, scoring an A and matching Age of Ultron's score. At the end of the day, marketing ruled, as Jurassic World was able to engage youth who may have not seen the earlier films in the series at theaters, and engaged older audiences that look fondly back on earlier summers when these films stormed multiplexes, taking a combined $813 million from domestic theaters between 1993 and 2001. Jurassic World had what Tomorrowland and Spy so severely lacked - a money shot - and a constant drumbeat driving people toward the opening.

In case you hadn't realized, Chris Pratt is now officially "the guy." Part of the success of this debut has to be attributed to Pratt, whose performance in Guardians of the Galaxy helped it leg out a domestic score of $333 million after opening to $94 million. Chris Pratt has become a marketing master – not through the tired press junket kind of way, but getting his name into the news. For example, he apologized in advance for anything he might say in the press prior to the junket. The press loves Pratt and reported on his appearances on Jimmy Fallon and Jimmy Kimmel. Really, they only stopped short of reporting on what he was having for breakfast. Chris Pratt became a true movie star with this picture, and likely brought $25 million to the table here with his involvement alone. Two of Jurassic World's stars – Chris Pratt and Vincent D'Onofrio – will now appear together in Magnificent 7, set for January 2017.

Overseas, Jurassic World didn't disappoint, either. The Universal release took in an approximate $60 million on Friday alone, and Universal is reporting a staggering record-breaking global take of $511.8 million. This has become the summer of Universal, having already issued Furious 7 ($350 million domestic/$1.5 billion worldwide), Pitch Perfect 2 ($255 million worldwide) and Fifty Shades of Grey ($570 million worldwide). The $150 million Jurassic World will easily add another billion dollars or more to Universal's coffers, and they still have Ted 2, Minions, the very well-reviewed Trainwreck, and the buzzy Straight Outta Compton.

It may come as a surprise that there were other films in release this weekend. Last weekend's winner Spy was number two, looking to hold after last weekend's somewhat disappointing $29.1 million opening. Considering the size of Jurassic World, it held decently, earning $16 million. The weekend-to-weekend drop came in at 45%, and again, considering the dino-size of its neighbor's opening, you have to chalk this up as a success. Spy has now pulled in $56.9 million domestically and had earned $56 million overseas before the weekend began.

San Andreas finished third but got kneecapped by Jurassic World. After a decent hold last weekend and a $25.8 million weekend take, the Dwayne Johnson starrer could only find $11 million this weekend. That gives the Warner Bros. earth-shaker a devastating weekend to weekend plunge of 57%. San Andreas has now earned $119.3 million domestically. It crossed the $100 million mark on Monday, its 11th day of release, and has also crossed the $300 million mark worldwide.

Insidious Chapter 3 got hammered as well, but that is likely more due to its genre than Jurassic World. Still, the blockbuster wouldn't have helped matters. After a debut last weekend of $22.7 million, the rug was pulled out from Insidious 3, with the Jason Blum horror film finding only $7.3 million. That's a drop of 68%, similar to Chapter 2's second weekend, when that film fell 66%, against, well, nothing. The $10 million horror flick has now earned $37.4 million domestically and another $15 million overseas.

Pitch Perfect 2 appears to be the counter-programming choice this weekend. After average weekend-to-weekend drops of about 50% over the last few weekends, the other Universal release in the top five dropped only 21%, earning $6 million. That brings the domestic total up to $170.7 million, and the overseas total is approaching $100 million.

Entourage also got dino-bit this weekend, but this one was falling off regardless. Entourage earned $4.3 million, declining a hurtful 58% as it does its Sex in the City thing. Entourage cost $30 million to assemble (and many millions more to market) and only has a gross to date of only $25.9 million.

Mad Max: Fury Road continues to hold onto a top ten spot this weekend. In its fifth weekend, Fury Road earned another $4.1 million and fell 47% compared to last weekend. The George Miller flick has brought its domestic total up to $138.6 million and its overseas total has reached $184 million. Unfortunately, it still needs another $75 million worldwide if Warner Bros. hopes to see a profit.

Avengers: Age of Ultron got ahead of Tomorrowland in its seventh weekend, as the Marvel juggernaut earned $3.6 million this weekend, and fell 43%. Ultron has now brought its domestic score up to $444.7 million and has an overseas cume of $910 million.

Tomorrowland falls to ninth as this disaster plays out before our eyes. The Disney disappointment earned only $3.4 million as it declined 52%. The domestic total for the $190 million film has reached a sad $83.6 million, while overseas box office has reached $90 million.

The Brian Wilson biopic Love & Mercy sneaks into the top 10 with $1.8 million. The Roadside Attractions film featuring John Cusack is playing in 573 venues, and now has a running total of $4.8 million.

On only 15 screens, Me, Earl & The Dying Girl managed to earn $210,000 this weekend for Fox Searchlight. That gives the well-reviewed indie a great start, given its $14,000 venue average. This one could quietly become a summer sleeper, given its 82% fresh rating at Rotten Tomatoes.

Overall, the box office is back on track after several weekends of sad sack results. Thanks to Jurassic World, the top 12 films this weekend earned a massive $263.9 million, the biggest top 12 ever for the month of June, beating the June 21, 2013 weekend that earned $232.4 million. Compared to last year, this year dominated, as last year's top 12 brought a mere $180 million. In fact, Jurassic World on its own beat the combined box office of all movies from this same weekend last year.

Now we turn to next weekend, where we know Jurassic World will have at least an $85 million weekend, and will join openers Inside Out and the buzzy Dope. Inside Out should be destined for $70 million, and Dope could surprise to the upside. These three films alone will outgross last year's top 12, so the box office seems destined for a summer box office roll.