Weekend Wrap-Up
Melissa McCarthy Puts the Boots to Insidious, Entourage
By John Hamann
June 7, 2015
BoxOfficeProphets.com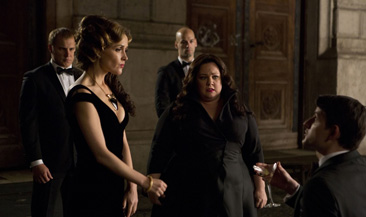 ---
Jurassic World can't come soon enough, as the top 12 films at the box office lagged behind last year for the third weekend in a row (I blame you, Tomorrowland). The box office needs a kickstart, and that's thankfully coming next weekend.

This is the only weekend between April 17th and July 10th where three openers compete over the same weekend. One of this weekend's openers got a head start on the rest, as Entourage opened on Wednesday, starting strong as it headed toward the weekend. Friday openers included Insidious Chapter 3, as Jason Blum throws out another cheaply produced horror flick and hopes for the same success as Chapter 2, which opened to $40.3 million back in September of 2013. The film with the best opportunity to break out was Spy, the new comedy with Melissa McCarthy and directed by the current flavor of the month, Paul Feig (Bridesmaids, the upcoming Ghostbuster reboot). Spy had everything going for it – good reviews, a star with a following and a studio with a marketing budget. With the power of these openers, everything should be good at the box office, right? Things are in no way terrible, but I still say Jurassic World can't come soon enough.

Melissa McCarthy's Spy is our number one film of the weekend, but it beat last weekend's number one, San Andreas, by only a few million, and was not number one on opening day, losing out to Insidious Chapter 3. Spy has been sitting at Rotten Tomatoes for months with a fresh rating at extreme levels, and all the talk about the movie was strong. So why, then, is it barely eking out a win over opening weekend?

First, let's look at the numbers: Spy got started with its Thursday previews and earned $1.5 million. That was the first big "uh-oh" for me. I would understand $1.5 million if it had been a true midnight opener, but Sony started showing Spy at 5 p.m. on Thursday, giving it a full screening more that Insidious Chapter 3 (showings started at 7 p.m.). However, Spy even lost that race, as the Jason Blum threequel earned $1.55 million. Spy also lost the Friday race, whether we include the Thursday preview amount or not.

On Friday, Spy earned $10.25 million, good for second place again behind the Insidious prequel, and while the opening day was better than Tammy, it couldn't match The Heat ($13.7 million first day) or Identity Thief ($11.1 million on a February weekend), McCarthy's last two big films. Still, it was able to conquer Insidious Chapter 3 over the rest of the weekend, finishing the frame with a weekend total of $30 million from a massive 3,711 screens. Given the reviews and the track record of the star (McCarthy opened The Heat to $39.1 million and Identity Thief to $34.6 million), this result simply isn't good enough; however, Spy may leg it out over the long haul (but I am leaning on the word may). It doesn't have to deal with any serious comedy contenders until June 26th when Ted 2 opens, but will live in the massive shadow cast by Jurassic World next weekend.

So what went wrong? Spy was certified fresh with a 95% rating, with only seven negative reviews out of a possible 150 – all this with more than a few Melissa McCarthy haters out there. In my opinion, the marketing campaign let this one down, as did the way it was presented to critics. First off, the marketing seemed confused about what they were selling – was this a Melissa McCarthy/Jason Statham action movie? Is there any comedy in this film? Save for a spot where McCarthy gets her scooter stuck in the cement, and the ad played out the entire scene, there were not enough hard laughs in the marketing material.

The campaign seemed to get desperate as the release date approached, but nothing really made me say, "Wow I have to see that." The campaign also ignored the awesome reviews this was getting. The whole thing was odd, and useless, as McCarthy could open a can of corn to a similar amount (see Tammy, which opened to $21.6 million, but opened on a Wednesday, earning $33.3 million over its first five days, with a 23% fresh rating).

In this day and age of social media and a collective consciousness that has a tendency to forget what it had for breakfast, Sony debuted Spy at the SXSW Film Festival in March, and reviews started to roll out from there. The film was 95%+ for four months, removing any razzle dazzle from the lead up to release. By debuting Spy so early, buzz was tougher to come by, especially with the sad sack marketing campaign.

Spy was likely never going to be a $60 million plus opener, but with the approach the studio took, it also eliminated any chance at a $45 million plus opening, leaving it struggling to earn $30 million plus over opening weekend. The budget here is $65 million – a number I see the studio having no trouble with given the B+ Cinemascore – it's what they are leaving on the table. Opportunity was squandered.

Second is not Insidious Chapter 3, despite winning Friday. Instead the spot goes to San Andreas, Dwayne Johnson's earth shaking surprise, which debuted to a strong $54.6 million last weekend. After a healthy Monday to Thursday, San Andreas got back to the real work on Friday, pulling in $7.7 million and using its A- Cinemascore to keep things moving. Yes, it was down 58% on Friday, but that could have been much worse, given that it is an effects-filled blockbuster. Over the weekend proper, San Andreas benefitted from an internal weekend multiplier of 3.3 to bring its weekend total up to $26.4 million. That means that The Rock's disaster film fell a not-bad 52%.

The hold for San Andreas brings its domestic total up to $99,1 million, and it will cross the $100 million mark on Monday, its 11th day of release. This is great news for a film that cost $110 million to make, as audiences seem to be embracing it, and a domestic finish beyond $165 million is definitely in the cards (depending on the chomp Jurassic World takes out of it next weekend). That means that San Andreas is only going to need $135 million or so overseas for Warner Bros. and Village Roadshow to see a profit. Given that the blockbuster has already pulled in $60 million, getting to $135 million is certainly not going to be a stretch. The Rock is now a superstar, and it will be interesting to see how his next film, Central Intelligence with Kevin Hart, does when summer comes around again next year.

That puts Insidious Chapter 3 in third, and for the umpteenth consecutive time, a Jason Blum film has a first day gross ($10.4 million) that outdoes its production budget ($10 million). Given that information, it is hard to come down on the weekend result, despite opening to almost $15 million less than the second chapter in this series, as Chapter 2 opened to $40.3 in September of 2013 (yes – September). This time around, Chapter 3 turned its $10.4 million opening day into a weekend of $23 million, again not bad, given the $10 million production budget. The big cost for a film like Insidious Chapter 3 has to be the marketing cost, which I have to assume is at least $30 million for a film like this. Despite the production cost, it is still going to need to earn $50 million stateside, and then try and eke out the same amount overseas in order to see a theatrical profit.

Entourage, despite a strong start on Wednesday, has to settle for a fourth spot finish this weekend. The bro-pack comedy earned a sizzling $2 million on Tuesday night from previews (notably more than Spy and the Insidious sequel did via Thursday previews), and turned that into a combined Tuesday/Wednesday of $5.4 million. While it was a good start, that opening day will be the high point of the entire run, as it dropped 63% on Thursday to $2 million, and then earned $3.7 million on Friday. Entourage went on to earn $10.4 million over the Friday-to-Sunday portion of its opening, and $17 million over its first five days.

Word is that Entourage cost $30 million to make, but like Insidious, must have had a bigger marketing budget than production cost. If it plays like the first Sex and the City – which it should – Entourage would end up with an opening-to-total multiplier of about 2.7, and finish at the domestic box office matching its production budget with earnings. That is not enough, and a key question is how Entourage will play overseas. I'm thinking it is going to need at least $60 million from over there for Warner Bros. to see a theatrical return, although I'm sure this one will play well on small screens following the theatrical run.

Mad Max: Fury Road finds itself in a battle with Pitch Perfect 2 for fifth, with the action film coming out on top. The Tom Hardy starrer earned another $8 million this weekend, dropping a not bad 44%. Fury Road has now had three consecutive less than 50% drops, which is somewhat surprising given the post-apocalyptic nature of the film and its high level of violence. It looks like Mad Max will match its $150 million production budget stateside, but is going to need more help than the $177 million it has so far from overseas theaters. It has earned $130.8 million stateside so far and did manage to cross the $300 million worldwide mark this weekend.

Sixth place goes to Pitch Perfect 2. Now in its fourth weekend, the a capella musical movie earned another $7.7 million, which means it was off 48% compared to last weekend. The running domestic total for the $30 million film has reached $161 million, which is impressive, but when adding the $80 million it has earned overseas, it becomes a little mind boggling. PP2 is in position to earn ten times its budget worldwide, which has to make those at Universal quite happy.

Tomorrowland continues its rocky drop toward obscurity. This weekend, Tomorrowland earned $7 million, off 51% from the previous frame. The $190 million Disney release has now earned $76.2 million stateside, and has a similar amount overseas, which means despite being out worldwide for two weekends, Tomorrowland has yet to earn the amount of its production budget back. This is going to finish as a large write-off for Disney, and will be a disaster that people speak about for years. Personally, I still don't know what it's about, and there's your problem.

Avengers: Age of Ultron continues its strong run this weekend, despite finishing eighth. Ultron earned another $6.2 million, dropping a not bad 46% as it stays in the top ten for the sixth consecutive weekend, and will likely stay in the top ten for a few more weekends. So far, Age of Ultron has earned a massive $438 million stateside, the ninth biggest total ever, and has crossed the $900 million foreign mark this weekend, boosting it to over $1.3 billion worldwide.

Ninth is Aloha, which continues to get hammered – at the box office and in the press. After opening to $9.7 million last weekend, Aloha fell 66% this weekend to $3.3 million, a devastating result for a drama. The critical reviews last weekend and Crowe's open apology letter in the press to Emma Stone this week have cemented the fate of Aloha. This one cost $37 million to make, and despite the low budget it is still going to be a disaster. Aloha has earned $16 million stateside so far, and has yet to open overseas.

Tenth is Poltergeist, which opened decently before disappearing. This weekend, against Insidious, Poltergeist earned only $2.8 million, falling 65%, which comes after a 64% decline last weekend. This one cost $35 million to make, and has earned $44.4 million at the domestic box office so far. It has also pulled in about $10 million overseas.

Love and Mercy, the new Brian Wilson film with Paul Dano, John Cusack and Elizabeth Banks, finishes the weekend decently, despite being out to only 483 venues. The Roadside Attractions release earned $2.2 million from those screens, giving it a venue average of $4,554.

Overall, the overall box office is down for the third weekend in a row, but that streak should come in an end next weekend. Last year during this same weekend, The Fault in our Stars and Edge of Tomorrow led the box office to $156.6 million, and this year's top 12 couldn't keep up. With Spy on top, the top 12 managed only $128.4 million, well back of last year, and the lowest top 12 amount for this June weekend since 2011. Next weekend, with Jurassic World leading the charge, the top 12 should have some muscle, but over the same weekend last year, 22 Jump Street and How To Train Your Dragon 2 combined for about $107 million.