Weekend Forecast for June 5-7, 2015
By Reagen Sulewski
June 5, 2015
BoxOfficeProphets.com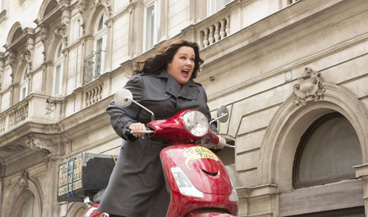 ---
It's a classic summer hodgepodge weekend, with three films hitting a few different sectors of the audience and with some familiar faces, but not a huge chance for a breakout performance – unless you count people breaking out of the theater after realizing they accidentally bought tickets for Entourage.

So yes, let's start with Wednesday's opener, Entourage, which catches up with the denizens of the "Sex and the City for Dudes" wish-fulfillment HBO series four years after the show ended, and about seven years after most people stopped watching it. Least-plausible-superstar-ever Vincent Chase (played by Adrian Grenier, shockingly available for this) is now getting set for his directorial debut while his bevy of hangers-on, including E (Kevin Connolly, shockingly available), Drama (Kevin Dillon, shockingly available) and Turtle (Jerry Ferrara, shockingly... well you get the idea), have bizarre, irrelevant and often sexist adventures of their own in Hollywood. Hyper-profane superagent Ari Gold (Jeremy Piven) gets what appears to be a redemption arc, implying some kind of fall from grace and also that we remembered or cared what happened to him towards the end of the show.

A first-ballot candidate for the "Seriously, Who Asked For This?" Hall of Fame, Entourage the movie is positioned as the first of a franchise of films, but in reality is something that's way past its sell-by date, with reviews that hammer its pointlessness and vapidity. Of course, the fallback position is that it's "for the fans," but who are those people, anyway? I suppose anyone wearing an Ed Hardy shirt is in that mix, as well as people astonished by the fact that Mark Wahlberg would do a cameo appearance in a film based on a series that he was the executive producer for and loosely based on his own life. It did, however, manage to open in first place on Wednesday to a little over $5 million, but considering that for Wednesday openers, that's often close to the largest day it'll ever have, it's not particularly encouraging. Look for this to open around $16 million over its proper weekend.

The real showcase film of the weekend is Spy, featuring the new queen of comedy, Melissa McCarthy. Her last four years has been a relatively unbroken string of success that has included several hit films, including a couple that shouldn't have been (these things happen when you're on a roll), an Oscar nomination and even indie success with last year's St. Vincent. Spy brings her back to Paul Feig's loving arms, the creative partner behind Bridesmaids and The Heat. In the film, McCarthy plays a desk-bound CIA an analyst called into action when two agents (Jude Law and Jason Statham) alternately go missing or have their cover blown, with hilarity ensuing as this clearly not-ready-for-active-duty (or is she?) agent gets thrust into the world of international espionage. Also along for the ride is Rose Byrne, another spectacularly funny actress, as a Russian agent, though she's largely relegated to a supporting role here.

Fox is essentially riding McCarthy's hot streak here, which includes turning awful-to-mediocre films like Tammy and The Identity Thief into big hits. With a real ad budget (including an all-time great poster) and extremely positive reviews, there's no reason to suspect that this won't rival or surpass some of her bigger films to date, which implies an upper 30s to low 40s opening weekend. The ads aren't spectacular, so it may require a bit of word-of-mouth to reach its potential, but for now I'm looking for a $30 million weekend.

Potentially rivaling it is Insidious Chapter 3, which really ought to be Chapter 0, seeing as how it's a prequel to the first two films in this haunted house series. With only a loose character connection to the first two films, it's resting a lot upon the shoulders of Lin Shaye and loyalty to the franchise name. It's worked for Saw and Paranormal Activity so it can probably work here, but its likely asking it far too much to match the $40 million opening of Insidious Chapter 2. I'd look for a weekend of about $23 million.

San Andreas outperformed expectations last weekend with a $54 million bow, proving once more that people like to see buildings falling down as generated by computer animation. Let's give this the typical event film drop-off, hitting around $25 million for its second weekend, on the way to about $140 million domestic.

A trio of films came in around $14 million last weekend, with Pitch Perfect 2, Tomorrowland and Mad Max: Fury Road all hitting the pin at this mark. Look for the latter to vault the other two thanks to better than average word-of-mouth, and give it $8 million from the next three days. Sequel plans, should George Miller want them, look solid as its domestic total is looking to be around $175 million, and international probably somewhere significantly north of that. Both of the other two films mentioned should hit $7 million this weekend, though with much different framing on those stories. The dirt-cheap Pitch 2 should approach $185-190 million, which is a staggering figure. Tomorrowland, meanwhile, will likely fail to crack $100 million and is destined for the "noble failure" pile.

Following along behind we have The Avengers 2 at around $6 million, and the Cameron Crowe flop Aloha at maaaaaybe $5 million if it can run ahead of abysmal word-of-mouth.