The Amazing Race 26 Recap: Episode 11
In It to Win It
By Kim Hollis and David Mumpower
May 18, 2015
BoxOfficeProphets.com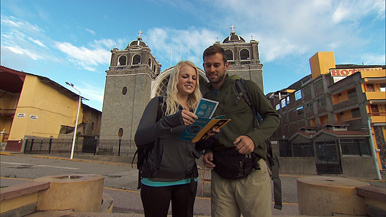 ---
Previously on The Amazing Race, there was a pointless non-elimination leg, and then the team that was the beneficiary of that non-elimination leg finished in last and ended their run on the Race. It wasn't even competitive, which has been the case for every single non-elimination leg this season. We're begging you, producers of The Amazing Race, get rid of the non-elimination legs.

We just guaranteed that tonight is going to be a non-elimination leg, didn't we?

With only four teams remaining, we're officially in a Beekman Boys scenario. All remaining teams have a 25% chance of winning, no matter how lousy you may think they are. Dismiss any of them at your peril. To wit, the defending champions are food scientists Amy & Maya, who we wouldn't bet on surviving during a running of the bulls in Pamplona.

We are through the survival phase of the show, and now competence takes a back seat to determination and no small amount of luck.

The first team to depart is the love 'em and hate 'em tandem of Hayley & Blair. (Hint: Blair is the one everyone loves. Hayley is the one that makes you wish your television included auto-mute functionality.) There will be no airport bunching this leg, as the clue indicates that the contestants should drive to Trujillo, Peru. Once there, they'll search for a mosaic made of 30 million ceramic tiles. There will be an additional clue within those tiles.

Blair demonstrates how he's handled the impediment of being teamed with Hayley. When asked to list her strengths, he doesn't skip a beat in praising her quiet nature. He compliments her on her whispering abilities, asking her if she'd had a previous job as a librarian. To her credit, Hayley is a great sport about it.

When Hayley & Blair realize how large the mural is, she says, "This mural is not kidding." It's clearly going to take some work to find their clue. Or wait, maybe not. Phil isn't even able to finish his sideline commentary before they find their mosaic tile clue piece and run away. They go to visit a clown with a clue bag (no, we're not kidding), and receive instructions that they can either Shake Their Hips or Make Some Bricks. In Hips, they have to learn a courtship dance. For Bricks, they have to work on an archeological site, creating 12 bricks to the satisfaction of a foreman.

Jelani & Jenny arrive at the mural and seem a little surprised that Hayley & Blair are gone already. Mike & Rochelle's taxi won't start, and they figure that the first two teams have such a significant lead that they're racing against Tyler & Laura, who are extremely tough competitors.

Speaking of Tyler & Laura, they've figured out that "Vroom vroom" translates in every country, and even though they're currently in last place, all they need to do is get into the final three. It's exactly the right attitude to have right now.

Jelani & Jenny have an initial moment of confusion, but they, too, find their tile. After dancing with the clown, they are one their way to the Detour.

Back over to our first place team, Hayley & Blair have chosen the Brick task. They watch the brick demonstrator and take an initial shot at making a brick, but it's pretty lopsided. Blair says that they should do 12 bricks as best they can and see what happens.

The car troubles are getting worse for Mike & Rochelle. Their taxi is making horrible noises, and their driver barely avoids driving them straight into oncoming traffic. They are rightfully terrified and concerned about their future.

For their Detour, Jenny & Jelani have chosen to dance. They get all dressed up in traditional Peruvian attire and begin their lesson.

The brakes on the taxi for Mike & Rochelle are squealing loudly enough that they're putting their fingers over their ears. After a few moments of the noise, the drive finally pulls over. When they get out, Mike & Rochelle see that the car is smoking from the overuse of the brakes. Yikes.

Laura & Tyler pass them as their own taxi nearly gets clipped by a giant bus. What is with these drivers? Laura says that she had just been praying for someone to get a flat tire. As we mentioned at the beginning of the recap, luck can play a huge role in these final two legs.

Theoretically, Mike & Rochelle's driver is trying to get them some help, and Laura & Tyler feel kind of guilty about being happy for their misfortune. They wish it was Hayley & Blair on the side of the road instead, because losing a million dollars to them would be the absolute worst.

Back over to Hayley & Blair, the foreman has come to examine their bricks, and all but three are faulty. They have to start again, but pay close attention to the process so that they can properly create their remaining bricks. Their next one is perfect, and they're on the move.

A new taxi arrives to rescue Mike & Rochelle, but they're obviously in trouble. If this trend continues, there will be no dating teams in the final three of The Amazing Race.

With their bricks complete, Hayley & Blair now must deliver them. At first, they overload their wheelbarrow and it falls over. They decide to take half of them and return for the other half.

Jenny & Jelani make their first attempt at an official dance, but they have just a few flaws. They'll have to give it another go.

At the mosaic wall, Tyler & Laura are trying to find their clue quickly enough that they can get way ahead of Mike & Rochelle. The dating couple, of course, is hoping that they stumble.

It's 94 degrees at the brick delivery area. Blair is struggling a little bit with the wheelbarrow, so Hayley offers to take over. She does a fine job of it, and communicates really well with him when it comes time to switch back off.

Mike & Rochelle have found the wrong clown, so Tyler & Laura are easily able to depart the mosaic area before they can even arrive.

Despite their blisters, Hayley & Blair have finally delivered all their bricks and receive a clue that directs them to Huanchaco, which is apparently a popular beach spot in the area.

After knocking over the clown's balloons, Mike & Rochelle are handed some magnifying glasses to help them find their tiny mosaic clue. Tyler & Laura have chosen "Brick" and seem to be off to a good start.

At Huanchaco, the Road Block is "Don't Rock the Boat," which requires the teams to carry a boat called a caballito across the beach. Once they have arrived at their final destination, one of the two team members must surf on the boat to a clue box.

Tyler & Laura and Mike & Rochelle are both at the "Brick" task, but the latter team is struggling mightily. They decide to swap to the dancing task, which concerns Tyler & Laura a bit since some of their bricks are not quite as perfect as they ought to be.

Finally, Jenny & Jelani have completed their dance, and they're all smiles as they head toward the caballito area. Blair is an experienced paddleboard surfer, so he confidently hops on the boat. He quickly learns that a caballito is nothing like a paddleboard, as he falls off numerous times.

When they arrive for their dance lesson, Mike & Rochelle realize that this task will be a lot more challenging than any of their previous dance tasks. They have concerns.

Tyler & Laura have four bricks squished by the foreman, so they're having to do just a bit more work. Blair finally has the balance for the caballito, so he grabs their clue and heads back to shore. Jenny & Jelani are headed for the surfing area, too.

Instead of taking half the bricks at a time, Tyler tries to wheel all 12 of them to the delivery location (all with Laura's encouragement). They soon realize that this is a really hard task, as they have a long way to go yet.

On their first attempt at the dance, Mike & Rochelle fail. They have the steps down, but not the presentation. Blair & Hayley are headed for the Pitstop.

Tyler & Laura have delivered their bricks, but when Laura puts them on the ground, she drops one and breaks it. They have to go all the way back to build another one. Fortunately for them, Mike & Rochelle have failed once again at the dance task.

Over at the surfing task, Jelani is getting his butt kicked. He struggles to stay onboard the caballito. Jenny laughs (but realizes that she shouldn't be).

The final brick has been delivered for Tyler & Laura, so they're headed off to start surfing. Mike & Rochelle are still dancing, though. They decide that they need a bit more practice before trying again. Rochelle is clearly demoralized, but says "anything is possible if we don't give up."

Jelani creates his own technique for the caballito, leaning back on it rather than sitting on top of it. He is slow, but he gets his clue.

Hayley & Blair are checked in as Team #1. They've won a trip to India, but more important, Phil tells them that they are one of the teams that will be racing in the final leg. Jelani & Jenny get the same news.

For the surfing task, both Laura and Rochelle are required to do the Roadblock since Tyler and Mike have done the maximum possible. Laura gets off to a great start before being hit by a substantial wave and knocked into the water. Still, she seems to have great technique and retrieves their clue. They are off to the Pitstop.

Rochelle, on the other hand, has absolutely no coordination for the task. She's crying and saying she can't do it, but Mike reminds her that she's done stuff she says she can't do throughout the race.

At the Pitstop, Tyler & Laura are checked in as Team #3. Phil tells them that they are "one of the teams that will be racing in the final leg." At this point, we can't help but notice his specific wording. It's "final leg," not "final three."

Determined to finish the surfing task, Rochelle takes it on and gets it done. There's some tricksy sad music, and Phil is sad to tell them that they are the last team to arrive. However, he also tells them that they are one of the teams that will be racing for $1 million, and that the race continues now. Their clue sends them to Dallas, but Phil warns them that he will be eliminating one team before the end of the leg.

Okay, so it's technically not a non-elimination leg, but still. They seem to be significantly behind enough that they're going to struggle to catch up.

Stay tuned for the recap of the finale of The Amazing Race. It's been a good season with strong teams. We're looking forward to seeing who pulls off the win.