Weekend Wrap-Up
No Pursuit of Age of Ultron
By John Hamann
May 10, 2015
BoxOfficeProphets.com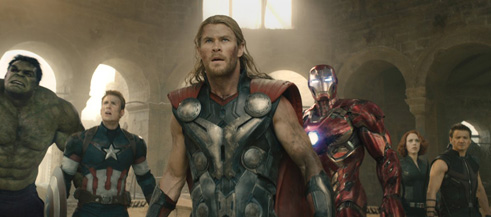 ---
The second biggest opening of all time is followed by the second biggest follow-up frame of all-time. Avengers: Age of Ultron is super huge, but is also living in the shadow of its older brother. The Internet needs to quick knocking it for that.

After debuting last weekend to $191.3 million AND being a sequel, Avengers: Age of Ultron was going nowhere but down. The first film was a phenomenon, and the reception Age of Ultron is getting as it relates to it box office is almost sad. Bigger than all films released ever save one, Age of Ultron is being treated like Rodney Dangerfield – not getting a lot of respect through its first 10 days of release. Providing somewhat laughable competition this weekend is Hot Pursuit, the new "comedy" with Reese Witherspoon and Sofia Vergara; however, ugly reviews and a poor Cinemascore kept it down this weekend. Last year over the same weekend, the box office stayed hot thanks to a $49 million opening weekend for Neighbors. That's an element that is missing this weekend, leaving the overall total lagging despite the strength of Ultron.

Our number one film for the second straight weekend is of course Avengers: Age of Ultron, which was looking to hold decently against the $191 million opening weekend in the last frame. The original Avengers dropped only 50% in its second weekend, which really shows the behemoth that it was – a sequel was never going to repeat that feat. Most big money sequels open big and then drop 55-65%, mostly due to the fact that so many people saw the film in the first few days. I think a better comparison for Age of Ultron is Iron Man 3, as it is a sequel, and we can stop comparing a sequel a to an original. Iron Man 3 debuted to $174.1 million over the same weekend as The Avengers and Age of Ultron and fell 58% in its second weekend, earning $72.5 million. This example is good result for a blockbuster sequel, and Age of Ultron would be looking for a drop in a similar area to find success.

On its second Friday, Avengers: Age of Ultron earned $21.3 million, off a mere 75% from its opening Friday of $84.4 million. The problem is that the $84.4 million was really a combination of Thursday and Friday (the term Thursday preview is extremely misleading), and the real Friday figure was $56.9 million once the Thursday dollars are removed. That means the real Friday-to-Friday drop was more like 62.5%, putting Ultron in position to drop less than 60%. To have the second biggest second weekend ever, Age of Ultron needed to earn more than Avatar's $75.6 million, or decline less than 60.5%.

In the end, Avengers: Age of Ultron continued to dominate, earning $77.2 million over the weekend proper, and dropping a very Iron Man 3-like 60%, giving it the second biggest sophomore frame ever, behind only The Avengers' $103 million second frame. The Marvel sequel has now earned a sizzling $312.6 million after only 10 days of release, tying The Dark Knight for second fastest film to get to $300 million. Ultron has also earned more than half a billion from overseas theaters and has yet to open in huge markets like China and Japan. It won't be long before Ultron gets to that $1 billion mark worldwide, and who knows where it finishes up. Domestically, Ultron won't meet the $623 million made by the Avengers, but it should be at least a top 10 finisher all-time.

Finishing second is Hot Pursuit, which is neither hot nor giving the Avengers much pursuit. The Reese Witherspoon/Sofia Vergara comedy could not get over its hideous reviews, and word was out before this one even opened. It is 2015, and in the age of the smartphone, Hollywood can't get away with a film that is 6% fresh anymore (unless the word Blart is in the title). Only six out of a possible 97 reviews were positive at Rotten Tomatoes, and the site's top critics liked it even less at 3%, with only one top critic putting a thumb in the air. The result was a weekend total of only $13.3 million, a result on the low end of Reese Witherspoon's comedy resume, only higher that her last bomb, How Do You Know, which tanked when it opened to $7.5 million in 2010.

Warner Bros. put up $35 million to make Hot Pursuit, but then reduced its risk by selling off percentages to other companies like MGM. That was a shrewd move for this one, as it will be lucky to earn $30 million domestically and then will need to see $40 million plus overseas in order to see a profit. It won't earn three times its opening, as the Cinemascore, like the reviews, was awful at a C+. Still, that Cinemascore was better than How Do You Know's C-. This result is unfortunate, as it was a chance for Vergara to jump from the small screen to the big screen, and a chance for Witherspoon to redeem her comedy audience after that 2010 disaster.

The Age of Adaline finishes third, likely thanks to the implosion of Hot Pursuit and Mother's Day. After the Ultron weekend where it earned $6.2 million and fell 53%, Adaline recovers nicely this weekend, earning a still small $5.6 million but dropping only 10% this weekend. Made for $25 million, Adaline should finish a small success for Lionsgate, as it has earned $31.5 million stateside and could finish with as much as $45 million. Overseas, it has made just under $5 million, but only from a handful of markets.

Furious 7 is fourth, and it is simply running out of gas in its sixth weekend. Furious 7 earned another $5.4 million, falling 21% from its $6.6 million take last weekend. With its $1.46 billion worldwide gross, Furious 7 remains fourth all time, and needs to get to $1.51 billion to pass The Avengers. Domestically, its updated take of $338.4 million pushes it into the top 30 of all time, as it passed Guardians of the Galaxy, Alice in Wonderland, Spider-Man 3 and Hunger Games: Mockingjay Part 1 this weekend. With Pitch Perfect 2 on deck next weekend, Universal's roll appears ready to continue, as tracking has Pitch 2 opening in the $40 million area.

Paul Blart 2: Mall Warrior is fifth this weekend, and after falling a hurtful 60% last weekend when Ultron tried to take over every theater in the country, things went back to normal this weekend. The comedy earned $5.2 million, falling only 12%. As stupid as it is, Paul Blart makes money, as it carries a $30 million budget and has a domestic gross so far of $58.1 million. It has earned another $25 million overseas.

Ex Machina brings its venue count up to 2,004 screens this weekend and earns an uptick in business because of it. The Alex Garland sci-fi earned another $3.5 million, up 52% compared to last weekend. This one cost about $16 million in US dollars to make, and has earned $15.7 million stateside. It is approaching $10 million from overseas theaters. For upstart distributor A24, Ex Machina has proved to be the kind of success a new company like A24 needs.

Seventh is Home, from DreamWorks Animation and Fox. After earning $3.5 million last weekend, Home was trying to hang on for another weekend. Hang on it did, as the animated feature earned $3 million, falling a much better 14%. Home has now earned $162.1 million domestically against its $130 million budget, and has picked up a similar amount overseas.

Woman in Gold takes eighth place with an increase over its previous frame's box office of 3%. The Helen Mirren drama earned $1.6 million from Friday-to-Sunday, and now has a running domestic total of $27 million. The film also adds almost $7 million from overseas venues.

Disney's Cinderella is ninth following a strange weekend where it was basically flat with the weekend before, despite all the other films in the top ten dropping more than 50%. This weekend, Cinderella has a more normal weekend, earning $1.6 million and dropping 43%. The $95 million release has now earned $196.2 million, and should will itself over the $200 million domestic plateau. Worldwide, Cinderella has earned over a half-billion, so you can expect to see more of these animated to live action adaptions coming soon.

Tenth is Unfriended, which is quickly on its way out. Unfriended earned only $1.4 million, falling 36%, which follows up on a weekend where it fell 64% against the previous frame. Luckily, this one was made for about a million, so Universal will do well with the $30.9 million it has earned so far.

Overall, because of a lack of opener support, Age of Ultron was not able to do it all itself, and the box office is lower compared to last year. The top 12 earned $122.5 million this weekend, which doesn't compare favorably with last year's top 12 of $126.8 million, but let's just call the weekend a breather. Next weekend brings the next Mad Max film and Pitch Perfect 2, two films forecast to earn $40 million when they debut. Add another $40 million from Age of Ultron, and it becomes an interesting weekend.