Weekend Forecast for May 8-10, 2015
By Reagen Sulewski
May 8, 2015
BoxOfficeProphets.com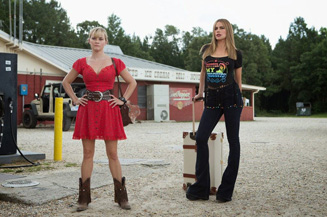 ---
It's one week after the release of what was undoubtedly the biggest release of the summer season, and no one's quite sure what to make of it. One thing we know for absolute certain – this weekend's new films sure ain't gonna knock it off the top of the charts.

The sole new film to reach everyone this weekend is Hot Pursuit, a female buddy comedy that seems designed to test out that hypothesis everyone's working on that women can be funny. Starring Reese Witherspoon as a buttoned-down cop and Sofia Vergara as witness under her protection (ohhhhh, *Hot* Pursuit. I get jokes), it's an odd-couple road movie in the vein of Midnight Run and Planes, Trains and Automobiles, while not being remotely worthy of being mentioned in the same breath as either of those films. Dodging corrupt cops and drug lord henchmen on the way to have Vergara testify against her husband, it's inoffensively outrageous comedy, which is to say no comedy at all.

With Witherspoon essentially playing Tracey Flick and Vergara playing Gloria Pritchett, it's easy to see how the marketing department came up with this one. The results onscreen however, are certainly less than inspiring, and the stale-looking comedy may appeal to exactly no one. Comparisons immediately run to 2013's The Heat, which established the bona fides of Melissa McCarthy as a box office draw and took in almost $160 million domestically. The magic ingredient that's always missing in these copy cat films is the films actually have to be, you know, good, and even the kindest reviews of this film call it mediocre and that faint-praising-daming phrase "watchable," as if to compare it to something that sears the eyeballs with its very photons. But, better than that, so all is OK!

Although it's been fairly heavily promoted, producers might want to reconsider that, as every ad probably reduces its box office by a few thousand dollars. Still, Witherspoon is a plausible lead, and Vergara is very recognizable actress/bombshell so it's likely to bring in some people based on just that. Plus, you know, Paul Blart, so anything's possible. However, I'd expect this extremely tepid looking comedy to open to around $12 million this weekend.

Opening in national release is The D Train, an independent comedy starring Jack Black and James Marsden. The organizer of his high school's 20 year reunion, Black's character hits on the idea of working to get the most famous graduate from their year (Marsden), a marginal actor with a current sunscreen lotion commercial, to come and thereby boost the attendance of everyone else. Working in a meeting with him under cover of a business trip, Black comes off like a crazy stalker but after a blackout night drunk at the bar with Marsden, he mysteriously gets a yes and saves the reunion. Implied in all of this is that ... something has happened that's a little out of the ordinary. Reveling in a dark view of popularity and nostalgia, it's a bit of an alienating film with a limited appeal and with just over 1,000 venues, should find itself earning only around $3 million this weekend.

This brings us to The Avengers: Age of Ultron and its somehow disappointing $191 million debut. This, only in comparison to 2012's $207 million return for the first Avengers film, which still safely stands as the all-time record. What we've seen is that it's difficult to sell the most special piece of entertainment for a second time, and the novelty of bringing all of Marvel's properties together in one film didn't carry over as well for the sequel. The $623 million domestic of that film almost certainly won't be matched, although the international figures might very well push it past the $1.5 billion figure it earned worldwide. For this weekend, we can expect a sizable drop, comparable or greater to the chop in half that The Avengers took last time around. Look for a win with $90 million this weekend.

Thanks to a combination of the massive opening of Avengers and the habit for Hollywood to run scared from big weekends like this, no other film is likely to earn more than $4 million this frame. This includes massive hits like Furious 7, edging in on $350 million domestic, and mediocre performers like Age of Adeline, which will struggle to hit $40 million. The rosters will be filled back up eventually, but with May's lean slate in the actual number of films released, we're going to see a lot of single-digit earners in the charts for a few more weeks.