Weekend Wrap-Up for May 1-3, 2015
Age of Ultron Big – But Not Biggest
By John Hamann
May 3, 2015
BoxOfficeProphets.com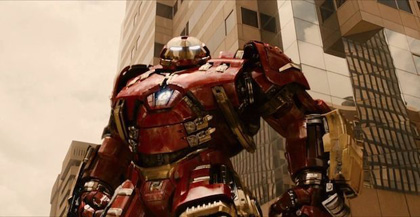 ---
Avengers: Age of Ultron is officially huge, but you already knew that. How big is it? It is one of the two biggest openers ever, and keeps Marvel on top with its complete and total dominance over everything else in the movie world.

Avengers: Age of Ultron is the sequel to the biggest opener ever (the original earned $207.4 million over the same weekend in 2012) and it got started with a bang on Thursday night. Age of Ultron earned $27.6 million from previews, bigger than the original Avengers ($18.7 million) and our recent $147 million opener, Furious 7, which earned $15.8 million from previews. It's hard to believe, but Age of Ultron's Thursday preview gross almost beat the entire weekend gross of The Matrix, which opened to $27.8 million over three days – a debut weekend that was considered big at the time. My, how things have changed – as The Avengers: Age of Ultron appeared to be on its way to a new record – for the franchise and the overall box office.

The combined Thursday preview/Friday gross was reported at an awesome $84.5 million, again a truly impressive number. That beats the original Avengers, which drew $80.8 million on opening day, but misses the top spot again, falling behind the daily record holder Harry Potter and the Deathly Hallows Part 2, which had an opening day of $91.1 million. That first day gross for Age of Ultron almost matches the entire weekend of Thor: The Dark World ($85.7 million), and two of the bigger openers of 2015, Fifty Shades of Grey ($85.2 million) and American Sniper ($89.3 million). It earned almost $10 million more on Thursday/Friday than any other non-Avenger property, as third is The Dark Knight Rises at $75.8 million.

The Friday figure was just as impressive as the Thursday figure, but it shows that audiences are changing how they attend on opening weekend. The original Avengers earned a combined Thursday preview/Friday amount of $80.8 million. The "true" Friday figure reduced that amount by $18.7 million, giving the original a true Friday of $62.1 million. This time around, pulling the Thursday gross out of the combined $84.5 million, we get a true Friday of $56.9 million, 8.4% lower than the original. This tells me that the Thursday preview is changing the way these blockbusters are viewed, with more treating the Thursday like it's the new opening night. They no longer open Thursday at midnight (like the original Avengers did). Instead, they start at 7 p.m., allowing for at least two screenings prior to midnight.

On Saturday, the original Avengers improved on its "true" Friday amount, moving from $62.1 million on Friday to $69.6 million on Saturday – an increase of 12%. With Age of Ultron, the Saturday figure came in at $57.2 million, meaning that it held steady compared to its true Friday of $56.9 million. The Avengers has the biggest grossing Saturday ever, while Age of Ultron finishes behind The Avengers and Iron Man 3, which earned $62.3 million on its first Saturday. The original Avengers then fell 18% from Saturday to Sunday, earning $57.1 million. Leaving the Thursday/Friday amount intact, the original Avengers had an internal weekend multiplier of 2.57 – lowered due to the Thursday preview. If the sequel maintained that multiplier, Age of Ultron would be looking at a weekend gross of $217 million. However, given the trending from the Thursday preview (up) to Friday (down) to Saturday (down), it didn't look like that multiplier would hold.

Over the weekend proper, The Avengers: Age of Ultron earned a remarkable $187.7million from 4,276 venues, giving it an average of $43,886. The weekend result means that Age of Ultron had a weekend multiplier of 2.22, which tells us that the sequel – like all good sequels – was much more front-loaded than the original, but these two films performed remarkably similar to each other. The Avengers: Age of Ultron becomes the second biggest opener of all time, at least until December when Star Wars: The Force Awakens takes a shot at the title.

How did Age of Ultron manage to scale the same wall as its predecessor? It used the exactly the same model – big, expensive movie, several A-listers, in a well-made product. They ticked all the boxes again, even though they did take a very slight step backward this time around.

Instead of being 92% fresh like the original (84% from "top critics"), the sequel is 75% fresh from all critics, and 73% from RottenTomatoes' "top' critics." The original received an A+ Cinemascore; the sequel earned an A. Reviews and Cinemascores were not going to affect opening weekend, but these results could crimp Ultron's legs somewhat. The Avengers ended up finishing as the third biggest domestic finisher ever, with a domestic take of $623.4 million. I wouldn't be surprised to see Age of Ultron finish short of that. Where Disney can make up some ground is on the foreign side. The original earned $895 million from overseas theaters, which represented 59% of its worldwide gross. With $439 million in foreign grosses so far, Age of Ultron looks like it will be out-performing the $1.52 billion worldwide gross of the original.

There were other films in release this weekend, they simply earned almost $200 million less than the number one film. Due to the size of Age of Ultron, no films are spared from the behemoth. When the original Avengers opened, the average drop in the top 12 that weekend was a searing 57%. Second spot starts that parade this weekend with The Age of Adaline, the Lionsgate release that got started with $13.2 million last weekend. Adaline was hoping to play as counter-programming this weekend against Age of Ultron and boxing. The move worked somewhat, as Adaline earned another $6.2 million this weekend, dropping 53%. Made for $25 million, Adaline has now earned $23.4 million.

Third place finisher Furious 7 falls 66% this weekend from $17.8 million in the previous frame to $6.1 million this weekend. Universal's timing on Furious 7 was perfect. It opened big on April 3rd, and got to romp in the number one spot for four consecutive weekends. It had pulled in $324 million domestic before the weekend began, so it is facing strong competition just as it begins to wane. Now, the $190 million film has earned $330.5 million stateside and a ludicrous $1 billion (and counting) from foreign theaters. The worldwide gross has now reached $1.35 billion, putting it fourth all-time.

Fourth is Paul Blart: Mall Cop 2, which earned $5.5 million this weekend. That puts the Kevin James release off 63%, in line with expectations. The $30 million comedy from Sony has a gross to date of $51.2 million, and it has picked up another $18 million overseas. This result indicates that Sony is going to make out okay financially, but we may spared another sequel. Keep your fingers crossed.

Fifth is DreamWorks Animation's Home, which has now been in release for six weekends. Home earned $3.3 million this weekend, off 59% from the last frame. Home has had a good run domestically, earning $158.1 million; however, the $145 million earned overseas so far is a bit of a disappointment. These numbers sound big enough, but with a price tag of $135 million, it needs another $100 million in worldwide sales to see a theatrical profit.

One film in the top 10 did have a tiny drop. Sixth place finisher Cinderella declined only 15% from the previous frame for a weekend total of $2.4 million. The Disney live-action fairy tale adaptation has now earned a wonderful $193.7 million from domestic venues, and adds another $284 million from overseas locations.

Ex Machina falls to seventh, and the nerdy sci-fi flick is robbed of its audience by the fanboy-driven Avengers. Ex Machina earned $2.2 million and fell a nightmarish 58% from its $5.3 million take last weekend. The good news is that word-of-mouth could scoop this one up and carry it for a few weeks. So far, the Alex Garland critics' choice has a domestic gross of $10.9 million, and the worldwide amount has reached about $20 million against a $16 million budget.

Unfriended is eighth this weekend, as the mini-budget horror flick continues to drop heavily. Unfriended and its $1 million production budget earned $2 million this weekend, off a woeful 68% compared to last weekend when it fell 61%. Universal doesn't care – it has earned $28.5 million so far against that tiny budget.

The Longest Ride is ninth, and it's starting to look like the Nicolas Sparks era might be coming to an end. Ride earned $1.7 million this weekend, dropping 60% and bringing the cumulative total up to $33.2 million. This one was made for $34 million, and doesn't have the legs or foreign push to get it to profitability. The previous film, Best of Me, suffered the same fate, so hopefully that will drive these films underground.

Tenth is Woman in Gold, which got robbed of its screens. The Helen Mirren starrer could only muster $1.68 million this weekend, which gives it a decline of 50% due to the loss of 855 screens from its run. The $11 million Woman has now earned $24.6 million stateside, and has another $5 million plus from overseas theaters as well.

Overall, this weekend came in quite a bit lower than the weekend when the original Avengers opened. The original took the top 12 to $249.7 million, and the sequel came in with $221.1 million. That is the biggest top 12 of the year, and the biggest since Memorial Day 2013, when Fast and Furious 6 earned $97.4 million and three others earned more than $30 million. Next weekend, Age of Ultron will face off against Avengers history again, as it attempts to be the second film to earn more than $100 million in its second weekend (and Hot Pursuit opens as well).