A-List: Top Five Anticipated Summer Movies
By J. Don Birnam
April 30, 2015
BoxOfficeProphets.com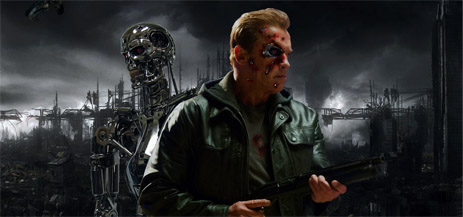 ---
The summer movie season officially begins on Friday, and it promises to be a fun-filled ride with the usual blockbusters and potentially surprising openings. Don't tell our friends in the Furious franchise, of course (who have single-handedly redefined the meaning of the summer blockbuster by likely making more money than most of the movies that will come out in the summer of 2015) that this year's blockbusters are yet to come out. Still, it is romantically traditional to think of the May 1st through Labor Day period as the traditional time in which studios put out their expected audience pleasures, movies that will make big splashes opening weekend in theaters across the country and the world.

So what movies am I most looking forward to this summer? I have an inkling which movies most fans are looking forward to, and there is some overlap but not an exact correspondence. Luckily, this time around the rules are simple: if the movie opens in wide release in the United States between May 1st and Labor Day, it qualifies.

I always complain, as you know, about the glut of sequels, prequels, remakes, and comic book movies. Summer of 2015 is no exception, with not less than a half dozen such movies vying for top headlines this season. Yet, among those there are always at least one or two that leaves you feeling like the project was worth it overall. There are also at least one or two seemingly original entries that have promise (and are likely candidates for a sequel in the near future). My top five list, thus, consists of a mix of such flicks.

Some honorable mentions before we get started have to include Pitch Perfect 2 (somewhat of a guilty pleasure), Magic Mike XXL (a really guilty pleasure), Mad Max (I'm intrigued by the reboot of the series, but not so excited as to put it in the top five), and the next entry in the Disney-ride series, Tomorrowland. Alas, there are at least five other movies I'm much more excited about this summer season. There are also some dishonorable mentions: is anyone really looking forward to the next comic book reboot, Fantastic Four? I expect this movie to be this year's Green Lantern and fail miserably. The next Mission: Impossible movie also looks like it can be a miserable failure, but Tom Cruise's last few action movies should prove otherwise.

Without further ado…

5. Jurassic World

Against my better judgment, I am really looking forward to the fourth entry in the Jurassic Park series. The last movie, Jurassic Park III, was flat out terrible. And, to be honest, nothing in the trailer suggests that this installment will be anything different than, say, Jaws 4: a bigger, bloodier, more exaggerated chapter with little in terms of originality and nuance to make it worth your while.

And yet, Jurassic World is on the list because I still think of the original as such a masterpiece of technical prowess and sheer audience entertainment that I cannot be kept away from this series. Jurassic World is set for release on June 12th, and features an all new cast, spearheaded by Chris Pratt. The Zero Dark Thirty star has proven his worth and draw as a summer attraction with last year's surprise hit, Guardians of the Galaxy, and the people behind the Jurassic franchise are surely hoping that he can bring the magic touch to this otherwise fading series. The fact that it has been 14 years since the last entry in the franchise is something studio execs are no doubt banking on to draw audience interest, but it is as legitimate to wonder whether the long pause has cooled people's memories of the movies.

Still, analysts currently expect the movie to take in close to $200 million, which would put it ahead of Jurassic Park III's haul of over $181 million in 2001. I, for one, will look to be adding to its total.

4. Terminator: Genisys

Speaking of franchises that should give me no reason for hope, the fifth chapter in the Terminator saga is also one of my most anticipated movies of the summer season. I suppose the reasons are self-evident: the franchise is among my favorites because of the futuristic/end of world dystopian world they inhabit, the time travel component, and the sharp directing by James Cameron of the early entries. The whole concept of avoiding the inevitable destruction of humankind is endlessly appealing.

This time around, however, it seems as if the filmmakers are rebooting the franchise with a new or alternative timeline that centers around Sarah Connor as a young woman. The risk that this strategy poses, of course, is that old fans will be turned off, and a new generation will simply be uninterested in a franchise that dates back to the 1980s. On the other hand, execs are likely counting on the return of Arnold Schwarzenegger to revitalize the movie's appeal.

Set to open over Fourth of July weekend on July 1st, analysts currently expect this movie to haul in just north of $100 million, well short of the $120 million that Terminator: Salvation took in back in 2009. Such a result would surely disappoint the studio, which is undoubtedly hoping to build more buzz around the project as the summer progresses. I, however, am already sold.

3. Inside Out Pixar's latest movie, Inside Out, is my third most anticipated movie of the summer. As the makers explain, the movie features the story of a girl's brain as told by different characters (emotions/thoughts inside her, so to speak). The movie is directed by the same guy who directed Pixar's wildly successful Up and is set for a release date of June 19th.

What can I say? I am hopelessly biased in favor of the touching, light-hearted, brilliantly funny, and singularly imaginative projects that Pixar has to offer. Where the sappy pitfalls are plenty, the corny stereotypes abound, and the temptation to turn in facile, thoughtless fare abounds, Pixar has always proven itself adept at surprising audiences with new imaginative and refreshing themes, many of which live action films struggle to convey. From The Incredibles to Finding Nemo, Pixar/Disney collaborations are brilliant more often than not, and I have very high hopes for Inside Out.

The word on the street is that this movie will make around $150 million, but do not believe it. I'm betting (sight unseen, of course) on this one being one of the summer's sleeper hits. And I'll take all my friends to see it if I have to!

2. San Andreas

Well, I had to include a guilty pleasure on the list. Other than musicals, disaster films are the only genre for which I have done both best and worst of lists. Unsurprisingly, as musicals and disaster films are among my favorite movie styles.

Well, this Earthquake style-disaster film has all the trappings of a corny, formulaic, over the top disaster movie, and I simply cannot wait. These movies have devolved from featuring respectable actors such as Robert Duvall and Vanessa Redgrave (Deep Impact) to teenagers and heartthrobs such as Jake Gyllenhaal (The Day After Tomorrow) or actors in incredibly silly roles (Woody Harrelson, 2012). Now, however, a new low has arguably been reached, as Dwayne Johnson, The Rock, is meant to spearhead this project from complete joke into respectable fare.

It won't happen.

San Andreas is set for release on May 29th, the weekend after Memorial Day, and is currently expected to make a modest $120 million. That sounds about right, as The Rock will undoubtedly have a strong pull among the demographics that follow him.

But regardless of what it does in the box office, how badly it gets panned by critics (and, believe you me, it will get skewered) and how silly the movie looks, I will not be able to stay away from the over-the-top destruction scenes, the noble and trite sacrifices, the family reconciliations, the animals warning of danger, and all the other stereotypes that we know define this hysterical, entertaining, and exhilarating genre.

Bring it on (and bring on the sequel!).

1. Avengers: Age of Ultron

But, I must admit, the movie that I'm most excited about this summer is the one that will start it all off and that is likely the most anticipated in most movie-goers' lists.

If you had told me a few years ago that I would be most looking forward to the Avengers sequel, I would have told you that you were out of your mind. But, after seeing the first one, I have to admit I'm sold on the overall concept of the franchise. To be sure, seeing Chris Evans and Chris Hemsworth and Jeremy Renner together on screen is part of the appeal, as is the story about how much the Avengers will break box office records by.

But the story itself was solidly entertaining the first time, the effects were dazzling, and the movie overall avoided the tedium and predictability of many in the comic book genre. Most important, I didn't feel like I needed to understand the comic books to understand the film.

The Avengers opens, as I'm sure you know, this Friday. It has already opened in many overseas markets and made over $200 million, a sure sign that it is headed for a similar showstopper here in the U.S. Indeed, if Avengers 2 shatters the $207 million opening weekend mark it set in 2012, it will be an astonishing landmark in the history of box office tracking, and could put it well on pace to shatter other movie records. Titanic's $600 million mark is not out of the question.

It remains to be seen, of course, if the movie is worth all of the hype. And perhaps it has constructed shoes too big to fill. But the hype and the shoes are there and, until shown otherwise, this is my (and most of yours, it seems) most highly anticipated movie of the summer 2015 season.