The Amazing Race 26: Power Rankings
By David Mumpower and Kim Hollis
April 30, 2015
BoxOfficeProphets.com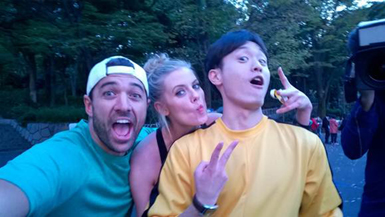 ---
A lot has changed in the Power Rankings, and not just because we kind of forget about them after the NCAA Men's Basketball tournament sabbatical. A couple of the teams we believed were strong contenders, such as the Olympians and Jeff & Jackie have failed to advance. The good news is that we like most of the teams, which means this is one of our favorite casts in the history of the show.

1) Tyler & Laura

While they struggled in the middle portion of the season, this blind date couple has come into their own down the stretch. After winning the two most recent legs, we have to consider them the favorites in the two most important categories this season. The first one is that they're the most likely team to win. The second is that they're the blind date couple most likely of the ones remaining to find love after the show. They keep saying otherwise, but their chemistry is unmistakable. C'mon. Phil sees it. We see it. Why don't you two see it?

2) Hayley & Blair

They're probably heading for a massive implosion, and we think it speaks to Blair's upbringing that he hasn't flat-out murdered Hayley yet, but they typically work well together and they complement each other shockingly well with regards to skills. Blair also has an impressive ability to tune Hayley out while she's in Meltdown Mode, a condition she suffers approximately four times per episode.

3) Jelani & Jenny

If the final challenge is an Emasculate Your Partner competition, Hayley or Blair is sure to win. We've actually been disappointed by Jelani & Jenny is a team, though. For all of their intellect and accomplishments, they've failed at some relatively simple challenges in the race. I mean, who hasn't heard of "Roman Skating Rink," right guys? We never expected this tandem to dominate in physical challenges, but if they cannot decipher a riddle as elementary "Ice Skating Rink," they're in a world of trouble. That win in the first leg feels like forever ago right now.

4)Mike & Rochelle

Their superpower is an important one in The Amazing Race. They possess the ability to finish next to last in every challenge, which is all you need to do to have a chance to steal The Amazing Race in the finale. The downside with them is that they are clearly the worst team remaining, which is sad because we like them a great deal on a personal level. Let the dude be your kid's stepdad, Rochelle! He's full of love and hope!

5) Ashley & Matt

We like their overall game a lot better than Mike & Rochelle's. The problem is that with only four other teams remaining, a non-elimination leg only helps so much. They're still in last place and even if the teams bunch, they'll have to perform a task that could take an extra hour to complete. If they do manage to survive beyond the next heat, they're still not a strong contender to win. While they have won a leg this season, they've only finished in the top three in three out of nine legs.